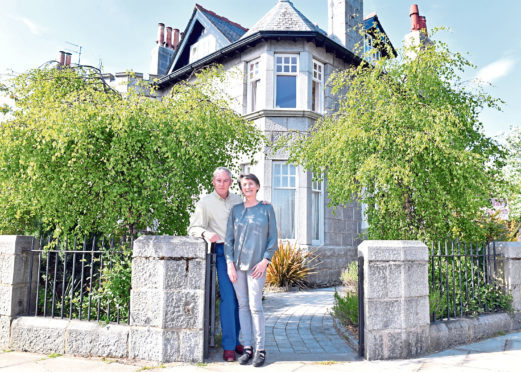 To wander along Fonthill Terrace is to return to an era when horse-drawn carriages would perhaps bump down the street, while middle-class Victorians busied themselves bustling about their daily lives.
The sound of horses' hooves may have been replaced by the thrum of today's urban transport, but the period feel to this traditional granite street remains very much intact.
Set on the corner plot, Number 2 Fonthill Terrace is a perfect example of this. From original fireplaces to high corniced ceilings, this six-bedroom property today offers a modern lifestyle in a historic home, with plenty of forgotten secrets of its own to unearth.
Owners Lindsay and Margaret Young have lived in the area for 25 years and fell in love with Number 2 more than 14 years ago.
It has been the perfect home to raise their four children but is starting to feel a little empty now they have flown the nest.
Margaret, a doctor, and Lindsay, who has recently retired from his position in the oil industry, are down-sizing but have enjoyed the space, not to mention the character, which the property has offered.
"We had four children so were looking for something bigger than our old place," said Margaret, 55.
"We actually came across this property by chance when we were out walking our two dogs one day.
"We already lived in Ferryhill and happened to see the for sale board. Then, when we went to view it, the size and character just blew us away."
The grade B-listed house certainly has an impressive past. It was built at the turn of the 20th Century and has had some interesting custodians over the years.
Of particular note is Major Grange Kirkcaldy, who moved into the property in 1945. Born in New Zealand, Kirkcaldy was an intelligent man with grand ideas who moved to England as a young man to study at Cambridge.
However, after just a year he became disillusioned by the education system and joined the war effort on the western front.
In homage to his Scottish ancestry, he went on to become a valued member of The Black Watch but was taken as a prisoner of war in Germany.
"By the time the war was over, Major was badly wounded," said Lindsay, 61. "He took on various wartime office roles during the Second World War but eventually retired to Aberdeen due to ill health.
"Apparently, he was quite the character and used to always wear three overcoats because he felt the cold.
"He was well known on the street not just for his quirky looks but also for the painting classes he held for children. Every Saturday morning there would be a queue of local kids at the door of Number 2, and that went on for years.
"When we moved here 14 years ago, there were still some neighbours on the street who remembered him fondly and told us all these details."
Careful maintenance and sympathetic work means the property now offers a modern lifestyle despite its historic past.
But some things haven't changed since Major Kirkcaldy's day. The impressive entrance hall is one of them, complete with original Victorian floor tiles and dark wooden panelling.
"When we first moved in, the hallway had this horrible carpet running through the house," said Margaret.
"We ripped it up and expected to replace it but there were these wonderful tiles underneath.
"Since then we've discovered that the whole street has them, but because ours were hidden by a carpet for so long they are in the most amazing condition."
The main lounge has equally as much character, with wonderful ornate ceiling cornices and a traditional fireplace.
In the kitchen an original 1950s AGA takes pride of place, with granite work tops and modern cream units completing the space.
Family Christmas is always held in the fabulous dining room but there is also a spacious sun room for relaxing.
Renovations to the basement mean this space has been turned into a versatile family space, with Frankie, the miniature schnauzer, keeping a watchful eye over proceedings.
"When we moved in the basement was just a collection of tiny rooms," said Lindsay. "Major Kirkcaldy's gun room and a coal cellar were just two of the spaces. We've opened it up now into a snug, home gym and cinema room."
Upstairs there are six generous bedrooms on offer, meaning that each of the four Young children could have their own space.
"We are really quite sad to leave, as our kids loved growing up here," Lindsay said.
"It feels like the end of an era, though I suppose we are just closing one door to open up a new one,"
Offers should be made in the region of more than £710,000.
Contact James and George Collie on 01224 572777.