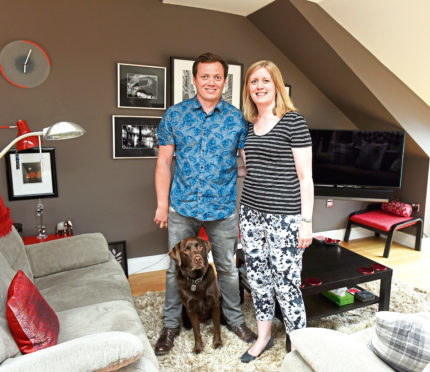 66 Beechgrove Avenue is a New York-style
loft in the heart of Aberdeen. Its owner told Philippa Gerrard why open-plan living is the way forward.
If you're from Aberdeen you will probably be familiar with Beechgrove Church.
Built circa 1900 in a Norman-Gothic style, the church was the heart of Midstocket community for many years, hosting regular church services, children's clubs and Christmas carols.
However, as use of its facilities declined, the decision was taken in 2014 to transform the Grade-B listed building into a range of stylish apartments.
On the outside, the church has retained all of its traditional features yet, after passing through the original oak front doors, there is a fabulous fusion of old and new on offer.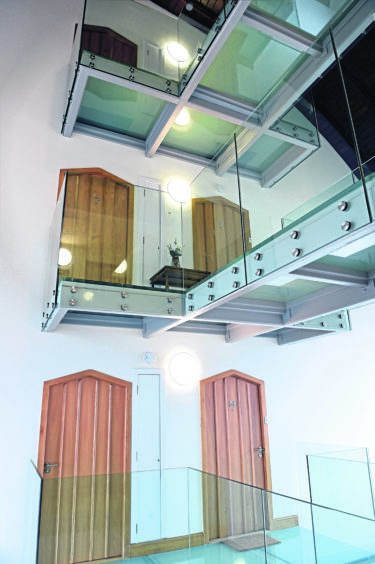 Genuine Victorian floor tiles welcome you to the building, leading through to an impressive cathedral-height atrium complete with granite pillars, marble arches and a vaulted ceiling.
The arched doorway of flat number 66 is located on the first floor, and is a fantastic example of a sympathetic modern church conversion.
However, its current owner, Sarah Guthrie, wasn't sure what to expect when she first viewed the property four years ago.
"It was still a building site when I first saw it," said the 38-year old.
"It was a freezing January day and the wind was whistling through the flat.
"The developer told me to envisage a New York loft-style apartment, which was quite difficult considering all I had to go on was a concrete floor.
"There weren't even any walls, just little dividers which showed where they were supposed to be."
But Sarah, who works in internal audit and risk at Wood, used her imagination, and four years later has transformed the flat into a modern city pad.
One of the perks of buying a flat midway through completion is that Sarah was able to have influence over the final designs and layout.
"I'd viewed quite a lot of open-plan properties before seeing this one," she said.
"So I knew what I liked and what I didn't.
"I didn't want the kitchen to feel like it was in the middle of the lounge or for it to be dark and hidden in a corner.
"I choose an extra-long breakfast bar which separates it from the living space and also provides plenty of storage.
"There is also a fantastic roof light over the kitchen too which keeps it wonderfully bright."
These roof lights can be found throughout the property and make the most of the natural light on offer.
The flat is positioned above what used to be the old church hall, meaning that although there are two more levels above Number 66, these are located in the steeple leaving Sarah's apartment quiet and exceptionally private.
Choosing all the fixtures and fittings was another task which comes with the territory of buying a home mid-conversion.
Although she enjoyed putting together the kitchen, it was the smaller details which proved troublesome.
"I got to choose where I wanted all the electrical sockets and light fittings," said Sarah.
"This was so much more difficult than I thought it would be, because without any walls it was really difficult to envisage how I would use each space.
"In the end I just went with my gut – then added a few more just in case," she laughed.
But the hard work Sarah put in four years ago has stood her in good stead, as the property hasn't needed anything changed since. "It's such an easy property to live in and is great for entertaining," Sarah said.
"I was part of an Aberdeen food club for a while and everyone loved coming to my place.
"Even if you're not cooking, friends can just come round and park themselves at the breakfast bar with a glass of wine."
It's easy to see why Sarah's place has proven popular, as the modern kitchen and lounge is the perfect space to relax and unwind in. The property has three bedrooms on offer, all of which are of a good size.
The master suite in particular is a lovely space, complete with considerable built-in storage as well as an en suite shower room.
The modern family bathroom finishes the accommodation.
Outside there is an underground car park with ample off-street parking, and Sarah, who is originally from Glasgow, has enjoyed getting to know the local area.
However, with a four-legged friend now to think about, her priorities have changed slightly. "My partner Albert and I now have chocolate Lab called Kai who really needs some outdoor space," she said.
"It's been great to have Westburn and Victoria Parks nearby but now we are thinking about buying a house with a proper garden.
"I'm really quite sad to leave this flat, though, as I've got it exactly how I like it.
"We won't be going far, I don't think, as I've grown to love the Midstocket area and I'm hoping to find a property somewhere nearby." Offers on 66 Beechgrove Avenue should be made in the region of more than £369,000.
Contact Simpson and Marwick on 01224 622622.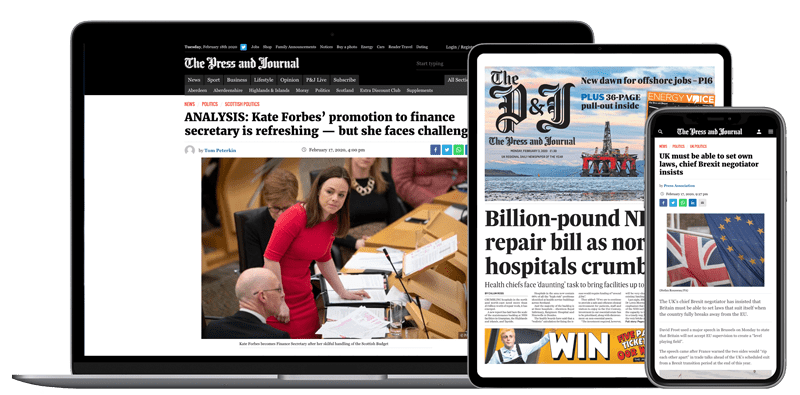 Help support quality local journalism … become a digital subscriber to The Press and Journal
For as little as £5.99 a month you can access all of our content, including Premium articles.
Subscribe