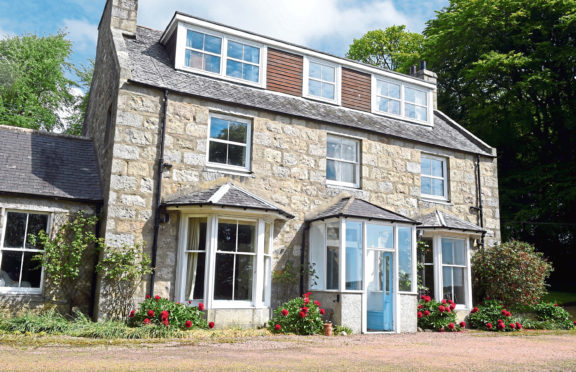 If Enid Blyton had ever found herself stuck for inspiration, a visit to Fintray Lodge wouldn't have been a bad idea.
Birds chirp and bees hum as you approach this seven-bedroomed country house, as visitors half expect to be greeted by the silky ears of a golden spaniel called Scamper, while the rest of the Secret Seven chase around the lawn in the midst of their current adventure.
The woodland backdrop provides the perfect setting for this story, with a carpet of daffodils and bluebells in spring and a walled garden filled with rambling wild flowers just beginning to show their colour.
The gardener whistles as the postie drops mail into the letterbox, blurring any sights and sounds of the city into the background.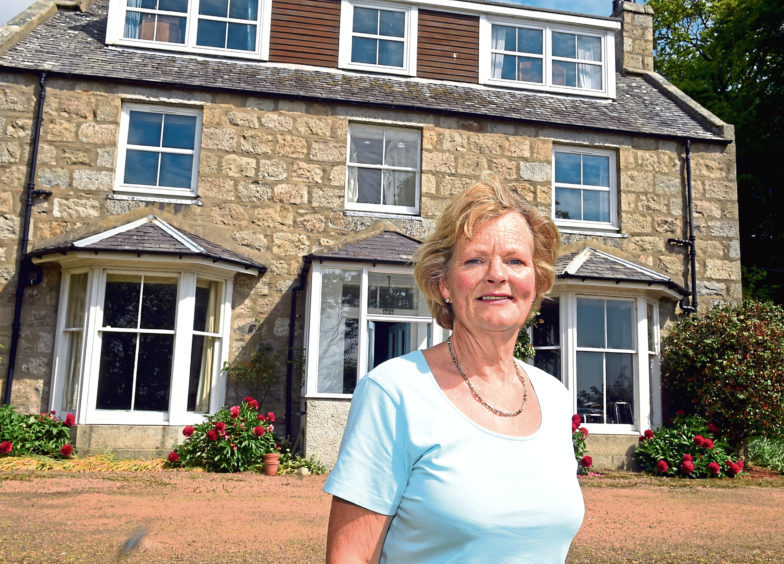 It's like something from a wholesome children's book, and for Corinna Gow, childhood at Fintray Lodge, Cothal, wasn't so different. "I was six when my family first moved here," the now 60-year-old remembers, "with my mother, father and four sisters."
"My dad was in the army and we had lived at Bridge of Don barracks in Aberdeen previously, so coming out to our own place in the countryside was wonderful.
"My parents bought it in 1963 for a sum of £3,000 I believe, and it's been in our family ever since.
"When my sisters and I arrived as children, the house was having its roof done up, so there were no stairs and it was seen as most daring to run about on the ladders which my father had balanced in place."
Laid out over three floors, the lodge is believed to be Victorian.
A timber porch shelters the front door which leads to a spacious hallway, with doors off to the dining room, drawing room and games room.
At the end of the passage is a spacious kitchen complete with an original light blue AGA and traditional larder.
On the first floor there are five bedrooms with two family bathrooms, while the second floor is divided into a southern part with bedrooms six and seven, and a north wing leading to two further attic bedrooms used as storage.
"I started off in a tiny room next to my parents," said Corinna.
"I got to move up to the top floor eventually, though there was no heating up there when I was a child and it was freezing in the winter.
"We didn't much care though and covered the walls in posters of Marc Bolan and Cliff Richard," she laughed.
Interrupted only by the mild inconvenience of school, Corinna and her sisters spent many glorious days in their father Jim's company as he showed them what secrets the countryside had to offer.
"My dad's favourite was the walled garden," she said.
"He used to grow all sorts of fruit and vegetables in there.
"My sisters and I used to sell strawberries at the top of the driveway, and my dad sold them to the Station Hotel in Aberdeen too.
"He used to say that his claim to fame was that the Queen Mother had eaten his strawberries when she visited the hotel."
But six years after moving in, Corinna's father died leaving her mother, Mary, to raise her five girls alone.
It can't have been an easy task, but Corinna has nothing but respect and a lifetime of wonderful memories of her mother.
"Next to the house there used to be a field of horses which were owned by another family," she said.
"In the summer my mother used to sneak in and ride them bare back.
"Us girls used to practically live outside; I don't know if the weather was any better than it is now but we never noticed the cold.
"The house is just two miles to Dyce so we would cycle there and up to Fintray village.
"Even in the evenings we would have midnight feasts outside in the dog kennel and pretend we were in an Enid Blyton novel."
Yet the girls and their mother weren't entirely alone in their country idyll, with two nearby dwellings known as the Gardener's Cottage and Dalus Cottage, which were both let.
These two buildings have recently been modernised and are included in the sale.
"It's very sad to leave the house but it needs a lot of work," said Corinna.
"It's just waiting for a new family to put their stamp on it and love it as we did."
It's true that successful writers create a world of their own, and Enid Blyton created not one world but many.
And, just perhaps, Fintray Lodge was one of them.
Offers should be made in the region of more than £500,000.
Contact Strutt and Parker on 01330 826800.