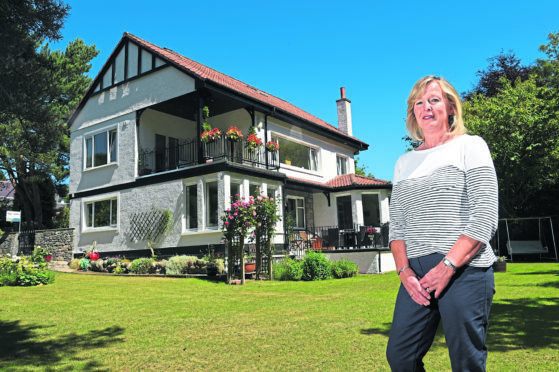 The arrival of the new millennium was an exciting time for the Arnott family.
Having recently returned from the Middle East and busy re-acclimatising to winter in Scotland, the year 2000 saw them move into Number 3 Station Road in Bieldside, Aberdeen.
From the offset, Heather Arnott, now 54, recognised it as a solid choice for a family home, though it wasn't exactly a case of love at first sight.
"We'd been looking for a house for such a long time before we saw this one," she said.
"As a family we'd been living in Oman for a few years but wanted to come back to the UK and base ourselves here.
"We viewed Number 3 and nearly wrote it off because it needed quite a bit of renovations.
"Basically it was upside-down living, with the bedrooms downstairs and the lounge and kitchen upstairs.
"It just didn't suit us but for some reason we came back for a second viewing and got a really good feeling about it."
With two young boys to think about, Heather, a teacher, and husband Stuart, who works in oil and gas, decided to take a chance on Number 3.
Happily that chance paid off and now 18 years later, it has proven to be a more than worthy family home.
"When we moved in we turned it back to a more conventional living style almost right away," Heather said.
"We replaced the roof and added an extension on the living room too, so it was a bit of upheaval to get it exactly right for us.
"But I'm so glad we did as it's made it into such a great house with wonderful living space.
"That's why we've stayed so long!"
With sons Cameron, 19, and Andrew, 23, now both based in Edinburgh, Heather and Stuart are excited by the prospect of taking their renovation and building skills to the next level, and are planning to design their own house on the banks of Loch Tay in Perthshire.
Although they are up for the challenge of a new project, it's not easy for them to say goodbye to their beloved Number 3.
Built in 1968, the property stands on the site of an old station yard – Bieldside Station to be exact.
"We have the most wonderful old photograph hanging in the hallway of what the station yard looked like before the railway was closed," said Heather.
"It was taken circa 1907 and shows the station master's house next door as well as the bridge over the tracks.
"It was given to us by the previous owners of Number 3, and as much as I'd love to take it with me I feel it does belong with the house, so it will be staying here when we move."
Placed neatly in a frame by the front door, the photograph offers visitors a fascinating look at the property's history as they arrive, while the homely reception hall guides them through to the main living space.
The large dining kitchen is clearly the heart of the home, and the Arnotts have taken care to ensure it is a relaxing yet functional space.
The high quality units are straight from Drumoak Kitchens while the worktops are solid granite.
"I wanted to make sure the kitchen really worked for us," said Heather.
"Even little things like having a roll-up cupboard to easily hide things like the toaster or food processor.
"And its great having space for a kitchen table here too.
"It means we save the dining room for more special occasions and have had lots of wonderful family Christmases in there."
This dining space can be accessed off the kitchen via double doors, further leading through to the main lounge.
The lounge itself is bright and spacious, with large windows and an elegant fireplace.
A generous double bedroom can also be found on the ground floor, along with a shower room and utility area. Upstairs there are four further bedrooms on offer as well as the family bathroom. The master suite is of particular note, not only for its size and luxury shower room but also for its fabulous balcony.
"We spend a lot of time out here," said Heather.
"It's south facing and right in the sun which makes it great for relaxing."
With views over the well-tended garden it's easy to imagine yourself unwinding out here, and Heather is rather sad to be saying goodbye to her favourite sun-trap.
"I will miss the house as it's been home for so long," she said.
"The location is just great too as it feels like you're in the country yet you're just 15 minutes from Aberdeen.
"Having direct access to the railway line has also been a plus for us and something we will miss, but we're excited about the next chapter in our life and we're ready to experience something new."
Offers should be made in the region of more than £750,000.
Contact Mackinnons on 01224 868687.