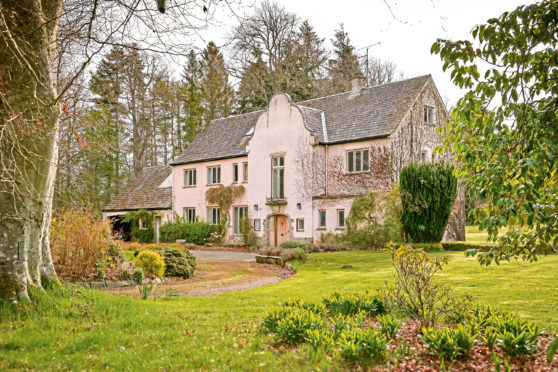 In one of the large attic rooms of Ballindoun House sits a machine that changed the lives of generations of women.
It's an ancient Singer sewing machine which Valerie Hunter Gordon used to make her invention – disposable nappies.
She used it again later for another invention, an early version of the modern sanitary towel.
Mrs Hunter Gordon, who died aged 94 in 2016, was inspired to invent the nappies in 1948 after having her third child, Nigel.
In an interview with the P&J in 2015, she said of old-style traditional nappies: "It was awful labour. I was amazed you couldn't buy a disposable version. I went to the US and you couldn't buy them there. It was extraordinary. No one had thought about it."
Determined to escape the never-ending cycle of the mangle and washing line, she got out her Singer sewing machine and made a pair of prototype nappy pants from parachute nylon lined with cotton, but they were not an immediate hit as they wouldn't stay on and the cotton wool didn't work.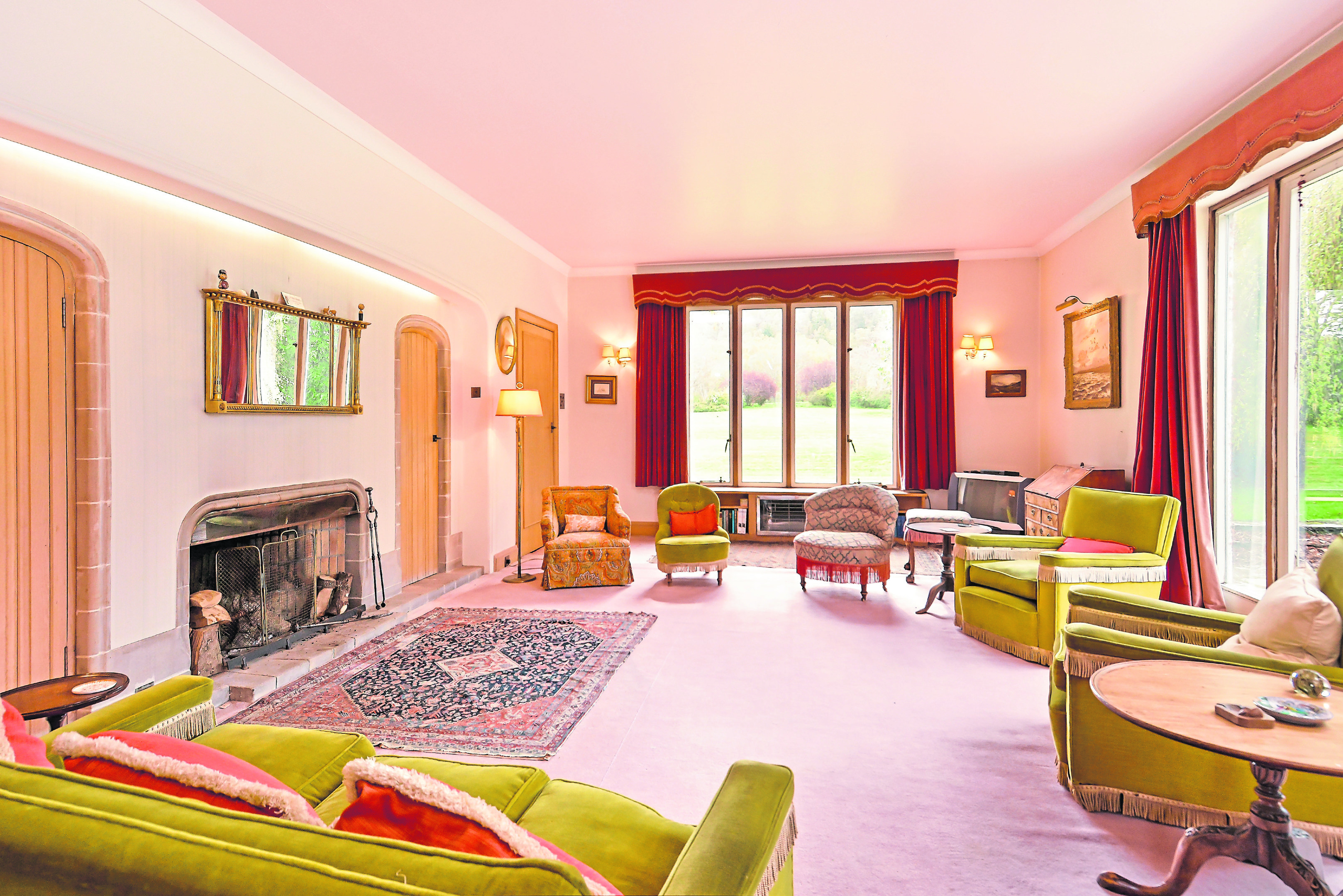 When a new material, PVC, came along, it allowed her to make strong, waterproof disposable nappies, which she called Paddi. They became an immediate hit with mums fed up with steeping, boiling and wringing out cloth nappies.
Following on from the success of the product, Valerie had three more children and relocated to Beauly with her husband Patrick, a local man who was about to start working with his father Samuel's Inverness-based engineering business, AI Welders.
Now aged 70, Nigel, who was used to model the disposable nappies in early promotional pictures, gave me a guided tour of his late mother's home, Ballindoun House, where he grew up from the age of 12.
A very creative woman, Valerie helped design the house which she and his father, the late Patrick Hunter Gordon, had built in 1958. She loved it so much, she declined to have any changes made to the house thereafter.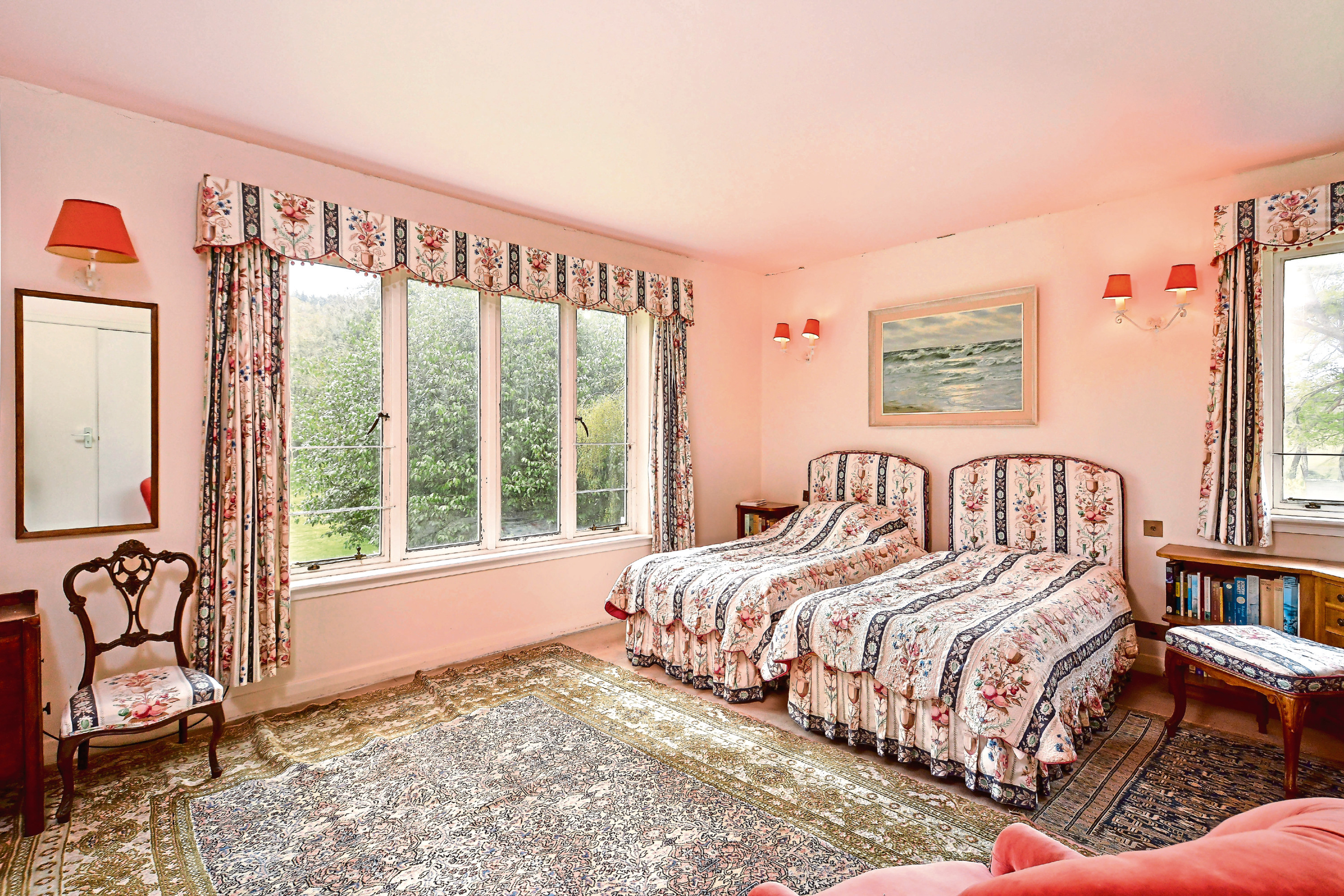 As result, a visit here is like stepping back in time.
"It's a 1950s country house, absolutely untouched – a museum piece really," said Nigel, a retired chartered accountant.
"Nothing has changed here since 1958.
"The curtains and wallpaper are the same, the Ercol furniture, which I gather is quite fashionable these days, is the same. She never wanted change as she was happy with the house she'd helped create."
One room where time has stopped is the kitchen, which still has its original base and wall cabinets and cheery bright yellow breakfast bar.
"The kitchen is just as it was when it was new and features what was then a very modern material, Formica," said Nigel.
"Formica is horrible stuff really but a ground-breaking material at the time. The units were all custom-built with some designed to be accessible from both the kitchen and the dining room which was a very clever idea.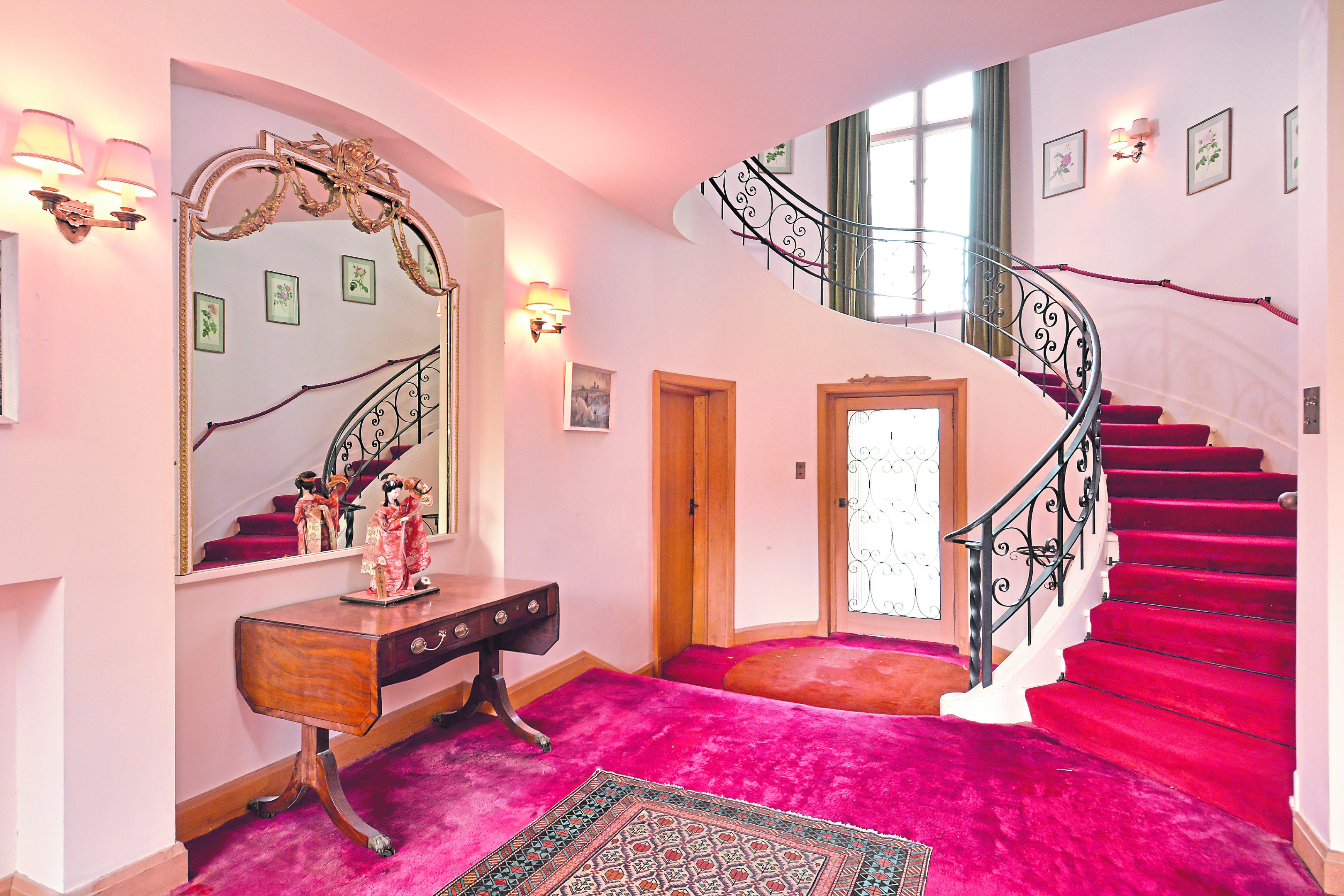 "Other innovative products here include what we called the 'sucker-outer', a built-in ceiling extractor fan, while the larder has a heat pump which sucked the heat out of the kitchen and put it into the hot water.
"Nowadays, heat pumps are widely used, but then, this was innovative. Sadly, it gave up the ghost some years ago."
An old Electrolux fridge, wall-mounted can opener and an early electric whisk remain in place, while the dining end of the kitchen houses a built-in shiny metal Ferranti parabolic heater.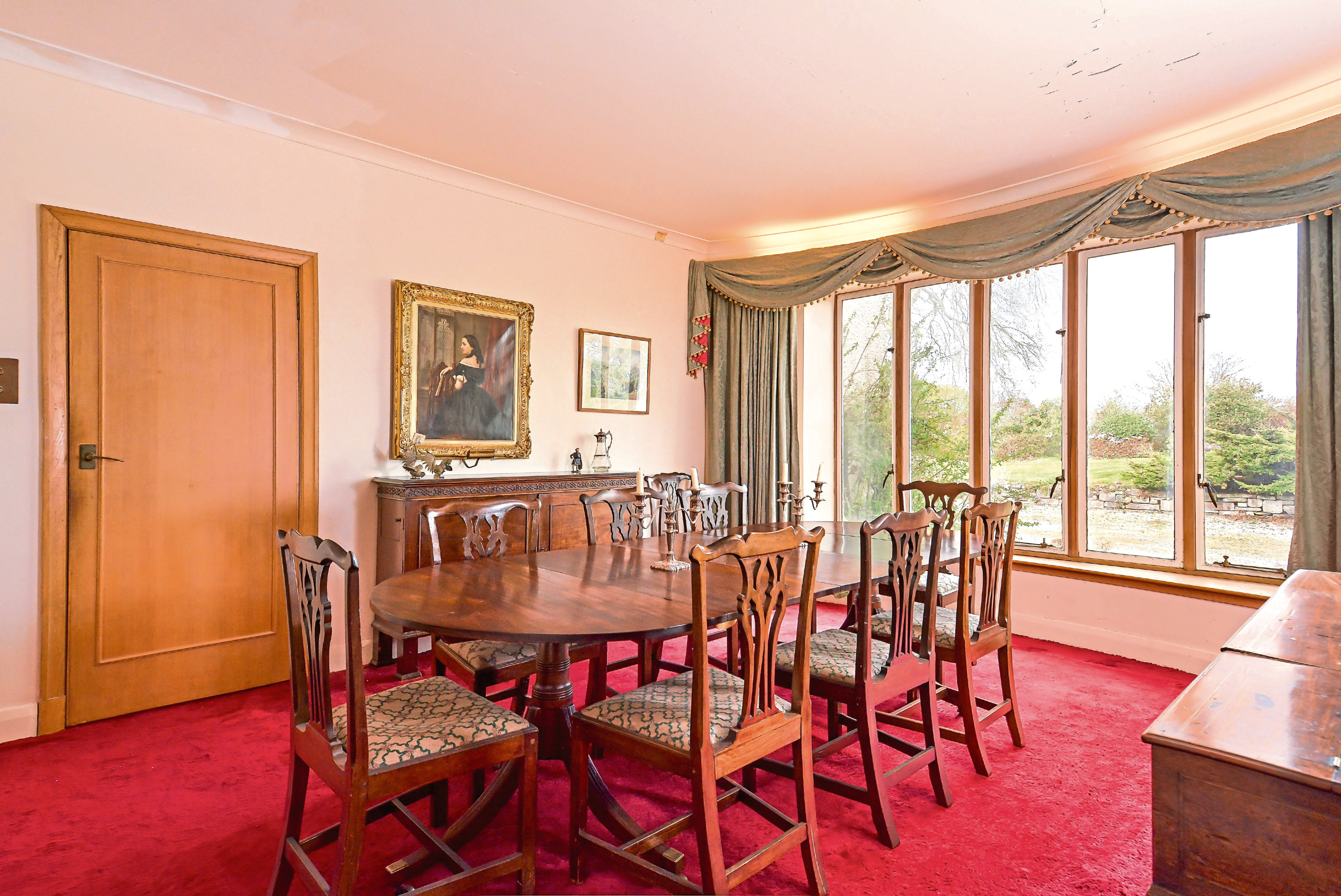 "My mother was a Ferranti," said Nigel.
"Ferranti had largely been a defence contractor in the '50s then diversified into household goods.
"As she was building a house my mother tried, as much as possible, to showcase their products."
Throughout the house there's a number of built-in Ferranti radiant electric fires, still in working order. But they aren't the only source of heat.
"In what was considered another cutting-edge move, they had oil-fired central heating put in, but instead of using radiators, opted for a system similar to underfloor heating but with the pipes being housed in the ceilings instead of under the floors."
Adjacent to the kitchen is the children's nursery, which is also untouched by the passage of time.
A lovely bright room with large patio doors, the curtains feature cheery pictures, while one wall still has framed children's drawings, including one of the family's holiday homes drawn by a young Nigel.
Nigel proudly showed me another item tucked away in an alcove within the room, a superb Ferranti Radiogram, model 405 dating from 1958.
Sitting next to a pile of LPs was the original paperwork for the radiogram which revealed it cost £65, which was more than an average manual worker's take-home monthly wage then.
Nigel and his five siblings were allowed to play records on it and tune into radio stations broadcasting on short, medium or long wave bands.
"This would have been an expensive purchase at the time," said Nigel, as he twiddled the knobs to tune in the radio.
"Originally the radiogram only played 78s so we had it converted to play LPs.
"Mother's bedroom was directly above this room and I remember her regularly telling us to turn down the volume."
The house is on the market as part of an estate with an overall asking price of offers over £1,100,000. That price includes a substantial Gate House and 100 acres of arable land.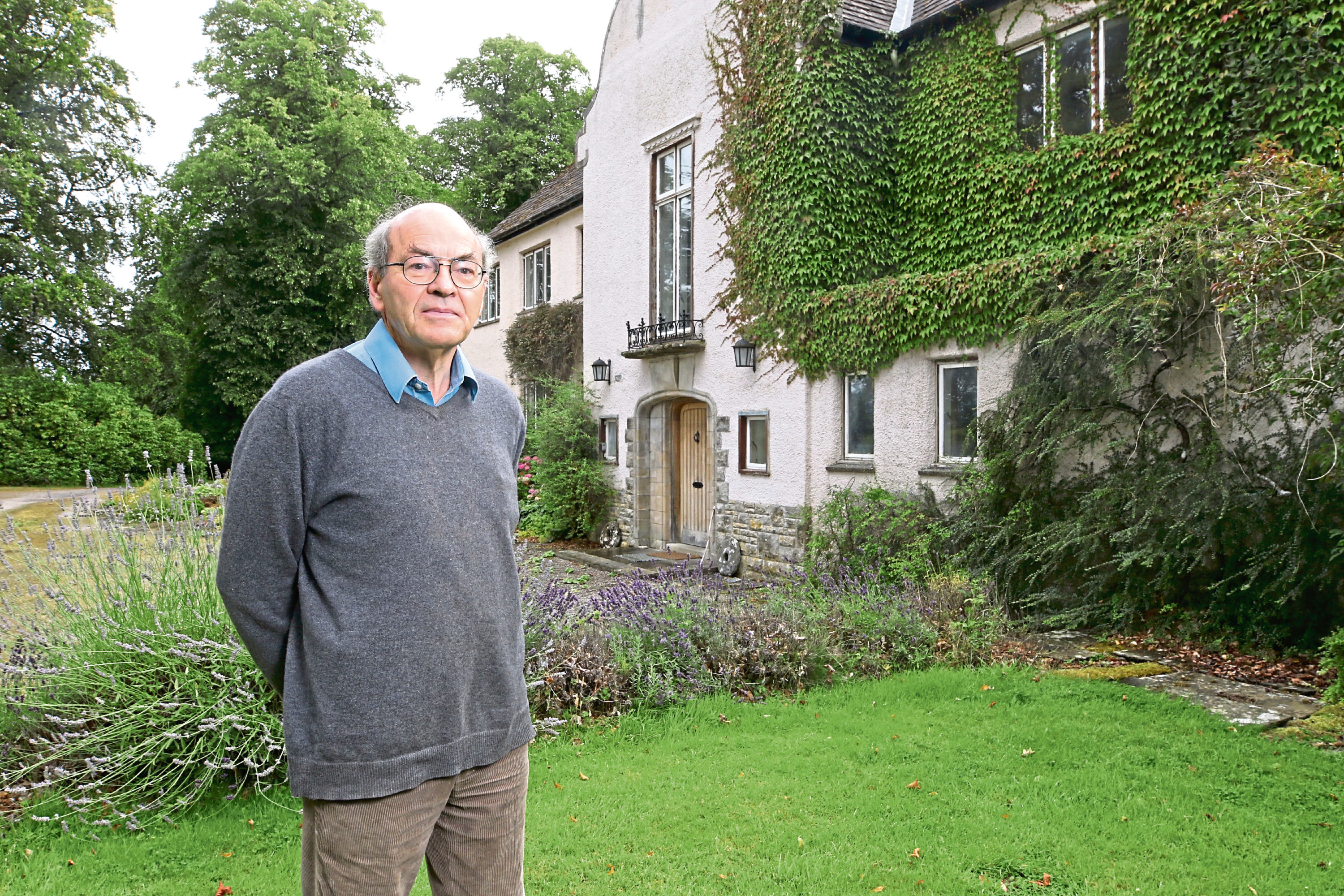 The accommodation in Ballindoun House includes a bright reception hallway with quadruple aspect windows overlooking the rear gardens. There's a curved, sweeping staircase with an ornate balustrade and velvet-roped handrail leading to a spacious landing.
Here, and in several rooms throughout the house, there's luxurious thick, red carpeting.
"I believe my mother bought the carpets from Rosehaugh Estate when they were pulling it down," said Nigel.
"The story goes that it is one of a unique pair of carpets, with the other one being in Windsor Castle."
The lower floor is also home to the aforementioned kitchen and nursery, cloakroom/WC, utility room, sun room, rear porch and WC.
Incidentally, taking pride of place in the sun room is Nigel's old pram, a beautifully sprung luxury Osnath model.
"It wasn't new when I used it and I remember seeing it sitting on the patio outside the sun room so babies could enjoy the fresh air, and also be heard if they cried," said Nigel.
Another bright room is the drawing room which has extensive elongated windows and patio doors.
There is an open fireplace and underneath the carpet is the original parquet flooring.
On either side of the fireplace there's deep cupboards, one of which was the registered office for Paddi and Nikini sanitary products for years.
"She collected royalties from designs she had patented and made a good living from it, but family was far more important to her than business," said Nigel.
From the drawing room, doors lead out into a large courtyard where pre-lunch cocktails were enjoyed.
Across the lawn from the drawing room there's a large tennis court, now overgrown and "not Wimbledon standard by any means," said Nigel.
But a bit of elbow grease would soon have it resorted to its former glory.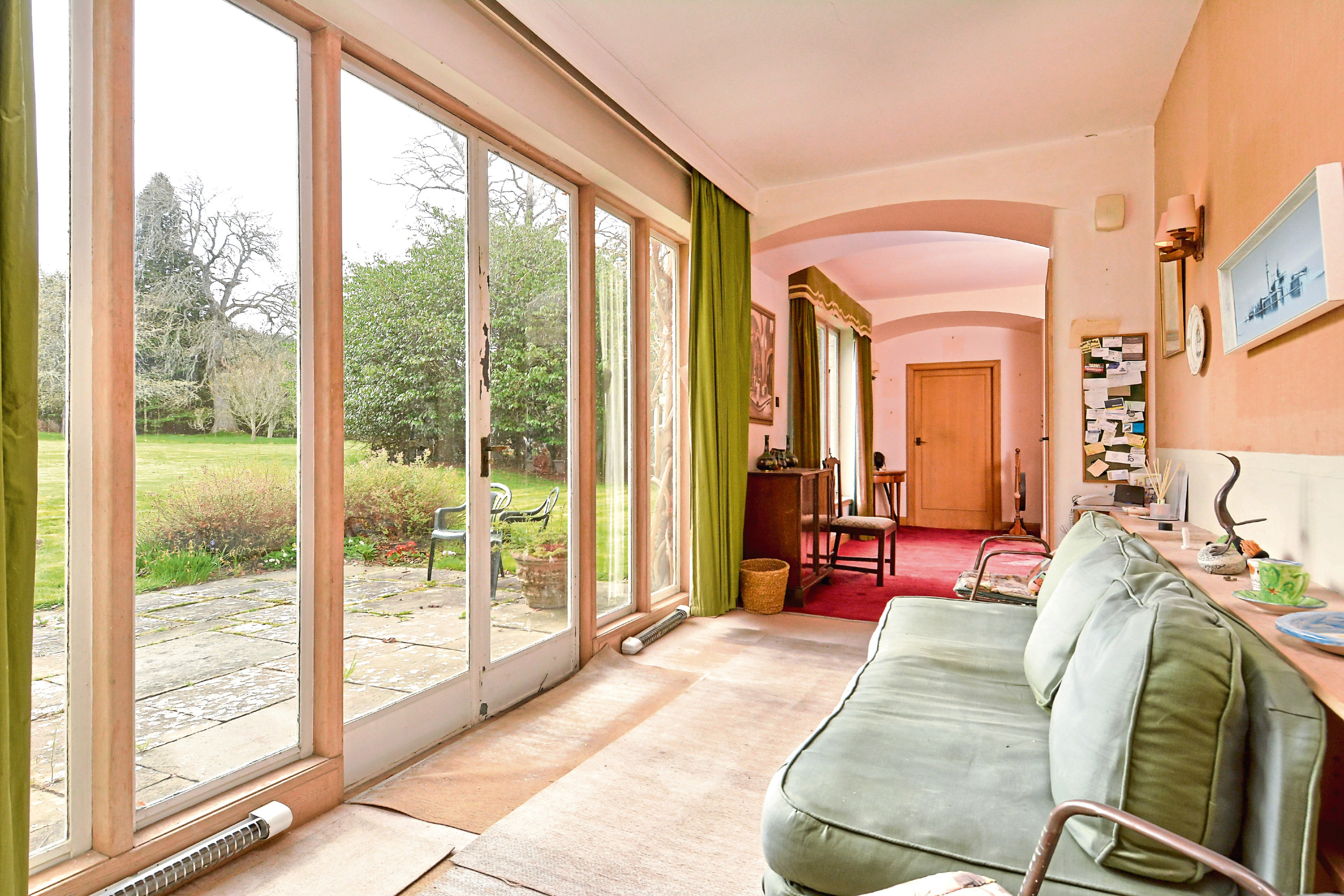 The dining room with lovely curved window was kept for formal entertaining.
Nigel said: "My mother had a special plastic cover made for the Sheraton dining table as she said we children always made such a horrible mess.
"For important occasions the cover would come off.
"At one time dad was a parliamentary candidate for the Conservative party.
"Margaret Thatcher came here to visit and mum stood in the dining room and told her 'we only take this off when important people come'.
"She hadn't taken the cover off for Mrs Thatcher who replied: 'Very sensible, very sensible.'"
Upstairs there are numerous bedrooms, all of which benefit from cleverly designed built-in storage space. Many have wash-hand basins while there's several bathrooms with original tiling from the 1950s.
A carpeted staircase leads to the attic level which was previously used as staff quarters.
A large games room, housing the iconic sewing machine, separates two large double bedrooms, one with views over to the walled garden.
"Looking back, this was a wonderful place to grow up as we had all the space in the world to play in," said Nigel.
"We had the freedom of the estate and the hills and a tennis court, so it was idyllic for us six children."
Designed by architect William Kininmonth, of Edinburgh, the house was completed to an exacting design and style which was ahead of its time. Much thought was given to high ceilings, large windows and patio doors to maximise the wonderful natural light.
"My mother had an eye for design but was a very practical person which is why there's an abundance of storage cupboards, linen cupboards and wardrobes.
"I've no idea why she chose to build a home in what's known as a Dutch Gable style, but I know she wasn't fond of the Georgian style and didn't want to be pretentious and build something baronial – she just wanted a good family home.
"Although the house is ideal for those who enjoy entertaining, she wasn't an enormous socialite, but from time to time liked to entertain.
"She once had a big marquee dance for my sister, with about 500 guests, and that rather did it – she didn't do anything like that again.
"She was very happy here and loved this house, which is why she didn't want anything to change.
"In a perfect world it would be lovely to have a family move in and enjoy it as much as we did.
"It's perfectly habitable but perhaps needs a bit of work done, but what's magic about here are the views, the privacy and accessibility, which is an unusual combination."
Outside, to the front of the house, there's a raised, matured rockery and turning area/parking for several vehicles.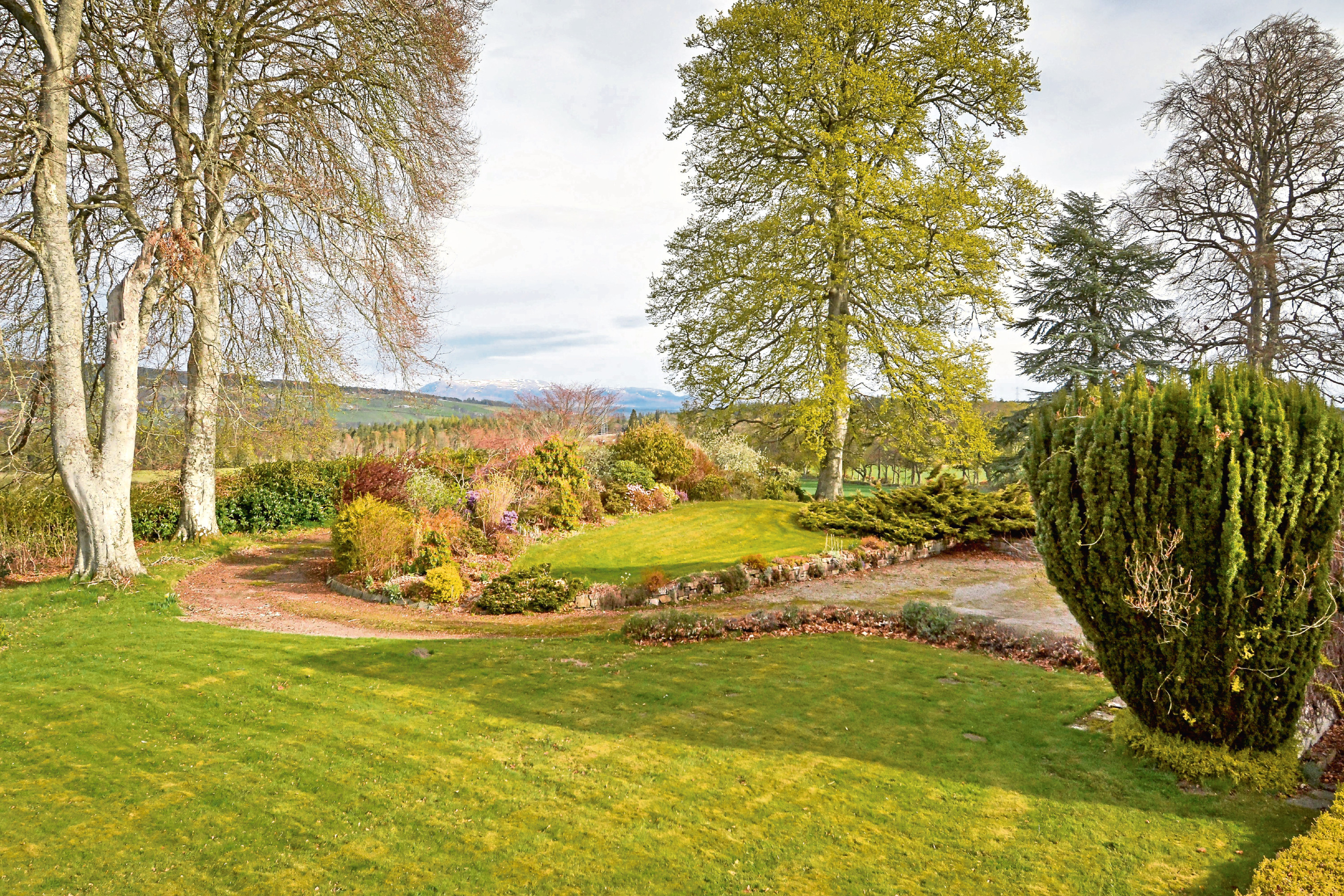 Large areas of lawn are covered in a carpet of seasonal bulbs. There's a tennis court and a large walled garden. The surrounding grounds have areas of forest and woodland which are a haven for wildlife.
Outbuildings include a brick shed with power and light; gardening tool shed and garage with upper floor. The house comes with more than four acres of land.
Ballindoun Lodge – which has already attracted several viewers – and around 100 acres of agricultural land are to be sold in addition, as two separate lots; alternatively the whole estate could be purchased in its entirety.
Fiona Gormley, for selling agent Savills, said; "Ballindoun is a remarkable house, not just for its architectural pedigree and light-filled design, but also for the dramatic landscape surrounding it and the private location which is, nevertheless, far from remote.
"The flexibility of a buyer being able to buy the house and grounds or a whole package to include the lodge and land, makes this sale a most attractive proposition."
Contact Savills on 01224 971122.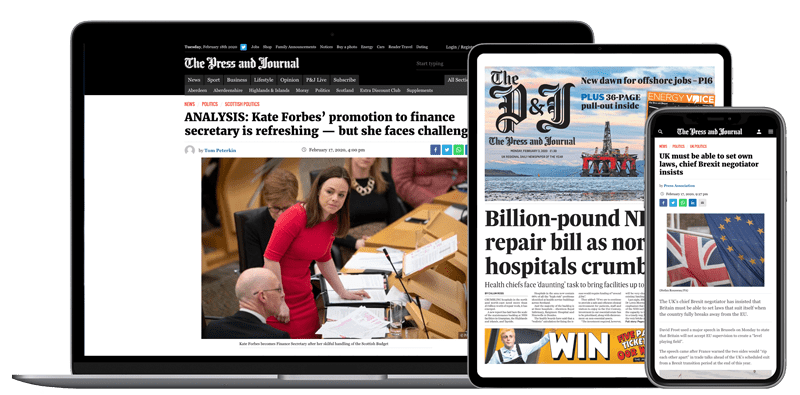 Help support quality local journalism … become a digital subscriber to The Press and Journal
For as little as £5.99 a month you can access all of our content, including Premium articles.
Subscribe