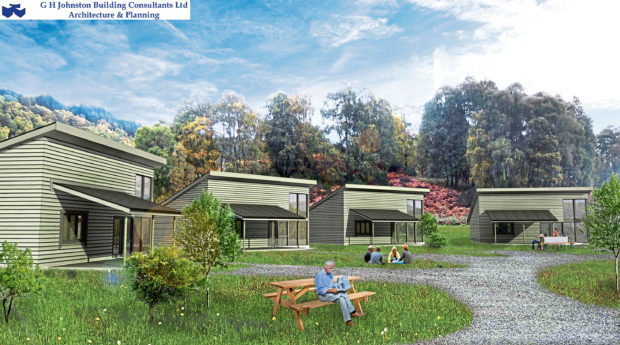 The Highlands have become a magnet for tourists – and those wishing to have a home in a beautiful, friendly part of the world.
Those looking for a peaceful haven to call their own may be interested in a new development of high-quality, lodge-style detached houses being built less than two miles west of the village of Drumnadrochit, close to Loch Ness.
It's being created by Orbis Parcs Ltd, a company which has created leisure developments across Europe. The Loch Ness development has been designed as a leisure park, which means a lodge can't be your main home, but can, however, be used every single day of the year – there's no period when the park will be closed.
With high numbers of tourists visiting this area, a strong demand for accommodation is anticipated.
Set in a park stretching to nearly 17.5 acres, the surroundings are beautiful and include fine views of the countryside and River Enrick, while iconic Urquhart Castle is pretty close by.
Some 23 two and four-bedroom homes are being built here, in a variety of styles, with prices starting from £169,995 for two bedrooms and £249,995 for a four-bedroom lodge.
These have been designed using a timber frame kit with special design options, which means buyers can create a bespoke, unique home that suits their personal needs and desires.
Each lodge comes with a family bathroom, with most bedrooms also having en suites with shower or bath. There are also fitted kitchens in each property, which are created in a modern style with large windows letting in plenty of natural light and offering great views of the surroundings.
Designed to be comfortable and well insulated, an interior architect has designed beautiful kitchens fitted with a combi microwave/oven, ceramic hob, dishwasher, fridge/freezer and an extractor hood, while bathrooms all come with fitted shower or bath, tiled walls and floors and thermostatic taps.
The heating system is a specially designed air source heating system, which heats the lodges via a wet radiator system and also delivers the hot water via a generously sized hot water cylinder.
Buyers may also wish to upgrade, subject to an additional cost, to include different types of flooring, a hot tub outside under a covered porch area, an indoor sauna and much more.
It's even possible to buy or rent furniture for your lodge with the help of the park's own interior specialist. That covers everything from curtains and blinds to kitchenware and beds for either your own use, or alternatively, for those renting the lodge out should you decide to go down the buy-to-rent route.
You can even arrange for the inside of your lodge to be maintained by park staff and there's also a fully managed let service available to make the most of your investment.
Parker Hill Estates have been appointed as managers of the park which is private and means water, electricity, roads and even the state-of-the-art waste water treatment plant are all privately owned.
Each lodge comes with a private parking space while the park's green areas, trees and beautiful long winding road leading up to the lodges is maintained by the park manager, who is located at the reception building at the entrance of the park.
Owners pay an annual maintenance fee of around £2,400 for the maintenance of the park and surroundings but owners are responsible for maintaining their own lodges, inside and out, although Parker Hill Estates can take care of this for you under a separate agreement.
For further details or to make an appointment to view an Orbis Parcs Loch Ness property contact Munro & Noble, Inverness on 01463 225533.