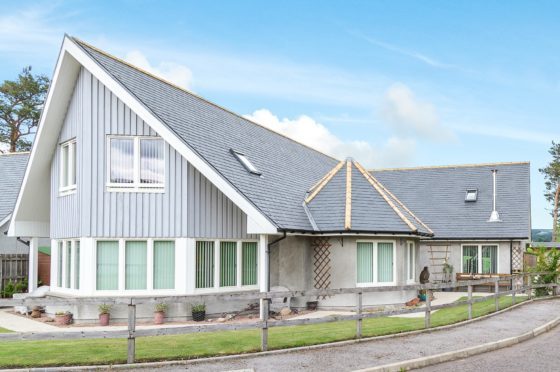 The O'Tooles have lived all over Britain, buying and selling houses as they went.
Keith's job as an in-demand design engineer was the main reason behind their frequently- changing postcode, and wife Patty, a chef, got used to fitting in with different communities.
Yet after spending years in various English suburbs, the pair longed for a chance at life in the country, and it seemed that Aberdeenshire was just the place.
It was the sleepy village of Tarland which took their fancy, thanks to a brand new house which ticked all their boxes.
Thru Trees is a modern five-bedroom home, complete with unspoilt views of the surrounding countryside.
"We've been here 11 years this month," said Patty, 60.
"Back when we were house hunting, we were looking for a plot of land or some sort of building project to take on.
"We'd been renting a house in Aboyne and happened to be walking through Tarland one afternoon when we saw this place.
"It wasn't built yet and was just an area of fenced- off ground.
"We enquired with the builders what was going on and they said they'd keep us in the loop when things progressed.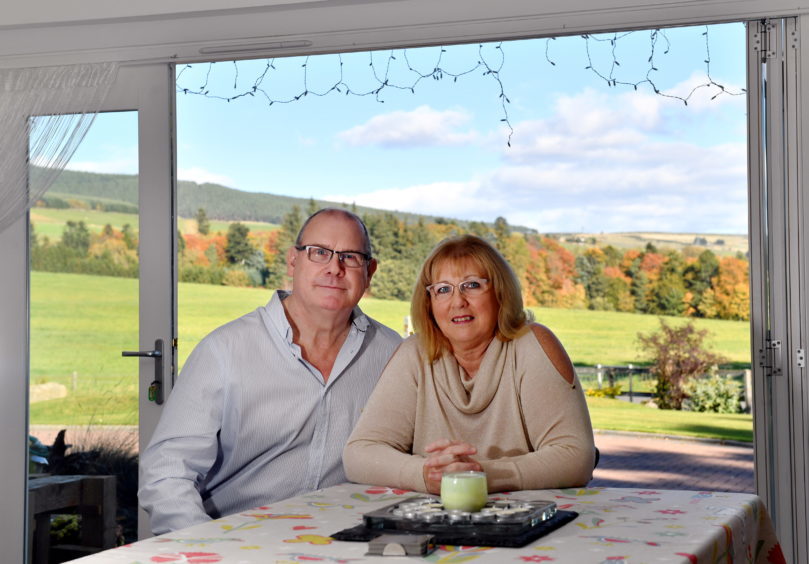 "They didn't of course and probably forgot about us," Patty laughed. "But we kept at them and began taking detours through the village to see the progress."
Six houses were set to be built and the O'Tooles wasted no time in picking out their favourite.
Buying the property early on meant that the couple were able to make changes to the internal layout as the build progressed. Carefully they moved and removed various elements of the build, tailoring the house to suit their tastes.
"We wanted big rooms and a nice open-plan feel," said Patty.
"It's suited us very well over the years and we've not needed to change anything."
The design is certainly impressive, with double doors from the hallway leading through to a spacious lounge and dining area.
From here you can choose to relax in the adjoining sun room or head through to the kitchen.
Wooden worktops and white shaker-style cabinets give this room a real country kitchen feel, with a range cooker and central breakfast bar completing the look.
"The only thing we changed was the garage," said Patty.
"We didn't really utilise it as a garage and it had the most fantastic views which were kind of wasted on a place for just parking your car.
"So we replaced the garage door with bi-fold doors to make it a usable space.
"Now it's a great family room and perfect for entertaining.
"We love having people over and everyone seems to gather in here."
In the corner of this room is also the property's biomass central heating system.
Fed by sawdust and woodchip pellets, the device serves the radiators and underfloor heating as well as the property's hot water.
"I absolutely love it," said Patty.
"Keith and I had been keen to install the system in our last house so it was great that it came already installed here.
"It's brilliantly eco-friendly and we've found it much cheaper than oil and electricity."
The ground floor is also home to two of the property's five bedrooms, while upstairs the master suite is a particularly impressive space.
But Patty and Keith, 64, are soon to be leaving their beloved Thru Trees and the village of Tarland with their sights set on a place in the sun.
"We are hoping to retire to Spain," Patty said.
"It's one of those things we've always wanted to do and we've got a plot to build a house out there.
"We'll really miss Aberdeenshire though – it's really become our home over the years even if it was kind of unexpected," she said.
"Keith originally came to Scotland on a short eight-week contract, and we just loved it so much we never left," she laughed.
"We knew we wanted to try living more rurally but had no idea where we'd end up.
"Tarland has just been brilliant and the wonderful community really made us feel so welcome.
"It might feel sleepy and quiet out here but there is always something going on, we're truly sad to be leaving."
Offers should be made in the region of more than £460,000.
Contact Stronachs on 01224 626100.