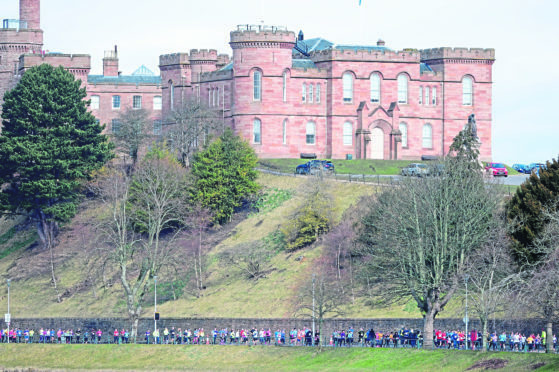 Anyone who has enjoyed a stroll through Inverness of late can't fail to have noticed there's a buzz about the place.
It feels like a city that's going somewhere.
One reason why it feels this way is because it is said to be poised for a "once-in-a-century" economic boom as plans progress to see the transformation of several venues, including the city's iconic castle. Since a viewpoint at the castle, offering 360-degree vistas of the city and beyond, opened last year it has attracted around 50,000 visitors.
The city's historic Victorian Market and railway station are also due to be transformed while Dutch company Vastint Hospitality are hoping to build a hotel at the derelict Glebe Street site, an area once home to the main public swimming pool and baths.
Councillors on the City of Inverness area committee also backed a draft development brief for the east of the city, which includes a vision for 3,000 new homes and the preferred routes for the East Link road, which connects the A9 and A96.
The vision for Inverness was set out in the Inverness city centre development brief. Money from the City Region Deal has provided the local authority with the support to deliver much of the regeneration.
Council leader Margaret Davidson has said: "I don't think I have ever seen so much positive development and opportunities in Inverness. There is a tremendous amount of stuff going on in the city.
"The opportunities around the castle and surrounding area are going to be a once-in-a-century opportunity and it's up to us all to really get behind that."
Inverness Castle currently functions as the courthouse, and this will be relocated to a new justice centre off Longman Road that is expected to open next year. The new castle tourist attraction will benefit from £15 million of City Region Deal money – with more help expected through extra capital funding – and is scheduled to open in 2021.
Jo Murray, new manager of the city's Victorian Market, will use her 35 years of experience to promote the venue and progress major projects – inspired by the likes of the English Market in Cork, Ireland. Late-night dining, cafes and live entertainment could also be developed at the market over the next year.
Abellio ScotRail is progressing with its £6m plan to revamp the railway station. Completion of the project, which will also involve revamping Station Square, is expected in 2019.
The Inverness Townscape Heritage Project is in its second year of delivery and will invest just over £3m in regenerating Academy Street through a grant scheme. The former Ballantyne House in Academy Street has already been turned into a 59-room Travelodge.
Kingsmills Hotel owner Tony Story has pledged £5.5m to create a stylish hotel at the council's former service point in nearby Church Street.
Other city-centre developments include construction of 18 new homes at the gap site by Raining's Stairs, a project that's well under way, as is the redevelopment of the Midmills Campus which will involve creating both art studios and housing for older people.
On the property front, ambitious plans to build 3,000 new homes, along with local facilities including parks and shops, on the outskirts of Inverness are afoot.
Living in the Highland capital
Regarded by many home owners as a dream location, the combination of a compact city centre and big retail parks just a few minutes' drive from the centre, location, history and scenery, and good range of homes ranging from affordable to fabulous, make Inverness one of the most desirable places to live in Scotland.
It has a good range of retail parks and supermarkets as well as many entertainment, cultural and medical facilities. Of late several new businesses have opened in the city centre including Revolution, a swish new upmarket bar and restaurant on Church Street and MacGregor's Bar at the bottom of Academy Street. The brainchild of well known musician and broadcaster, Bruce MacGregor, what's unusual about this hostelry is that it was the UK's first crowdfunded bar.
Property-wise, Inverness continues to be a happening place, with people moving here from all over the UK – some relocating for business, others moving to be closer to family and friends and those who are retiring, while younger folk are heading to the city to attend the University of the Highlands and Islands which has its main campus here.
And it was revealed earlier this summer that house prices in Inverness have risen further than in any other part of Scotland over the past 20 years.
The city is, simply, a really lovely place to live and visit.
On the doorstep of some of the most beautiful scenery imaginable, the capital of the Highlands has been transformed over the last couple of decades.
But while the city constantly changes and grows, it remains a lovely place to put down roots and perhaps raise a family.
Some may say that Inverness is rather like a big park itself as, because the River Ness runs through it, it has a relaxed atmosphere which makes a walk along its banks rather pleasant. Locals and visitors alike now also have the option of seeing their city from a different viewpoint thanks to the launch of a scenic rafting company, River Ness Rafting.
The Ness Islands, a series of islands linked by bridges, are a popular haunt with locals and visitors alike, while the area around Bught Park is home to everything from high-end rugby pitches to an ice-rink and modern sports and leisure centre. Nearby Whin Park is the ideal place for families as there is everything from miniature train rides and boats to climbing equipment to help tire little ones out.
In addition, the opening of the Holm Mills Bridge across the River Ness has greatly improved access to different parts of the city, while the addition of new cycle and footpaths have made this area a haven for walkers and cyclists as it provides easy access to both river and Caledonian Canal side walks.