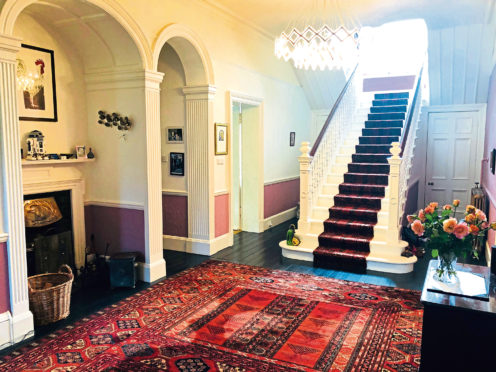 Parting is such sweet sorrow, especially when David and Mary Cameron are having to say goodbye to their much-loved 12-bedroom Edwardian home, writes Susan Welsh.
During the early years of the Edwardian era, it was said the sun rarely set on the British Empire.
Those who were rich were happy to display their wealth and, for some, summer afternoons spent in the garden and either hosting or attending lavish house parties was the norm.
Napier House on Seabank Road in Nairn may well have witnessed such times.
The seaside town, often referred to as "the Brighton of the north", was hugely popular with Victorians and Edwardians keen to make the most of the area's mild climate, glorious beaches and clean, fresh air.
Napier House was built around 1900 and is one of the most prominent and finest coastal homes in the seaside town.
The front of the house enjoys fine views over the beach and the Moray coast while the back of the house not only overlooks the world-famous Nairn Championship Golf Course, but has direct, private access to it.
For the past eight years, Napier has been home to David and Mary Cameron and their two sons.
What's unusual about that is that this gracious, large home has been lived in by relatively few families over the years.
"The house was built as a holiday home by a GP from Edinburgh and his wife, and I'm led to believe it was the first home in Nairn to have its own electricity supply," said Mary.
"They'd come up for two weeks in the summer and the rest of the year the house was unused, which seems incredible these days.
"Over the years, the house was owned by a series of bachelors and single people who lived here in splendid isolation."
Today, the house – which is on the market at offers over £750,000 – is very much a family home, albeit one with a huge amount of accommodation.
The full accommodation comprises, on the ground floor: an entrance vestibule, hall, dining room, sitting room, drawing room, morning room, cloakroom, washroom, main and prep kitchens, butler's pantry, walk-in larder, storage cupboard, laundry/utility room, paint room and boiler room.
On the first floor, there's a master bedroom with en suite bathroom and dressing room, five further bedrooms, three bathrooms and a shower room, a large hall, sitting room, linen store and further storage cupboards.
And there's more…
On the top floor, there are six bedrooms – 12 in total – and what's described as a tank room.
"My husband David is originally from Forres and although we lived in Oxford, we'd regularly visit Nairn, staying at the Golf View Hotel," said Mary, 57.
"When the boys were aged 11 and 15, we moved to Nairn to get away from the rat race.
"Oxford is so busy, and it's not what it looks like on TV.
"Here it's lovely, so quiet and peaceful, and having the sea on your doorstep is wonderful.
"When I go back to Oxford, I miss the clean air of Nairn."
The house required upgrading and they tackled this enthusiastically.
"We have done it up inside and out – put in new bathrooms and water systems; a beautiful new German-engineered kitchen, and generally brought the house back to life while keeping as many original features as possible, including all 13 fireplaces!
"They all work, but we've never had them all burning at the same time," said Mary.
"There are fireplaces in some bedrooms and bathrooms which we no longer use, but they could be used in the future.
"We've installed two wood burners downstairs and when they're lit, the house is like a furnace."
Although it's an enormous property, Mary said that within a couple of weeks of moving in, it felt pretty normal to have so much space.
"The boys had a whale of a time living here," she said.
"They'd disappear upstairs with their friends and had great fun playing football and sports in the gardens, or down at the beach.
"It was idyllic."
While this stunning home is full of wonderful details such as intricate cornicing, wall panelling, working room bells, picture rails, leaded glass, traditional Edwardian tiles, original doors and large rooms, outside is also rather swish.
The house is approached via a pillared entrance while the driveway is lined with maturing beech hedges.
The gardens are immaculate, full of well-stocked flower beds and trees, including fruit ones, and there's a pond, too.
There is also a summerhouse, greenhouse and detached garage and storehouse.
"Although we offer B&B on a small scale, with both boys now away at university, it's largely just myself, David and Bilko, our enormous husky, at home now, so the house feels a little too large for us.
"It really should be lived in by a family, so it's with a sense of reluctance we've decided to sell."
Contact: Strutt and Parker on 01463 719171.