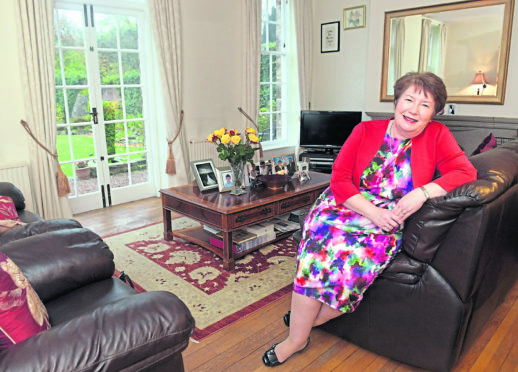 Behind the door of Number 16 Chanonry is a historic mansion which has been filled with love. Its owner told Ellie House why it will
always welcome her home.
When it comes to large historic houses, you'd be forgiven for picturing dark corridors and chilly rooms.
Cast aside all assumptions at Number 16, Chanonry in Old Aberdeen and allow yourself to be welcomed by its timeless charm.
Hidden behind a beautiful walled garden, this category B listed family home in Old Aberdeen has perhaps taken on the personality of its owner.
Moira Kelly is as much a part of Chanonry as the pink sandstone slabs which stand out in a city of granite.
Warm and evidently filled with affection for this gorgeous mansion, Moira believes it is time for a new family to discover its secrets.
Chanonry welcomed Moira when she married her late husband, Raymond, who bought the property 12 years ago.
Having moved from the outskirts of Glasgow, Moira did not believe she would take to city life.
Chanonry was to prove her wrong, for after gently bumping down the cobbled streets it feels a world away from the throb of the city centre.
The property is steeped in history, and Moira says she would not be surprised were new owners to discover relics from the past as she and Raymond did over the years.
"Chanonry soaks you up; the best way I can describe Chanonry is to say it is a home," she said.
"It is incredibly warm and welcomes everyone across the threshold.
"It almost feels like a retreat; this house will take care of you in a way which I can't really put into words."
Despite its size, Chanonry has a gentle feel with its pink tinge and south-facing windows meaning each room is filled with light.
The house was designed by Alexander GR MacKenzie and built in 1936 after the original building was demolished in 1905.
"I always say that this is a 1930s house pretending to be much older," said Moira.
"It has two sets of foundations and you can still see parts of the original property in the surrounding walled entrance.
"I've only just discovered what we think might be a medieval mantelpiece in the garage."
The elegant entrance hall has solid oak flooring and leads to three reception rooms.
Each room tells a story and many guests have enjoyed Chanonry's hospitality this past decade.
The library, drawing room and dining room offer sandstone fireplaces and large twin windows.
Both Moira and Raymond were avid readers and the library alone contains hundreds of neatly-shelved books.
"We call this room the factual room and each shelf has been organised depending on country," said Moira.
"I love reading in here but I also tend to relax in the drawing room.
"The drawing room sounds pretentious when Chanonry is anything but.
"I'll never forget my niece's children racing in and out of the dining room because it has two entrances.
"One entrance would be for serving staff and they also had a separate staircase leading to their quarters upstairs."
The family has always tended to gather in the modern dining kitchen.
It offers an Aga, ample dining space and a central island.
The back hall leads to the original butler's pantry, store room and back vestibule.
On the first floor is a master bedroom with en suite, complete with a gorgeous roll-top bath.
There are a further three double bedrooms, shower room and bathroom.
As you climb the stairs, St Machar's Cathedral creeps into view.
The Chanonry was previously known as the Chancellor's Manse, with the entire street exclusively the domain of Canons in the 14th Century.
"I met Raymond because we both worked in tax so I always found it rather funny that we lived in the Chancellor's Manse" said Moira.
"I hear the bell ringers practising at the cathedral every Monday night and it's a beautiful sound.
"One of the things I always loved about this house is that it could be filled with people, but it never felt like you were on top of each other.
"When we had visitors to stay, I always used to tell them to relax and do as they pleased.
"This was never a house where you would feel nervous about making a mess."
On the second floor are two further bedrooms and one room is believed to have been the housekeeper's sitting room.
The gardens of Chanonry complete its enchantment.
With roughly one acre of ground, manicured lawns are surrounded by mature trees including a beautiful cherry tree.
Deep borders are filled with a variety of herbaceous plants and Moira planted roses after digging up what she believes to have been the original vegetable patch.
"I also planted lots of spring bulbs," she said.
"Tulips, daffodils and crocuses flower every year.
"The cherry tree is just gorgeous, it is a riot of pinkness.
"In the autumn the garden turns golden, yellow and red.
"If you walk about just after it has rained, you can smell the earth.
"I'm biased but I love standing here and looking back at the house.
"It's filled with so many memories and I think for Raymond especially, it was a wonderful piece of history."
The oldest house in Aberdeen is mere seconds away and the 14th Century wall surrounding Chanonry is listed. There has long been a myth that during the reformation, treasures were taken from St Machar's Cathedral and hidden in a tunnel for safe keeping.
"The tunnel has never been found but Raymond always used to tell my cat, Muffin, to go outside and dig for victory," said Moira.
"I am so close to the city and yet I feel completely hidden here.
"It's like the secret garden and when it snows, it's winter wonderland.
"Chanonry has a je ne sais quoi about it.
"I'll never forget it."
Offers should be made of more than £1,000,000.
Contact Ledingham Chalmers on 01224 632500.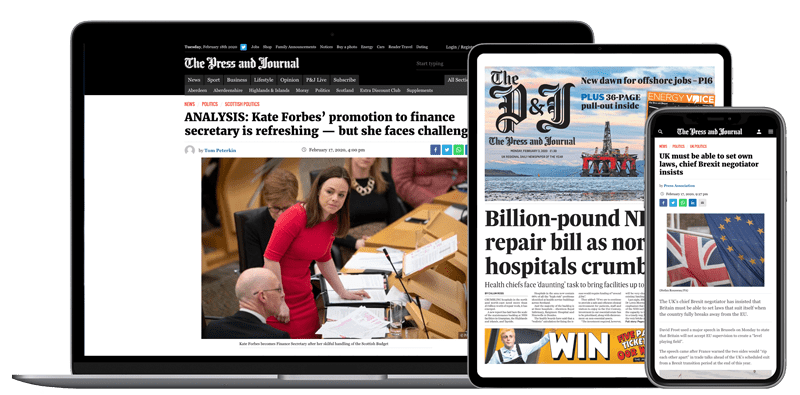 Help support quality local journalism … become a digital subscriber to The Press and Journal
For as little as £5.99 a month you can access all of our content, including Premium articles.
Subscribe