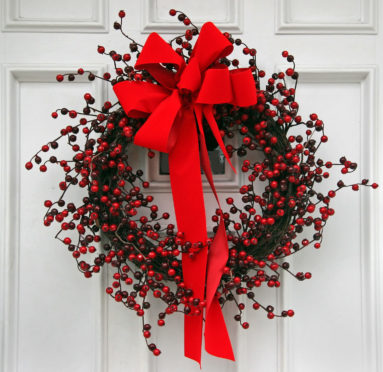 Christmas is one of the best times to market your property, according to a Scottish independent property consultancy.
Galbraith have said that on Boxing Day agents report seeing a spike in online traffic, suggesting that it is one of the busiest days for house hunters.
And now Jennifer Campbell, a residential agent for Galbraith in Stirlingshire, has revealed her top tips for marketing a property over the festive period:
A natural wreath on the door is a lovely invitation for viewers, after all you want them to envisage their next Christmas in that property.
Pile the logs by the fire and have the fire lit during viewings, such a homely atmosphere will be difficult to resist.
Keep decorations in keeping with colour themes in the property where possible.
Natural choices of holly and ivy, pine wreaths and wooden decorations are timeless and classic in design and are less likely to offend.
Fresh flowers with or without a Christmas theme are a must for the entertaining season and will be appreciated during viewings. Flowers always compliment a room.
Encourage the children to make decorations for their rooms and if you have a playroom why not have a tree for them there to inspire them, this keeps your colour schemes in control elsewhere in the house.
Keep outside lighting to a minimum, some simple fairy lights on a tree or shrub will create a welcoming atmosphere and again a classic white light is less likely to offend.
Scented candles can be very effective at creating a winter ambience without the need for decorations, ginger spice or mulled wine scents are very popular and also add to the viewing experience.
Always make sure viewings are in daylight hours so they can appreciate the property at its best.
For marketing brochures at Christmas, take your photographs before you decorate the house and not on a snowy day. Photographs instantly date the marketing.