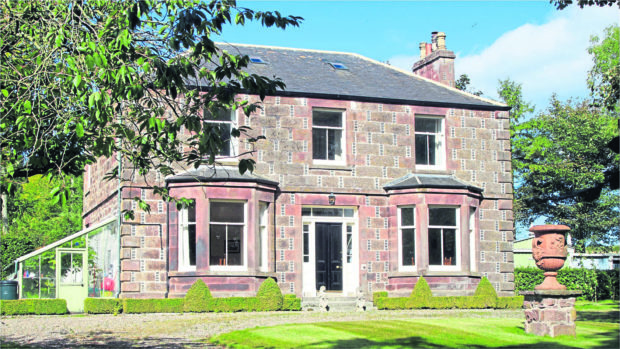 Standing for more than 100 years, the owners of Burnside House in Turriff told Ellie House why its magic will never fade.
The delicate white petals of snowdrops are just beginning to emerge in the grounds of Burnside House, their glistening green stems a reminder that spring is on the way at last.
The glimmer of a new season in the garden comes round every year and is a constant in the bubble of Burnside, for this beautiful country house appears to exist in its own rather remarkable world of history and loveliness.
The six-bedroom family home is accessed via a winding farm track and is surrounded by a thicket of trees.
You could almost miss the turning into the drive and you certainly can't see Burnside from the main road, just beyond Turriff town centre.
It is not so much secluded as wonderfully hidden, and has been what its owners describe as a "well kept secret" for more than 100 years.
It is rare to find a home which combines such a heady mixture of period and modern features, with its story traced through almost every room.
There is nothing showy or imposing about its stone facade, which is stained a dusty pink in parts, and Burnside seems to welcome you home.
It is solid, reassuring, and its current inhabitants believe they will be hard pushed to find a new house which has been built with such skilled intent.
---
>> Keep up to date with the latest news with The P&J newsletter
---
Finding a property which will measure up to Burnside is proving to be a challenge for Laura and Ben Daniel, who walked over the threshold four years ago.
It has been quite the journey for the couple, who decided to move to Burnside with their three children; Thorfinn, who is nine, six-year-old Magnus, and Freya who is four.
The final addition to the clan, two-year-old Balfour, was delivered at Burnside by Ben.
The on-call midwife arrived 45 minutes after the birth and Balfour was named after the Orkney hospital where his three siblings were born.
Thankfully, Laura and Ben weren't fazed by his sudden arrival, and perhaps have their training to thank for such calm dispositions.
The pair met at a military ball. Laura joined the Royal Air Force as a dentist while Ben was a pilot.
After leaving the armed forces to focus more on family life, Burnside was the perfect base where the children could enjoy a Swallows and Amazons-style childhood.
"We both come from big families and we grew up having so much freedom," said Ben, who is originally from Yorkshire, while Laura hails from Orkney.
"We knew that's what we wanted for our own children. We wanted them to have the space to roam and have adventures.
"We drove away from our first viewing at Burnside and we simply turned and looked at each other, we knew.
Check out this fantastic example of a superbly built and designed family home in Moray
"We will forever compare every house to Burnside and most likely find it wanting, it tends to have that effect."
The Daniels have kept Burnside in keeping with its origins and it dates back to 1889. It was built for James Beaton, a wealthy coffee plant owner, with the oldest part of the house found to the rear.
Walk through the wide hallway to the open-plan kitchen diner and family room, where everybody tends to congregate.
This is an amazing space where modern sleek meets traditional country house style.
"We adore this part of the house and managed to get the kitchen sorted just before Balfour was born," said Laura.
"The decorators left on the evening I went into labour, their faces when they arrived for work the next morning to find me with a new-born baby.
"We had four children under the age of seven at one time but we consider ourselves to be exceptionally lucky,
"We stripped the kitchen right back to stone walls in order to redesign the layout.
"We also did new cavity wall and floor insulation, but the kitchen was really Ben's dream."
It boasts a wood-burning range and wooden units from Creamery Kitchens of Somerset.
"I drove to Somerset to pick up the units; I have always wanted a Creamery Kitchen and it hasn't disappointed," said Ben.
"We spend so much time in this room; it was an awful lot of work but it was very much worth it.
"We created storage such as the pantry and a little office where the children do their homework. Making Burnside work for us was important, we needed good storage solutions or we'd disappear with the mess that comes with having four kids."
The family has certainly had plenty of space to spread out, with four reception rooms where period features have been carefully preserved.
The seating area of the kitchen diner is separated by folding doors and has two Lorimer-style fireplaces.
The dining room and the drawing room have bay windows to the front together with cornicing, picture rails, high level skirtings and wooden flooring.
The drawing room also has an open fireplace with a marble mantel.
Careful preservation of the past means Burnside still has a comforting old feel, and you can picture guests arriving by carriage for drinks in the drawing room.
The wide staircase leads to the front and rear landings where you'll find all six bedrooms.
The master bedroom has a dressing room and interconnects to bedroom two, particularly useful for those with young children.
This room also has an en suite with free-standing roll-top bath.
There are two further bathrooms and the remaining five bedrooms are all of a good size.
It is the grounds of Burnside which perhaps make it so magical though, and clinched the deal for the Daniels.
With eight acres to explore, the extensive gardens are a paradise for wildlife.
The grounds have been thoughtfully landscaped in parts, and left to grow wild in what the family refer to as the "woodland walk".
There is a pond complete with an island and bridge as well as a winter garden which has been laid out as a boxed hedge and yew parterre.
A greenhouse is attached to the side of the house, so you can keep gardening no matter the weather.
Burnside also boasts its own bothy which has been partly renovated. There is a fenced paddock and orchard, alongside a wood shed and garage.
The family are moving to Inverness due to Ben's job as a helicopter pilot but for Laura and Ben, there will never be another house quite like Burnside, although home is, of course, wherever this couple choose to base their family.
"Where the children are is where home is and I have to keep reminding myself of that when I think about leaving Burnside," said Laura.
"The children say we can't leave because Balfour was born here and in their eyes, that means we must stay forever.
"Burnside has and always will be our perfect hideaway, to which nothing else compares."
Offers should be made of more than £530,000. Contact Savills on 01224 971110.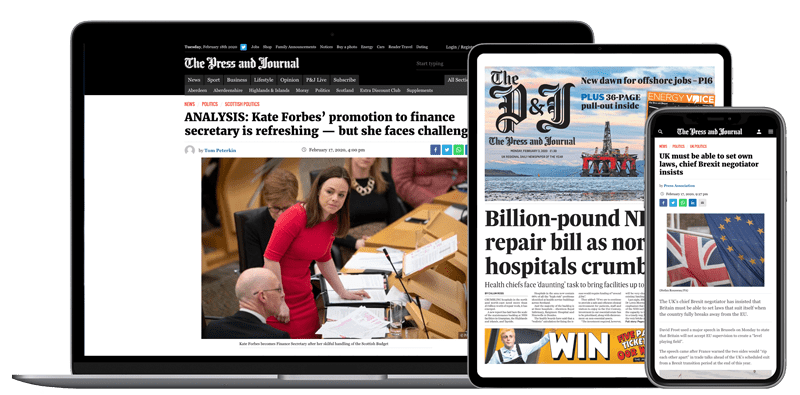 Help support quality local journalism … become a digital subscriber to The Press and Journal
For as little as £5.99 a month you can access all of our content, including Premium articles.
Subscribe