Life at Earlswells House seems to spin on its own axis, dictated only by the passing seasons as the beautiful gardens emerge into spring and the pink granite shrugs off the cold gleam of winter.
The daffodils may be the last to emerge in comparison to surrounding gardens in Bieldside, and the positioning of Earlswells means the frosty lawns take that bit longer to melt.
The wait is worthwhile as the seasons change, with the burnished crimson of the resident Acer tree being a particular highlight in autumn.
The six-bedroom family home is tucked away down a private road and offers stunning accommodation which dates back to 1897.
A succession of owners have carefully updated the property, from landscaping the gorgeous grounds to adding an extension and conservatory.
The current owners, Moira Cameron and Erik Nijdam, have spent 10 years revelling in all Earlswells has to offer, after moving to Aberdeen from Oman with their three children.
They feel the time is right to hand it over to new caretakers, and will be leaving with happy memories and a jar of crab apple jelly thanks to the bumper crop in the garden last summer.
A new life in The Hague beckons due to Erik's job with Shell, and the pair believe they never truly owned Earlswells House.
"We don't think of it as ours because it has belonged to everyone who has lived here over the last 120 years," said Moira.
"We are still very good friends with the previous owners who did a great deal of work, and they lived at Earlswells for 30 years.
"It has a fascinating history and when it was first built, the property was actually in the name of a woman.
"That was very rare at the time and she needed permission from her husband, which is stated on the deeds.
"She ended up moving back to the city after her husband died within a year of living here, and there was a variety of owners as time passed.
"There was a dentist who lived here for 20 years and he built on the servants' quarter, with a scullery and a separate staircase.
"It was then sold to Tor-Na-Dee sanitorium; there have been plenty of interesting people here and now we're hoping a new family will come along as we did and make their own changes."
Moira and Erik moved to Aberdeen after four years spent living in Oman and initially believed they would settle down in neighbouring Cults.
But fate had other ideas and a failed bid on a different property led the way to Earlswells.
"I got a flight from Oman and we put in an offer for a house after I did the viewing," said Moira.
"But in the time it took me to do the return journey, our bid was rejected.
"So when I saw Earlswells online about a month later, I asked the solicitor to have a look first.
"She rang me straight away and confirmed it was as amazing as it looked; I simply had to see it for myself.
"We came here with Eline, who was just starting secondary school, and our two sons, Ian and Shuard.
"The children were overwhelmed at first, as in Oman they didn't really play outside because it was far too hot.
"Suddenly they had all this space to explore from the woodlands to the house itself.
"They were able to continue learning Dutch at the international school, they were very happy here."
The family spend most of their time in the gorgeous kitchen and conservatory, in part due to the warmth from the AGA.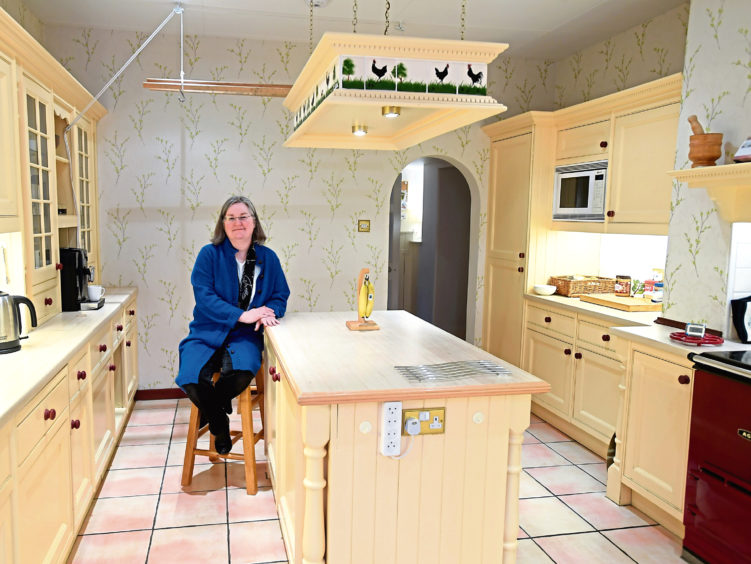 "We always gravitate towards this space because it's so warm and cosy," said Moira.
"Even if it's not sunny outside I love sitting in the conservatory, it's very peaceful in here.
"It's a great spot to see the wildlife; we have red squirrels and roe deer often come into the garden.
"Due to the reflection on the glass they don't often realise they are being watched, when you are just the other side of the pane."
The kitchen features hand-painted wall tiles and a central island.
Many a saucepan of jam has bubbled away thanks to a plum tree and two apple trees, which produce good crops depending on the weather.
The lounge and dining room both offer traditional period features including beautiful bay windows.
There is also a games room with a huge snooker table, which was inherited from previous owners.
"We've had so much fun in this room and we were a bit surprised when we found out the snooker table was getting left behind," said Moira.
"But it turns out that it would actually be cheaper to buy a new table than attempt to move one, so we will be passing the table on to the new owners as well."
A guest bedroom with en suite can be found on the ground floor, and the accommodation is completed by the boot room and utility room.
The family bathroom is at mezzanine level and has a corner bath and walk-in shower.
Further bedrooms can be found up an impressive staircase with one bedroom offering an en suite.
There is also a dressing room which could easily be transformed into a home office, although one bedroom is currently in use as a study.
Earlswells sits in roughly three acres of land which is interspersed with mature trees, including a monkey puzzle tree and the beautiful Acer.
There are climbing roses and a drystone dyke alongside a raised patio area.
Stables have been converted into storage space and there is also a triple garage.
"I think there's something about Deeside which welcomes people, and a lot of people in Bieldside didn't grow up here," said Moira.
"When I first arrived, a local mum organised coffee with other mums so I could get to know people.
"Ten years later and our children are all grown up, but we still meet regularly.
"We think of Bieldside as the village. I've always rooted myself in places and I tend to hate leaving.
"But my youngest son is very excited to move to The Hague; the children believe that home is where family is.
"It's very true and we hope another family will make a life at Earlswells as we have done."
Offers should be made of more than £1,295,000.
Contact Raeburn Christie Clark & Wallace on 01224 564636.