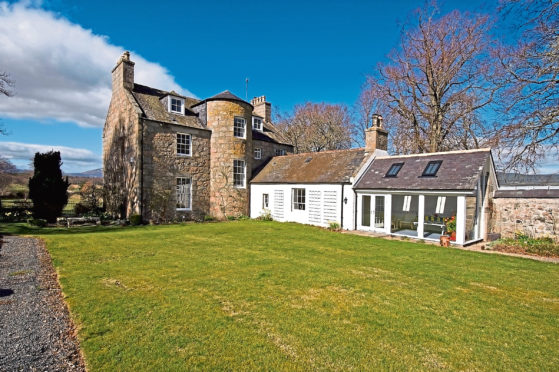 When Professor Jane Geddes first set eyes on Kirklands of Coull, the former manse seemed to greet her through thick fog; almost as if it had been waiting for her appraisal.
The period property sat cold and empty after an unforgiving winter, the grand rooms silent after decades of colourful owners.
It might not sound all that appealing, but Jane's mind was made up.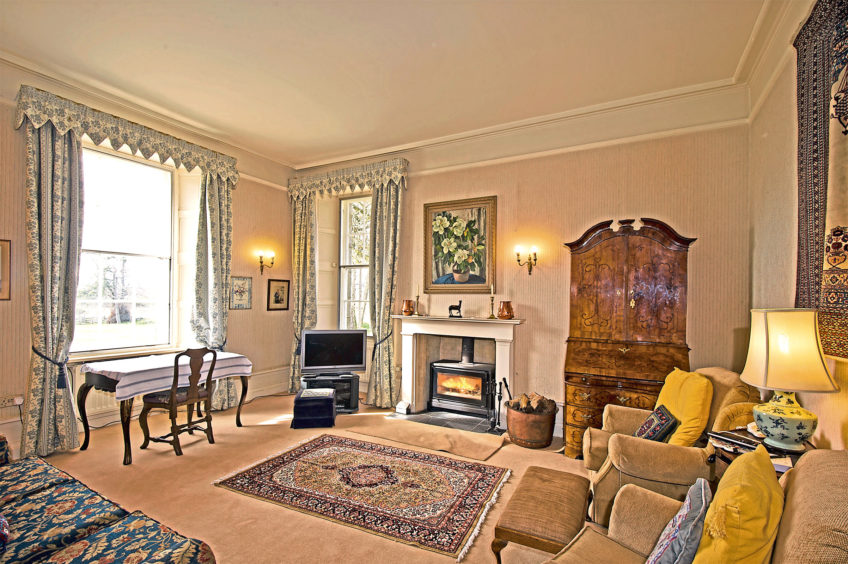 As she stood at the front door and surveyed the sweeping view of mountains and sky, she fell in love with Kirklands of Coull and all it had to offer.
From its fascinating history to the distinctive tower and sheltered walled garden, it would seem the spell was well and truly cast.
Jane has spent 30 marvellous years at Kirklands, and has also become part of the tight-knit community on her doorstep in Tarland near Aboyne.
But now her children have flown the nest, she believes the time has come to let new owners enjoy the six-bedroom family home.
"We were living in Netherley when Kirklands of Coull came on the market, and my husband said it was for sale," said Jane. "I remember I was furious at the time, because the way I saw it, we already had somewhere to live.
"But off we went to look at Kirklands anyway; it was all locked up and empty.
"I remember reaching this beautiful Georgian front door, and a split second was all it took for me to fall in love.
"I said I didn't care what it cost, we simply had to move there."
But on Jane's admission, the interior was a "disaster".
"It was the day before we exchanged contracts and the weather had been so cold that the temperature dipped to -20C," she said.
"Every single radiator burst, the flooding was immense.
"Thankfully it was all replaced on the previous owner's insurance, giving us a new heating system."
Kirklands of Coull now offers a stunning mix of old and new, and period features have been carefully preserved.
Symmetrical reception rooms can be found on the ground floor, and the formal drawing room offers dual aspect views to the west and north.
A welcoming fireplace houses a wood-burning stove.
On the right is the formal dining room with an original neo-classical open fireplace, and views over the sweeping lawn and the Tarland Burn.
To the rear is a bedroom/study with views across the walled garden, and a further study/store room can be found beyond the drawing room.
The former manse is believed to have been built originally in the 18th Century, with the main building rebuilt and designed around 1834 by renowned Aberdeen architect John Smith.
"It was clearly built using good-quality stonemasonry," said Jane.
"This means that the house has stood the test of time – from the outside it remains exactly how it was built all those years ago.
"Inside, the quality Georgian features are all intact, with fine woodwork, sandstone flooring in the hall and plaster detailing.
"Obviously we have renovated practical aspects of the interior.
"We were pulling up the floorboards when we got a knock on the door from the police.
"They asked if we had found any money, and I said no.
"It turned out that one of the previous owners had been imprisoned for counterfeiting money.
"The illegal cash had never been found, and once the children knew there might be a stash hidden somewhere, they wanted to pull up every single floorboard.
"The search proved fruitless, but it certainly makes for a good tale."
The breakfasting kitchen features terracotta floor tiles and a two-oven pale-blue oil-fired Aga, while the modern sun room offers a further spot to unwind.
With gorgeous views across the garden and countryside, this modern space floods the house with heat and light.
There is also a wine cellar, family bathroom and utility room.
The elegant winding staircase with curved sash windows projects in a semicircular tower at the back of the house, providing fine views over the garden.
The bedrooms are all of good size and offer stunning views over Morven.
"I use one of the bedrooms as a study, and to work in there is simply inspirational, a privilege," said Jane, who is a professor in history of art at Aberdeen University.
"Moving to Kirklands of Coull has made me deeply curious about architecture in the area.
"It kick-started my interest, and when I look out at the view, it's not difficult to see why it stimulates the mind."
Jane has also lavished love and attention on the grounds of Kirklands.
The walled garden, filled with roses and delphiniums, is a particular highlight.
There is a large field, which is used for grazing.
"I don't think we can ever forget that Kirklands of Coull was used as a manse, because of the tiny gate in the garden," said Jane.
"It leads to the church, and after a service, everybody comes back for tea and coffee.
"At Easter, there is a dawn service outside in the field, followed by breakfast with bacon sandwiches.
"Kirklands of Coull was built to serve the community, and we have enjoyed continuing that tradition.
"Here, you live close to the elements, with the light changing the view each season. At the moment, Morven is lit up by pink sky in the morning and purple streaks in the evening.
"It's a swift commute to Aberdeen along empty roads, and not once have I been late due to snow.
"This is a house with character and a very exciting past. I hope new owners will want to relish and cherish it, just as we have."
Offers should be made of more than £575,000.
Contact Mackinnons on 01224 868687.