The soft pink granite sparkles in the gloom, and appears even more beautiful with age.
The pillars can be traced back to the 19th Century, but the passing of time has not erased their exquisite detail.
They stand within a grade C-listed chapel, which has stood unused for decades.
Even more remarkable, this beautiful building lies in the heart of Aberdeen city centre.
The buzz of Union Street is only a short walk away, with its many shops, bars and restaurants.
Yet the chapel seems to exist in a world of its own, set back from the road within Union Grove.
It has perhaps been silently waiting for a new lease of life.
This wonderful slice of history could have been destined to slowly turn to rubble, which is the sad fate of many period properties.
But in less than a year it will be filled with new residents, having been turned into four very different homes.
Bancon Homes bought the building nine years ago, and opted to alter planning permission from commercial to residential use in response to a changing market.
It had already turned the surrounding buildings into a mixture of houses and apartments, with the overall site named Aspire.
The chapel, which will be known as Aspire House, is the next piece of the puzzle, and the new homes are expected to be finished by March 2020.
Bancon officially started work on the building five weeks ago, and we were granted an exclusive tour.
It's not difficult to see the vision which inspired Allan Clow, managing director, and Jamie Tosh, who is operations director.
The pair are clearly excited by the project, which is the first of its kind for Bancon.
"We haven't really done anything like this before; you could say it's a first for us as it's not every day you find yourself working on such a beautiful building" said Allan.
"This isn't your standard new-build site, and we have always been keen to maintain as many period features as possible to make the most of what's on offer.
"This is a grade C-listed building and that's something we're very aware of.
"Following talks with planning and conservation officers, we came up with the design for residential use – which made far more sense the using this building for commercial purposes.
"We want to maintain things like the beautiful high ceilings and stained-glass windows."
The glass has been carefully removed and sent to a restorer in Ayrshire, although all of the contractors working on the site are local.
"The stained glass will be refitted once it has been restored, that was really important to us," said Allan.
"There are very few people who have the expertise for such a task, hence why we ended up sending the glass away.
"This building has a wonderful sense of character, it's one of a kind. We don't want to lose that.
"I think it will be really popular with people, because there's nothing else like this in Aberdeen."
The foundations are in the process of being relaid, but it's not difficult to see how the plans will come together.
Jamie can clearly see the finished product, and explained how the new layout will work in reality.
"There used to be a balcony where sermons would be delivered," he said.
"We removed the balcony, and intend to make the most of the space leading off it.
"We're going to turn that space into a study for one of the apartments, and each apartment will be different both in size and style.
"This is a rather unusual project; it can be a bit nerve-wracking at times when you're dealing with a property like this.
"I think there is a real demand for properties in the city, and particularly properties as unusual as this."
Each apartment will be named after areas in the north-east, with prospective homeowners able to choose between the Ardoe, Ferryhill, Maryculter and Skene house style.
They will all benefit from German-designed Leicht kitchens, bespoke lighting and luxury bathrooms.
There will also be picture windows alongside open-plan space.
"We've combined all the luxuries of modern living with the chapel's history," said Jamie.
"Once the stained-glass windows are returned, I think we'll really get a feel of what it will look like.
"But in the meantime, we've created a walk-through video which will enable people to see what the apartments will look like.
"The previous phases of the development sold out, and I have no doubt that Aspire House will be just as popular – if not more so.
"There's no other place like it, it's a very special project for us to work on."
The apartments will have access to shared grounds and private parking, with each property offering its own individual entrance.
For more information visit banconhomes.com/coming-soon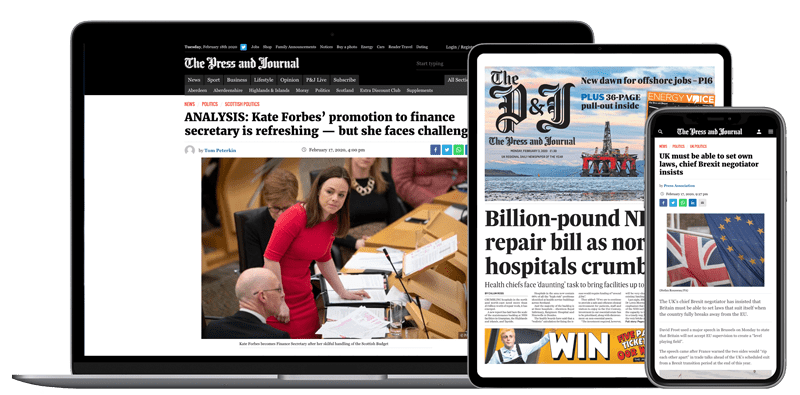 Help support quality local journalism … become a digital subscriber to The Press and Journal
For as little as £5.99 a month you can access all of our content, including Premium articles.
Subscribe