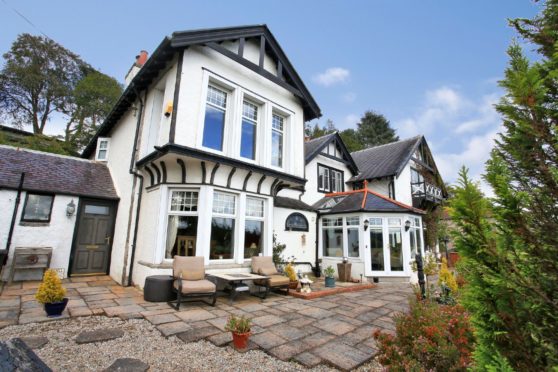 The leafy green of the Virginia creeper has turned to burnished red, and the climbing plant will soon shed its fiery foliage as winter sets in.
It is in perfect keeping with the surrounding countryside, as the stunning view across Royal Deeside golf course offers pockets of yellow and conker brown thanks to the surrounding woodland.
Dorothy and Mike Leys have admired the autumn splendour for the past 20 years, after falling in love with secluded Broomlee, at number 15 Cults Road.
The Deeside Way is only a short distance from this amazing period home, which seems to exist in a peaceful bubble at Cults on the outskirts of the Granite City.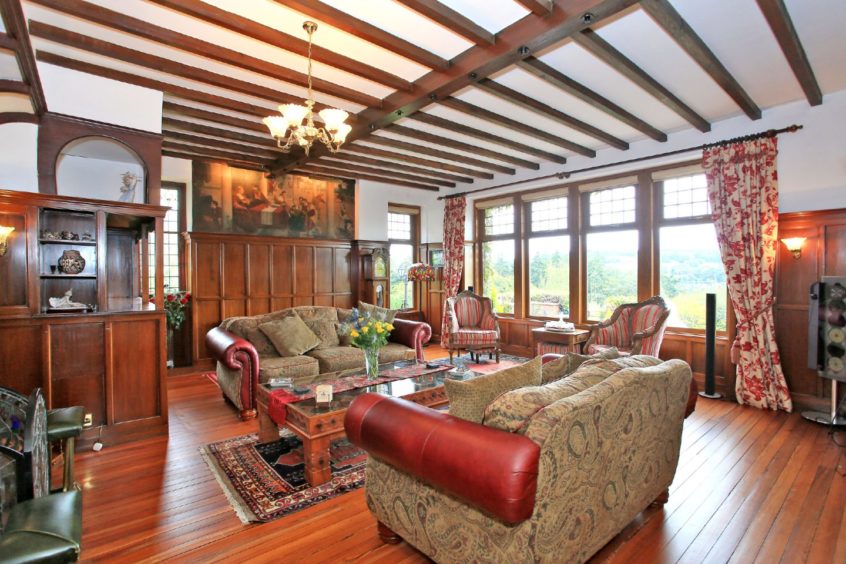 It boasts only a handful of owners from across the decades, which is all the more remarkable considering that parts of the property can be traced back to 1864.
Residents include artist Maggie Watson, who lived at Broomlee in the early 1900s.
She certainly left her mark, via a gorgeous mural which she painted on to canvas in the lounge. It has been beautifully preserved, and remains a favourite feature for Dorothy and Mike.
"It was around this time of year we came to view Broomlee, after finding out it was on the market through a friend," recalled Mike, who retired from the oil and gas industry two years ago.
"It must have been November. It was a cold day but there was one of those crisp blue skies.
"We took one look at the view across the golf course, it was just gorgeous, and after looking around, we thought to ourselves, yes, this is home.
"We had never lived somewhere like Broomlee before – our previous house was a townhouse with three storeys.
"Although we have the original deeds, we're not sure who the house was built for. We do know that there haven't been that many owners though.
"There used to be just a cottage here, and we enjoy telling people that we live in a cottage!"
The humble cottage now offers four bedrooms, several entertaining options, and even a renovated washhouse, alongside beautifully well cared for grounds.
The lounge features the lovely mural, as well as wood panelling, ceiling beams and a coal fire. This room is filled with character, and would be ideal for more formal entertaining.
There is an equally impressive dining room, and both rooms offer wonderful views.
You'll find stained glass panels throughout the property, which have been created by Dorothy.
"It's just a hobby, but I really enjoy it," she said. "I've created a few panes here and there.
"Broomlee has been a fantastic family home, and we are really going to miss it."
The fully fitted kitchen has a lovely cream AGA and excellent storage options, alongside access to the charming breakfast room.
"We've done bits and bobs over the years; we replaced the kitchen because the old one was quiet tired-looking," said Mike. "We've redecorated and put down new floors, and we also revamped the basement."
The couple enjoy relaxing in the basement, which may seem an unusual choice in such a large house. But they have turned it into a snug haven, complete with a bar, wood-burning stove and in-built bookshelves.
"We know a professor used to live here, and he had model trains in the basement," said Mike. "A track was mounted on to the walls and these little trains chugged along on it, they went out the window into the garden and routed back through.
"We love this room, we come down here most evenings. It would make a fantastic cinema room; it's really versatile."
Heading back upstairs, a lovely sun lounge completes the ground-floor accommodation.
It overlooks the rear of Broomlee, and provides the perfect opportunity where you can sit back and enjoy the views.
All four bedrooms can be found upstairs and are of excellent size.
One room is currently in use as an office, and could easily be transformed into a playroom or a nursery.
The gardens of Broomlee are the icing on the cake, and have been well cared for over the years.
"You'll find a mixture of plants, flowers and trees, alongside a driveway and double garage," explained Mike.
"We've really loved living here, it's very secluded and it has always been popular with our visitors as well.
"We're now looking to downsize as this house is simply too big for the two of us.
"We think that it would make a wonderful family home for its new owners."
Offers should be made of around £1,000,000.
Contact the owner on 07800 924168, or AC Morrison & Richards on 01224 573321.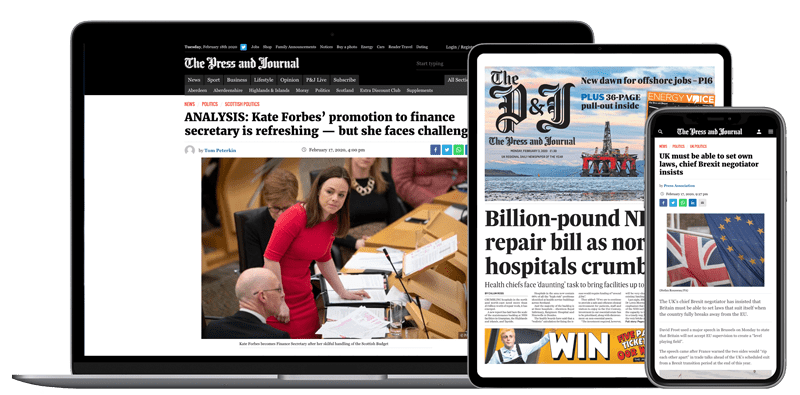 Help support quality local journalism … become a digital subscriber to The Press and Journal
For as little as £5.99 a month you can access all of our content, including Premium articles.
Subscribe