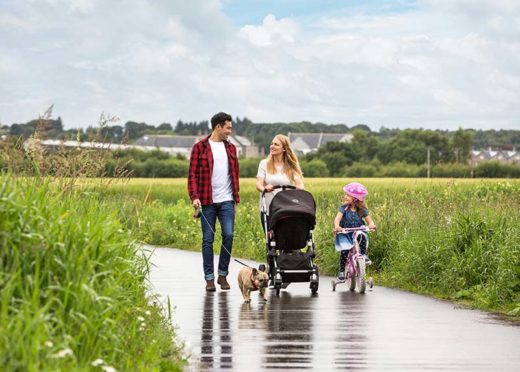 Malcolm Allan Housebuilders is set to release an impressive new range of homes as part of the next stage at their popular Lochter development in Inverurie. These new homes will offer an increased choice across the development, allowing you to find the perfect home.
If it's a two bedroom home you're searching for, there will be additional Hallforest 2 homes, as well as a brand new semi-detached 2 bedroom option. Both homes will offer impressive floor areas and an array of varying unique features.
So if it's a larger kitchen for the food enthusiasts that you need, or a spacious lounge for those cosy nights in, you are sure to find a home that is just right for you.
If you're looking for something larger, additional Hallforest 3 homes will be built, a very popular home in the first stage of the development. There will also be a new three bedroom semi-detached option, giving even more choice.
Another exciting addition is the Hallforest 4 – a four bedroom home previously only available at Westgate South in Inverurie. With four bedrooms including an en-suite, the Hallforest 4 offers that extra space and flexibility if you have a larger family.
The Elphinstone 2 will also be introduced – a semi-detached bungalow that comes with en-suite shower room and spacious living areas. This will sit alongside the existing 2 bedroom Tillyallan and 3 bedroom Kerrallan bungalows that will continue in the next stage of the development.
Every home in the next stage of development at Lochter will be built to the same high standards and specifications that Malcolm Allan is known for.
All of these homes come packed full of extras like built-in wardrobes, and the kitchens include integrated appliances such as fridge / freezer and dishwasher.
Once you've found the perfect Malcolm Allan home for your needs, the interior is by no means a standard affair. Where possible, Malcolm Allan Housebuilders wants to ensure that each home is the ideal match for each buyer and offers an extensive customisation service to get your home just as you want it.
Whether it's choosing preferred radiators, or adding luxury extras such as underfloor heating, Malcolm Allan Housebuilders listens to you throughout the process.
Lochter is located off Oldmeldrum Road and blends tranquil surroundings with easy access to local amenities. Inverurie train station and town centre are located less than 1 mile from Lochter and can be accessed via walking routes through the Ury Riverside Park – a scenic community park full of wildlife, birds and wildflowers.
A large supermarket is located minutes away by car and located only 18 miles from Aberdeen, Lochter sits on a perfect route for commuters.
For growing families, Lochter is a real attraction with the new Uryside Primary School located right on Lochter's doorstep and a secondary school within walking distance.  Hoodles Playbarn is also only a short drive away with plenty to entertain the little ones.
Malcolm Allan Housebuilders would be delighted to welcome you and your family to explore all that Lochter has to offer, helping you find the home you have been dreaming of.
To find out more, visit the Malcolm Allan Housebuilders website,email Lochter Sales Adviser Pamela at PWilson@mahousebuilders.com or call 07919 330367.