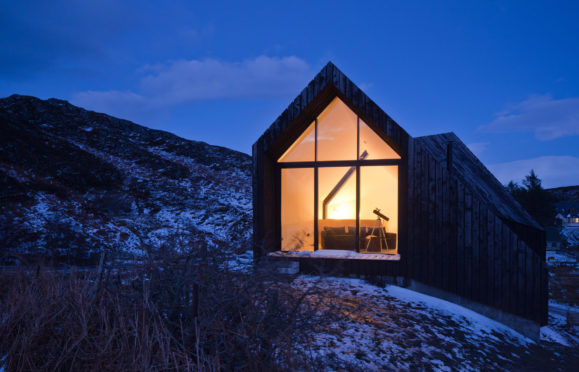 At parties, you're often introduced to strangers who later become friends or people who have a big impact on your life.
That was certainly the case for Chris Lemons and his wife Morag.
"We were at a party thrown by my sister where we met one of her friends, an architect called Graeme Laughlan, who was branching out to start his own company, Raw Architecture Workshop," said Chris.
Little did they realise that one day, that party introduction would lead to Graeme designing for them a spectacular home, Taigh Dubh Na Mara, which is regarded as an iconic west coast property.
Chris, 40, a saturation diver in the oil industry, said: "Morag is a Gaelic teacher and she got the head teacher position at the dual-language school in Mallaig, which brought us to Morar.
"After a few months renting we decided to build our own home and immediately thought of Graeme.
"We gave him an outline of what we wanted but the design was very much his doing – we could never envisage something like this as we haven't got that kind of imagination!"
The result is an award-winning, highly unusual home, located in the very desirable area of Camusdarach at Morar.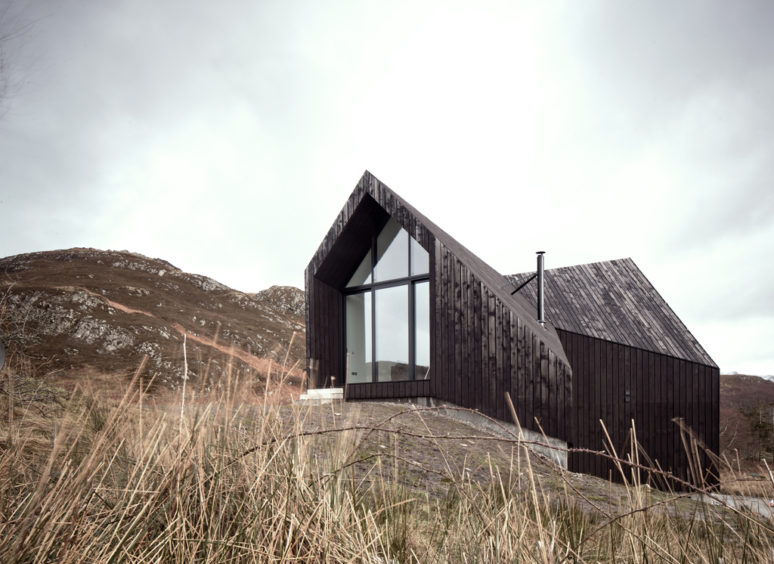 If the name rings a bell it's because beautiful Camusdarach Beach, which is just yards away from the house, featured in the cult movie Local Hero.
The three-level house, on the market at offers over £520,000, was built to capture the spectacular sunrise views over the mountains and sunsets.
Built on a concrete base with a timber frame superstructure made with locally sourced timber, it stands out from the crowd, so did that mean they faced a battle to get planning permission I wondered?
"Some people have suggested we must have greased some palms but that wasn't the case because Graeme was fantastically well prepared. He had built models and had good, clear explanations as to why the house looked different to other homes in the area," said Chris.
"The planning department were really enthusiastic and liked what we were doing."
Built in 2013, it's been a fantastic family home for Chris, Morag and more recently their two daughters aged four and 12 weeks.
There's a dark, atmospheric feel to the ground-floor level which has a bedroom (currently used as an art studio) with en suite and a utility/boot room.
A combination of pendent lighting and natural light from a feature glazed panel leads you to a bespoke stairwell leading upstairs.
The first floor has four bedrooms; the master having a large picture window and en suite bathroom with walk-in rain shower.
The top floor has high vaulted ceilings, a modern kitchen, dining area and lounge with wall-mounted wood-burning stove.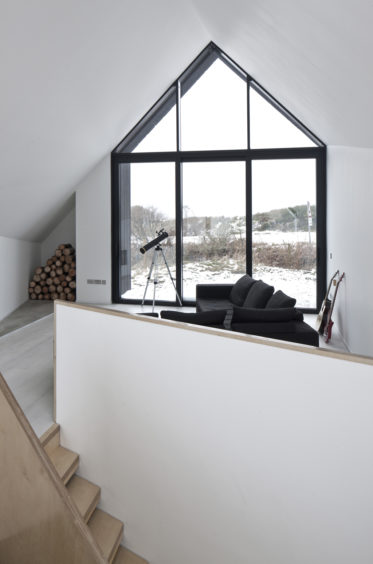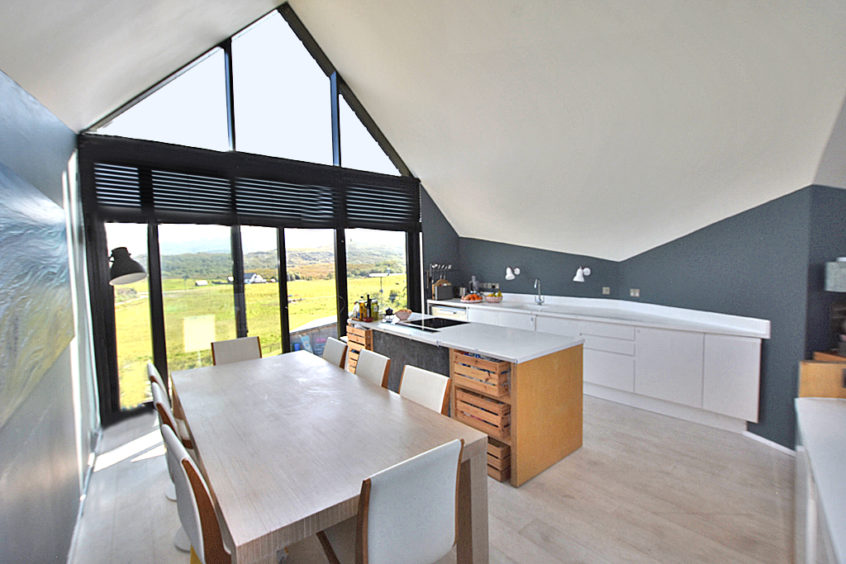 Two cathedral-style windows, one with a Juliet balcony and the other leading to an outside decking area, flood the house with natural light and let you enjoy spectacular views ranging from mountains to moor and golden, sandy beach.
The house has the highest standard of energy efficiency, with under-floor heating throughout provided by an air-source heat pump, which qualifies for the greener energy Renewable Heat Incentive grant.
Outside, the garden is laid mainly to lawn with trees and shrubs, and a gravelled driveway leads to the entrance of the property.
There's a timber A-frame outbuilding with power and light, plenty of space for parking and a large decked area to the rear of the house.
"It's going to be a real wrench to sell the house as we have really loved living here – who wouldn't like living next to a white, sandy beach fringed by a turquoise, blue sea?
"We'll also miss the community which has been incredibly welcoming and friendly," said Chris.
"It's been wonderful to live in such an interesting house but it's now time for us to move on, but I don't think we'll ever live anywhere as beautiful as this again."
There's been a huge amount of interest in the house since it went on sale a few days ago with several viewings already booked.
Taigh Dubh Na Mara's privileged coastal position in Glenancross is an ideal location for exploring this part of the Highlands and the Inner Isles.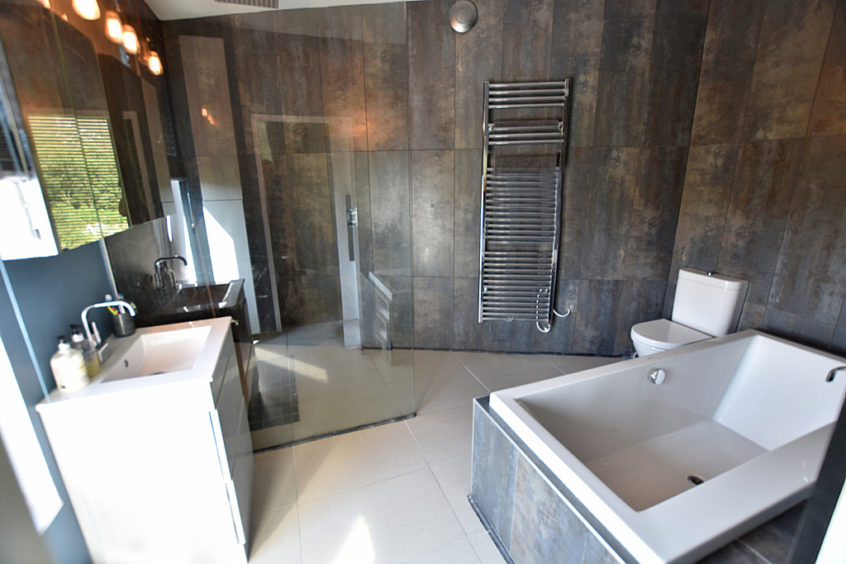 The village of Morar, situated on the road between Fort William and Mallaig – The Road to the Isles – has a primary school, hotel, garage, church, etc, with further facilities being available at Arisaig, Mallaig and Fort William.
Katie Lamont, property director of selling agent MacPhee & Partners, said: "Like many people, I have admired this iconic build with interest over the years and it's my pleasure to now be marketing Taigh Dubh Na Mara.
"We have received an incredible response to this unique property and with demand for homes, especially in more rural areas, incredibly high at present, the sale has created a great buzz in the current market boom."
Contact: MacPhee & Partners on 01397 702200.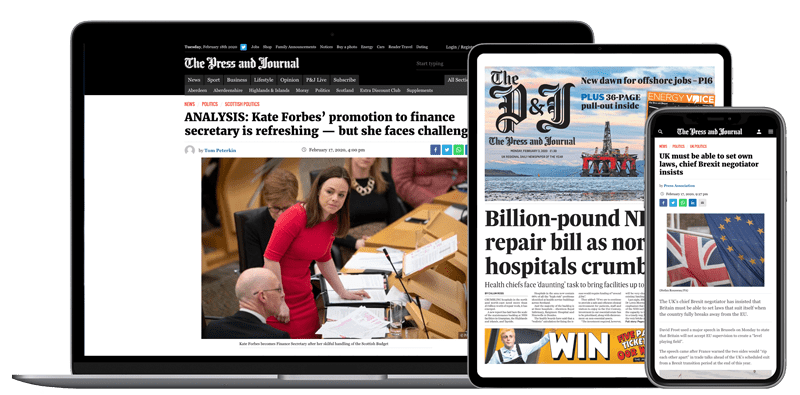 Help support quality local journalism … become a digital subscriber to The Press and Journal
For as little as £5.99 a month you can access all of our content, including Premium articles.
Subscribe