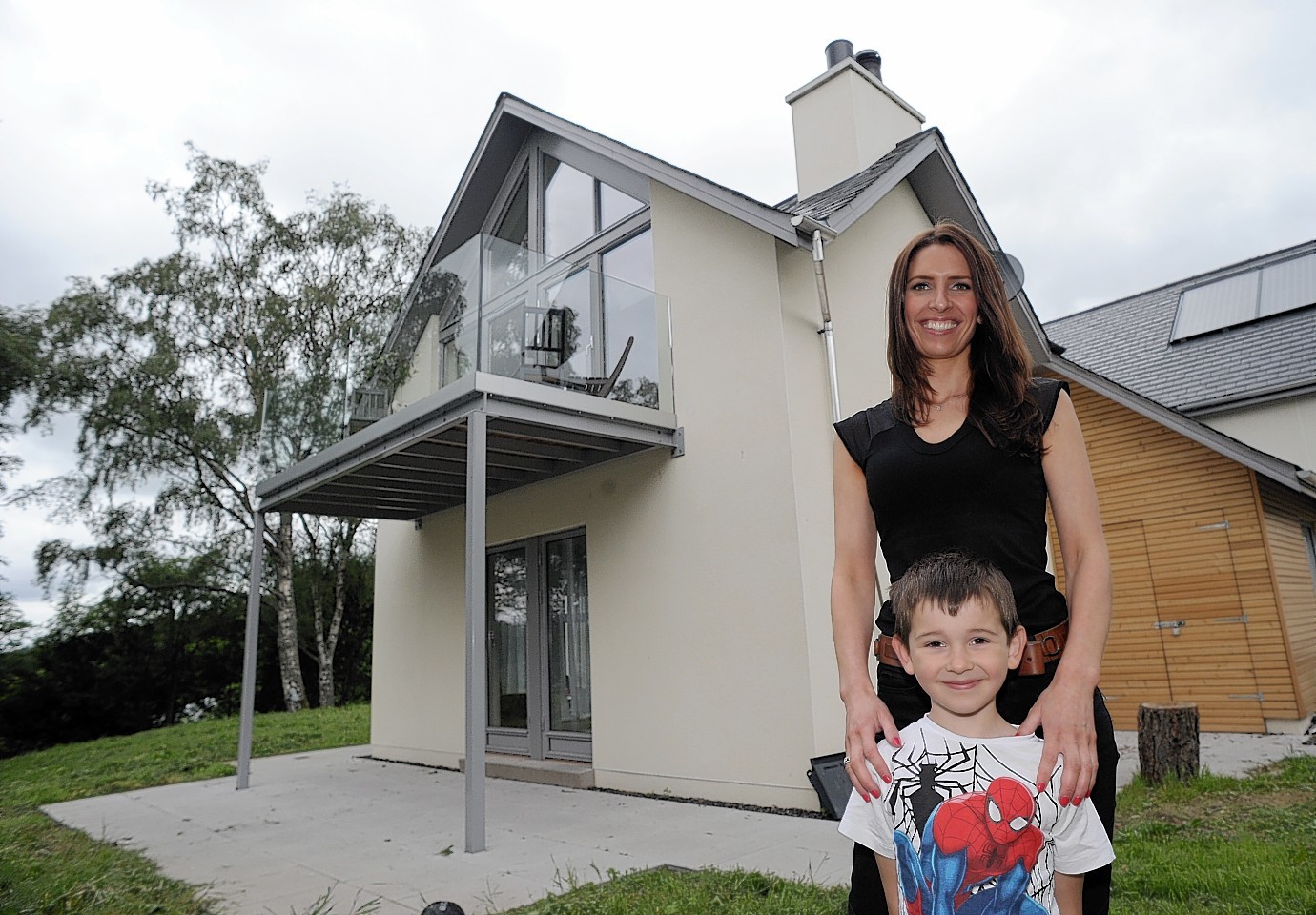 Cheryl Livingstone visits a home on Deeside that is full of surprises
Don't let the name of this home fool you – this is no ordinary cottage.
Forest Cottage is a far cry from the little thatched, stone-walled retreat that the word may conjure up.
Granted, this cottage does have a beautiful rural location, a gorgeous gem hidden within woodland.
But it offers so much more. The cottage is huge, for one thing, but very affordable to run and environmentally friendly despite its size. It is stylish and modern, yet boasts timeless elegance.
This wonderfully unique home at Inchmarlo, near Banchory, is the brainchild of Rachel Knox, who lives there with her three children and dog Rocky.
She bought the plot of land in 2001 as a way of getting on the property ladder and cut down on her commute to work.
"I'm from Aboyne and I was working in Aberdeen at the time so I was looking for somewhere kind of in the middle," Rachel said.
"This land had a little cottage on it and it had planning permission to build a replacement house on the plot, but it was allocated to one of the corners of the site.
"I just felt that the house was going to be too big for that location so I went back and forth with the planning department to get it changed so I could build in the middle of the plot."
It was a long battle, with Rachel even having to lobby councillors, but eventually her dream came true and building began in August 2012.
As her dad is a property developer and with a degree in construction management herself, Rachel was no stranger to the world of housebuilding.
She took on the task of designing this fabulous home from the outside in, bringing in all the elements she had been looking for in a family home.
"I always knew I wanted this to be a family home," she said. "Even before I had a family, I knew I wanted somewhere that I could bring up my children.
"The new builds that I have seen don't offer big rooms or a lot of storage space and they hardly ever have enough bathrooms for a bigger family, so you would end up fighting over who goes first in the morning.
"I made sure my home addressed all that. All of our bedrooms are a great size and they all have en suites. The whole house is flooded with light because we put in oversized windows."
Another great feature of this home is the fact that four of the five bedrooms are on the ground floor, while the hub of the home – the kitchen, dining, living and family area – is on the first floor. Rachel said she decided to take this unusual step to make the most of the stunning views that you can enjoy all day long.
"On a clear day, you can see all the way out to Lochnagar," she said. "It's amazing. The views are one of my favourite things about living here."
After spending some time at the house with Rachel and her five-year-old son, Joey, who told me his favourite thing about living at Forest Cottage was that it was "big", I found it quite difficult to pick a favourite feature myself.
The south-facing front porch and entrance area give the first hint of how unbelievably impressive this house is. Windows are everywhere and there is a good flow between the different rooms.
A stylish staircase with glass-panelled balustrade takes you up to what has got to be the jewel in this home's crown – the open-plan area.
It is a huge space and yet feels very cosy and welcoming and has a multitude of bespoke features.
The Poggenpohl kitchen is fitted with a blend of taupe and marsh oak doors and Miele appliances, while a central island adds extra elegance to the room.
French doors create a picture-perfect focal point for the room and lead out to a glass-surround balcony, where you can enjoy the breathtaking views.
The French doors are complemented by cathedral-style windows that allow you to enjoy the surroundings whatever the weather.
The house, which is on the market for offers over £750,000, sits in about 1.7 acres of land, plenty of space for someone else to add their stamp to the home and either extend it or build something new, depending on planning consent.
The grounds have been left undisturbed, giving the place a lovely countryside feel but also offering the new owners a chance to choose how to landscape them.
Rachel hired builder Alan Buchan to project-manage construction and is delighted with the results.
"It feels a lot bigger than I thought it would be," she said.
"It's a great family home, though. The kids love it here. They can go and play outside and have lots of room to explore and I don't have to worry about them because it's so safe."
Despite the size of the house, Rachel has ensured that running costs have been kept low with the introduction of some environmentally friendly elements including solar thermal panels, underfloor heating on the ground floor and solid-fuel stoves in both the kitchen and lounge. The lounge stove is fitted with a back boiler.
So now that Rachel is preparing to leave her first home, how is she feeling?
"I will definitely miss the house," she said."I just love the fact that it's so unique, so bright and airy. We've been really happy here."
Forest Cottage is located a short distance from Banchory, a pleasant town with a wide range of shops and recreational facilities, primary and secondary schooling and within easy commuting distance of Aberdeen.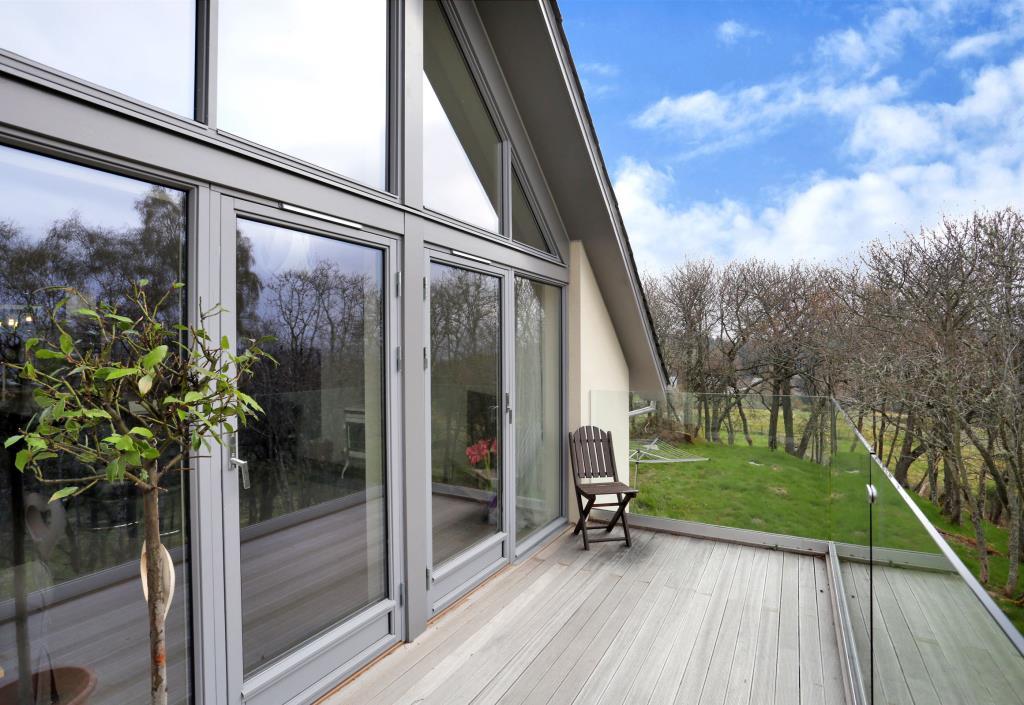 Contact: Aberdein Considine on 01330 824646.