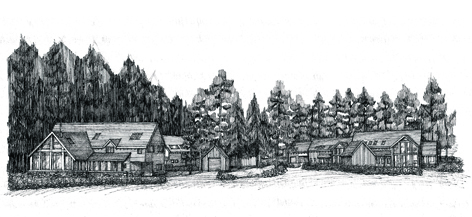 Woodend of Glassel, near Banchory, consists of five generous plots and offers luxury living around a rural lifestyle. It is a chance to own a contemporary sustainable home in the heart of Deeside. We speak to architect Annie Kenyon, from AKA, about the vision for the development
How and when did you become involved with the Woodend of Glassel development?
I was contacted by our client in December 2013, to ask for initial advice regarding an exciting opportunity near Glassel. Myself and our senior associate, Allison, and the team then pushed the scheme through the detailed planning stages, with assistance from a number of consultants.
How long has it been in the pipeline?
Our client had done initial consultation and met with Aberdeenshire Council prior to our involvement.
Why were five plots chosen?
AKA discussed the optimum number of proposed houses with our client. We felt that more than five became too dense for the site due to the rural location, surrounding trees and privacy and we did not want to overdevelop the site. One of the main things at Glassel was the importance of retaining the trees to keep the character of the area and respect the wildlife. As with all sites, we carried out our site analysis, established where the access point could be, looked at the tree root areas, considered the orientation and where the sun rises and sets and this started to set some rules. It was also important for me to minimise the car movement through the site, and also give privacy between the plots. We spent a long time carrying out feasibility studies of various layouts, using the trees as privacy and protection, but also maximising views out of the site.
Were you given a brief for what the houses should be like? If so, what was it?
Our client had a fantastic vision for the sites at Glassel, and I respect them for this. It would have been easy to maybe apply some standard house types that were not designed for this site to save money and time. However, fortunately, they understood the importance and value of commissioning an architect to design something site-specific and, in the long term, very special. Working together we established some design parameters, looking at local precedents of materials and forms and set a design ethos to follow. We all wanted to create, quality homes for life. Homes that actually considered where the sun was, had views to lovely woodland or farther afield and did not impose on their neighbours. The materials used are all natural and appropriate for the woodland setting, and a range of house plans were established
What are some of the key features of the homes? Any favourites?
All the homes are designed for modern family living. They are generous in scale and footprint, without being too "Big" for the site. Internally, they are all different. They include open-plan kitchen-dining living spaces, some with lovely bi-fold doors opening to the woodland. We have tried to create special places to sit near wood-burning stoves and look at the birds or deer. Wherever possible, we have included south-facing gables and feature staircases with double-height voids for an impressive entrance. Also views through – this is so important for me: To enter a building and to be able to see right through to a daylight of some sort completely changes a space. As does light; it can affect how you feel in a building. Lots of light makes sense for so many reasons. Another feature is to create spaces that flow inside and out, so in the summer months the living spaces are opening out on to the private garden areas and internal plans are flexible. Each dwelling has a real sense of individuality, so I don't have a favourite. They are all very special.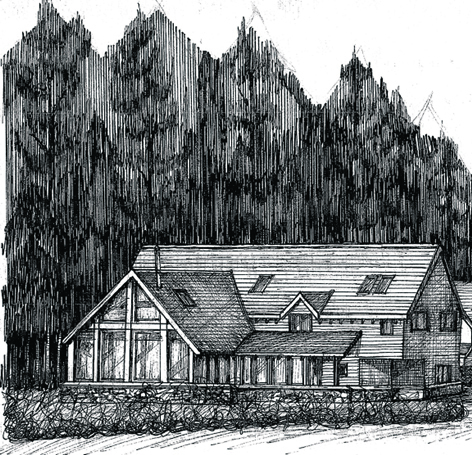 What would prospective buyers get out of buying one of these homes? What makes them stand out from other new builds? What makes it stand out for you from other projects you've done?
These homes have been designed specifically for the site, which makes them stand out more than other new-build developments. Although the designs in place have obtained planning, there is scope for the individual buyers to make changes to ensure they are building their dream home. If they want changes to the design or amount of accommodation, this can all be achieved. There is a design ethos set for the scheme, which we all want to be respected. However, within that, there is a large variety of opportunities to make sure the end result is specific for the buyer. We have been involved in a large number of similar schemes, but there is something magical about Glassel: I think it's the setting and the opportunity this has provided. It's a very special place.
How will the homes fit into their location?
We believe we have created a development of new homes with a real sense of place. Local vernacular forms and details are respected to ensure these stylish contemporary homes are suitable for their setting. Nestled within existing woodland, the new homes at Glassel will provide a fantastic new-build development that has no detriment to its surroundings. It will enhance the area and, most important, provide sustainable family homes for people to enjoy.
For further details and options, please call Ian Tannock at Carden Property Consultants Ltd on 07740 440082 or visit www.woodendofglassel.co.uk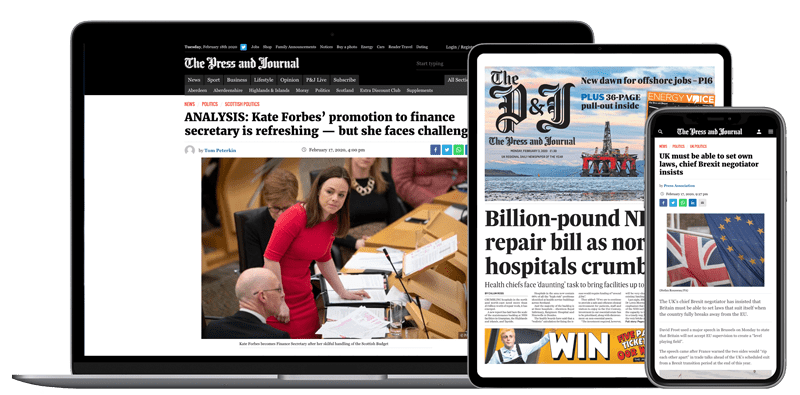 Help support quality local journalism … become a digital subscriber to The Press and Journal
For as little as £5.99 a month you can access all of our content, including Premium articles.
Subscribe