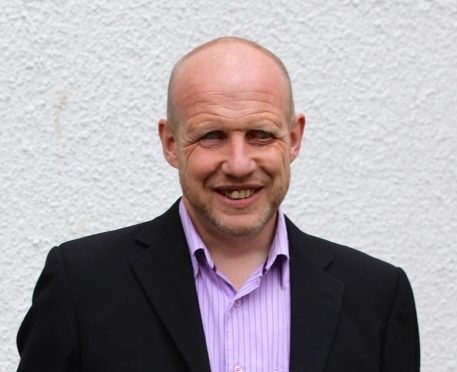 Well after mentioning my running last month, many people have asked how I manage this, some wondered if Rumba accompanied me.
Well while she enjoys running, she won't be able to guide me safely even at my slow running pace, it would be asking far too much of her.
I do most of my challenges without my guide dog especially after I did a fire walk, apparently the motivational training doesn't work for dogs, but she quickly mastered the quickstep!
I'm extremely lucky to have a group of three friends I regularly run with, all three take turns in acting as my sighted guide.
In fact, I have to mention them, as due to all the recent coverage around me participating in the Great Aberdeen Run coming to town in August they have been threatening strike action (I'd be happy with a go-slow) if they don't get credited, so a huge thanks to Alan Coull, Fergus Boyle and Graeme Hay and all sighted guides out there, believe me, we may not always have enough breath left to say thanks, but if it is not stating the obvious, we couldn't run without you and your efforts are greatly appreciated.
It is brilliant that such a prestigious event is coming to the north-east, both for bringing visitors to the area, but also it offers charities a much needed opportunity to raise money, so if you fancy joining me and of course my sighted guides on the start line on August 27, simply search for The Great Aberdeen Run and select NESS as your chosen charity, or sponsor me at
http://uk.virginmoneygiving.com/NeilSkene2
.
All I use is a rope with loops at each end so you can link wrists and off you go, we do sometimes get strange looks, once when a group of kids asked, "hay, why is he handcuffed to you?"  I replied "because we have escaped from prison and are on the run!"