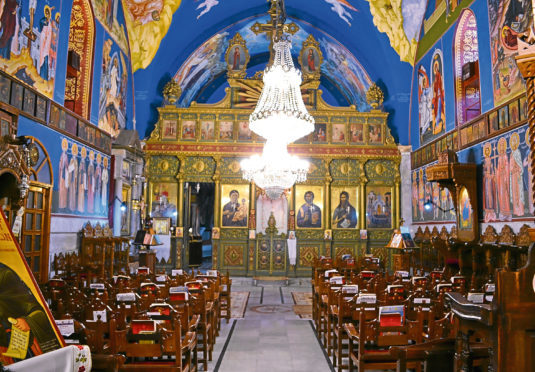 This was supposed to be a column all about fishermen, but I've simply got to let you know about this instead . . .
As the area is run by militant Hamas and home to such groups as Abd al-Qadir al-Husayni Brigades and Islamic Jihad, I could not quite believe when my fixer Rami said to me as we walked the morning streets of Gaza City: "Would you like to visit a church?"
"A church? In Gaza?" I asked.
"Sure," he replied with a smile.
Slightly bewildered I said: "OK, let's go."
Rami was busy talking on his phone, no doubt arranging yet another interview, so I had time to think about where we were headed. I expected I'd be taken to a ruined building, abandoned many years previous, either hit by Israeli fire or possibly destroyed by some hardcore Islamist.
The population of the Gaza Strip is around 2million, the vast majority of people being Muslim. There is, however, a tiny minority of Christians. And I mean tiny. Their number stands at around 800, no more than 1,000. That's 0.05% of the population.
Down a dirty back alley that looked like any other in Gaza City, we came to a security gate. Rami pressed the buzzer, and after some communication, a man came to the door. It did take Rami a couple of minutes of chat before, with a little uncertainty, we were finally allowed in. Our man was an official who works for the church and to my surprise spoke English. Once I had convinced him I was not a threat and genuinely wanted to learn about the church, he took me on to a small building across the courtyard. A picture of Yasser Arafat hung on the wall directly behind his desk, which to me seemed bizarre inside a church.
"We are a very small community, but we live side by side with our Muslim brothers," he told me. "You know, during the last war in 2014, when Israel bombed Gaza, tens of thousands took to UN shelters and schools. So our church also opened its doors and took in many of our Muslim brothers."
Independent reports verify this. The church did indeed open its doors and turned itself into a life-saving sanctuary. With many mosques being targeted for allegedly storing weapons or used for firing rockets into Israel, many civilians were understandably too scared to take shelter there, so they headed for the church instead. Sleeping on prayer mats on the church floor, they received life-saving food, water and also medical assistance.
Despite the fact that the fighting was fierce, with numerous Hamas buildings hit, alongside people's homes and mosques, Israel did not bomb the church. A few shells did, however, land in the graveyard behind it.
I did try to get my man to talk about religious freedom in Gaza and the relationship between Hamas and the Christian minority. But he did not want to go there and would not hear a word said against Hamas. He told me that Hamas were good to the Christians and that the church had no problems at all. It has to be said, I was sceptical of this but of course must take him at his word.
Not wanting to talk politics, he told me he would show me inside the church, so we crossed the courtyard and entered through a small door. Despite the fact that electricity is in such short supply, he turned on the lights and wow, what a sight. It was breathtaking. I could not believe how beautiful and prefect it was. Originally built around 400AD, it was converted to a mosque in the 7th century and then into a church in the 12th century. I was allowed to photograph at will.
The paintings on the walls were magnificent. I usually prefer the calmness and uncluttered presence you find inside mosques if truth be told, but I was mightily impressed with this church. It really was an oasis of calm and tranquillity.
"What's through here?" I asked, pointing to an open door.
"Are you a Christian?" he asked me politely but in all seriousness.
"Pardon?"
"Are you a Christian? I ask because only Christians can enter here," he continued.
"Well, I was born a Christian, but . . ." was my response.
"That's good enough," and he guided me through to what seemed to be a room for blessings or such like.
Rami, being a Muslim, could not enter this small room, therefore remained behind in the main church.
"Is this what I think it is?" I asked, pointing to an alcove where a small glass carafe stood on a plate.
"Yes, it's red wine," came the reply.
"But Hamas has banned alcohol in Gaza," I stated.
"Yes, but they allows this for us, it's for communion you see. We get permission to bring it in from Israel."
After 15 minutes of soaking up the tranquil atmosphere, talking photos and asking questions, our man indicated that he had work to do and that the must turn off the lights to save electricity. I thanked him for his time and for letting me see inside his church. We shook hands and left. As Rami and I walked away, through the dirty, rundown city streets, I paused and looked back . . . and it seemed that this church had never been there in the first place.
I'm told that the local Muslim population in this part of Gaza City will forever be in the debt of the church. I'd also guess that any attempts by anyone in authority or any militant group to ever cause any problems for this small congregation would be met with stiff resistance.
I'm often critical of religious organisation and there's usually a very good reason. But on this occasion, this church undoubtedly saved the lives of many innocent people in 2014.
But what about the fishermen of Gaza? Oh I simply don't have the column space right now, but in a nutshell, this is what I learned.
For more than a decade, it's not just the land of Gaza that has been blockaded off, it's the sea also. Israel allows the fishermen of Gaza to fish only within a tiny six nautical mile limit. This is strictly enforced. If any boat, for any reason strays over this invisible line in the sea, or even gets close to it, they get shot at by the Israeli navy. It's reported that around 20 fishermen have been killed trying to do their job.
With the best fish out in deep water, which of course they can't access, their catch is often poor. A fisherman with a small boat can expect to take home, after selling his fish at market and paying whatever charges, £5 for his day.
I asked the fishermen I interviewed if they ate fish that came out of these waters. They were actually hesitant to answer, they did say though that some preferred imported frozen fish.
I certainly feel for the fishermen of Gaza and their families. Being restricted to fishing in such a small space and running the risk of being shot at if they venture too far, is not a fun way to earn a living.
But I'm sorry, given the chance, I would not eat fish that came out of these waters that are heavily polluted by raw human waste. Thankfully, I have the luxury of making that decision for myself. Most of the population of Gaza do not.
So far, I'd photographed armed masked fighters and their weapons, interviewed the leader of Islamic Jihad, had a run-in with Hamas when it came to taking photos of a sewage pipe, and now visited a functioning Christian church.
Could my time in Gaza get any more surreal?