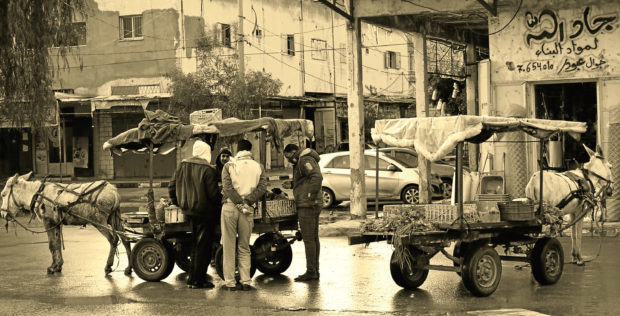 I'd been to this refugee camp in Gaza a couple of days previously, and even inside this very house. Muhammad, one of Rami's guys, is related to Shadi and his family who live here. And I'd been invited back by Shadi to share a meal with him. Feeling guilty about eating what may be precious food, I was told: "Its OK, Shadi has a job, don't worry, you're not taking their last food."
Shadi indeed has a job. He is a border guard at the Fatah checkpoint at the Gazan side of the caged-in tunnel with Israel.
Again, sitting on mats on the floor, a stunning spread of food was laid out before me. Genuine kindness that once again made me feel very humbled. The large dishes of rice and chicken were delectable. I sat with Shadi's kids and we filled our bellies.
Next morning, it was time for me to leave Gaza. Rami picked me up at 7am, but not before I enjoyed one last Arabic coffee made by my old hotel caretaker guy, who was still asleep under his blanket in the hotel reception area at 6.30am. He roused himself and made me coffee. Nice man. Still no one in the hotel except me it seemed.
I was driven directly to the Erez crossing, or Beit Hanoun as it's known in Gaza. Four of Rami's guys came with us. On arrival we first had to go through a Fatah checkpoint, where our driver's details were checked. A two-minute drive later and we got to the Palestinian side where I had entered on my way in. And there was Shadi, as promised, in uniform and smiling.
He greeted me with a hug, and I thanked him once again for last night's meal, as a voice in my head said: "You're hugging a man in Fatah uniform, I wonder if the drones are recording right now?"
Shadi came with Rami and me to the passport check window. Rami told me that Shadi had said to one of the other officials that I was "part of his family". No delays or questions for me then.
It was time to say goodbye. Rami was by now no longer just my fixer, he was my friend. We hugged and I thanked him profusely for all he had done. I could never have experienced what I did in Gaza without him and his contacts.
I would not miss the lack of electricity, showering in lukewarm water, or especially the pollution I had to breathe in all day. I was tired and had been wearing the same clothes for days. I'd had no internet access inside Gaza, I didn't even bring my laptop, it was back in the West Bank. I had been totally off-grid and I had lived 100% in the moment. Anything else, like going online and watching a movie at night to help me mentally escape Gaza, would have been a grave injustice. Rami said to me: "You live like a Gazan, brother."
I was genuinely sad to leave. Goodbyes over, I was told I could proceed past the last Gazan official point, and started my long walk towards Israel. Once again, I was the only person walking through the one kilometre caged-in area. At the far end was the actual wall, which stood eerily quiet. I stopped inside the cage and just stared at it. It made the Berlin Wall look like a fence in your back garden.
On arrival at the Israeli side, I walked through a door in the wall, through a metal detector, through an electronic turnstile and into the main building. It was like being inside an American maximum security prison, no one walking around, CCTV cameras absolutely everywhere and gates and entrances all controlled electronically. Sorry, but I've no photos to show you of inside here, I wouldn't have dared to even attempt take a photo.
A sign in English told me to fill out a questionnaire about electronic items I was carrying, everything from batteries to recording equipment. My luggage was taken away and scanned. I was told it would be opened and everything gone through individually by hand. My stab vest was taken off and studied in detail. I then went through a series of electronically controlled gates and was soon back on the Israeli side. Heavily armed Israeli guards walked around, intently watching me and the only other guy who was crossing.
I stood and waited a long 10 minutes for my luggage. They had indeed gone through every item with intricate detail. Once I repacked it all, I walked over to a control booth, having to wait a few moments before being buzzed through. I slipped my passport under the bullet-proof glass to the official on the other side.
I was ready for questions about where I'd been and who I'd met in Gaza. I was nervous about admitting I'd met with armed masked men and Islamic Jihad, but decided I would not lie about any of it. Strawberries and drones came to mind. No such questions were asked, however, apart from: "How long do you intend to stay in Israel?"
I was given a new Israeli entrance visa, walked through one last electronic gate and was back on Israeli soil. But I wouldn't be there for long as I was heading straight back to the Palestinian-controlled West Bank. My journey would give me time to jot down my thoughts on Gaza. Here they are.
Gaza is a tragedy. How many more innocents have to die before political groups in Gaza talk and compromise with Israel? How many more innocents have to die before Israel realises it cannot keep two million people locked up behind a wall indefinitely?
I say to Israel, Fatah and Hamas, sit down, talk and most importantly be prepared to compromise. Whatever you say you want, it's obvious you're not going to get it all. No one does. If you genuinely care for the lives of innocent people on both sides, then enough is enough. Start to understand where the other side is coming from and compromise. That said, I believe it highly dangerous to simply take down this wall overnight and let anyone go anywhere they want. Mindsets have to be changed before that happens, or all hell would break loose.
Like I said in my column on sewage and landfill – there's a humanitarian disaster coming to Gaza soon. It's not beyond our capabilities as human beings to bring dignity to the ordinary people of Gaza, if we choose too.
Charity does great work, even the UN does at times, but it's all a sticking plaster. Well intended, but a sticking plaster nonetheless. The Gaza infrastructure is hanging by a thread, as are the hopes and aspirations of its people. A people who I'd say, the vast majority anyway, are totally innocent of any wrongdoing whatsoever.
Whether you support Israel to the hilt, or believe all this land is "Palestinian", that's actually by the by. The people in Gaza are suffering due to collective punishment.
I'll leave it to ordinary Gazans to tell you what they feel and desire. Here are a few one liners told to me.
"There are no jobs here, no industry, nothing. I want to work."
"I want to be free to travel. I want to leave this prison."
"Most of us do not support either Fatah or Hamas. We just want peace."
"We're like animals in a zoo."
"Whatever this land is called in the future, Israel or Palestine, I don't really care, just take down the wall, open the checkpoints and let us be free."
"There is going to be another war, but not because of rockets, because of economics and daily hardships. There is only so much a people can take."
I accept I've only scratched the surface and have so much more to learn about Gaza. But I've made some excellent connections, so next time, I'd like to stay for maybe a few weeks. It's no luxury, that's for sure. But it's something the people of Gaza have to live with every single day. I want to spend quality time in schools, to meet more locals, and yes, I am willing to meet again with groups such as Islamic Jihad. I have many more questions to ask.
Later that day, I was back in the West Bank. Also under Israeli occupation, its locals have to endure hardships, but compared to the closed off from the world Gaza Strip, the West Bank is paradise.
I'd planned to take the weekend off and relax. But there was fat chance of that. Why? Because the next day was Friday and another "day of rage" had been called for after midday prayers. So how would I spend my weekend?
Riots after Friday prayers, fires set across the street, and dodging tear gas fired by the IDF.
To contact George directly about any of his columns, e-mail nadmgrm@gmail.com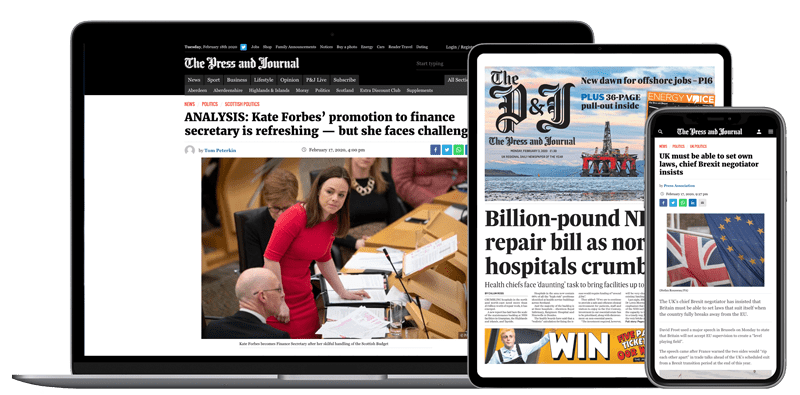 Help support quality local journalism … become a digital subscriber to The Press and Journal
For as little as £5.99 a month you can access all of our content, including Premium articles.
Subscribe