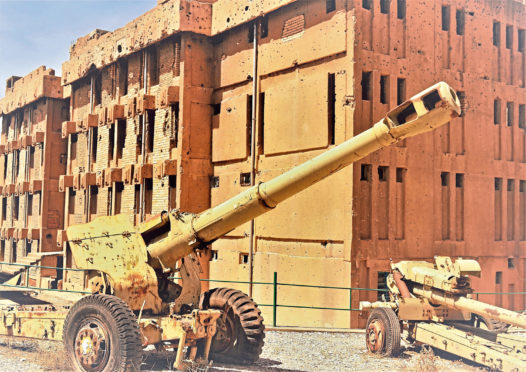 Al-Anfal was a campaign of genocide in the late 1980s waged against the Kurdish people by Saddam Hussein's regime.
Ground attack, aerial bombing, destruction of settlements, death by firing squads, general looting and chemical warfare were all unleashed on the Kurds.
Masterminded by one of Saddam's right-hand men, nicknamed "Chemical Ali", he oversaw the destruction of Kurd villages, schools, mosques, churches and hospitals. The result being the displacement of around one million people.
The death toll, is estimated to be as high as 180,000 Kurds, most of whom were non-combatant men, women and children.
Known as the Amna Suraka, or the Red Prison, this building was once the headquarters of the Mukhabarat, Saddam's Secret Intelligence Agency.
A building that once struck fear into the hearts of Kurds and must still today have terrifying memories for those who were unfortunate to have found themselves detained here.
I left my plush hotel in central Sulaymaniyah and walked in the general direction of where I was told the former prison was.
Not exactly highlighted with billboards as a tourist destination, almost hidden away in what is now a leafy suburb of Sulaymaniyah, it took me a good 45 minutes to find it.
It looked like something right out of east Berlin. Typical Stasi in style. Unwelcoming, unnerving and meant to put the fear of death into you.
Who ended up in here? Not criminals, this was a political prison. Students, women, dissidents, basically anyone who spoke out against Saddam. Thousands were tortured and many executed here.
I was met by my guide who spoke excellent English and led me into the courtyard.
The outside walls of the prison are covered in bullet holes. In 1990, with Saddam distracted by the Iraq war, thousands of Peshmerga fighters flooded into Sulaymaniyah as the remaining 800 Iraqi soldiers in the city holed themselves up in the prison.
The Peshmerga overpowered them, killed them all, then liberated the prison and set the detainees free. The tanks and guns outside all left over by the fleeing Iraqi army. To me, it looked like it all happened yesterday.
Inside, I was shown a communal cell. No beds, the detainees all slept on the floor with only a blanket. Very cold in the winter and blisteringly hot in the long summer months.
There were cells for child prisoners also. I was taken into one cell specifically for boys aged under 18; it was 15sqm. It had one toilet. Up to 40 lived in there.
One area of the prison contained five solitary cells. Only 2.7sqm, each cell was meant for one person. But they often crammed in five adults.
Outside in the corridors, individuals were often handcuffed to the wall, meaning they could not lie down, often for days at a time.
As guards walked past them, they would stub out cigarettes on their arms.
As per the Stasi, hidden microphones recorded detainees' conversations at all times. Food was given, but only enough to keep people alive and often used as bribery to obtain forced confessions. Bread rolls, rice, lentil soup, vegetable broth, that was it.
In the women's section, the cell was 21sqm and held up to 50 women. There was one toilet.
Many women gave birth in here, their children then being taken away from them and used as bargaining chips to then get the woman to admit to so-called crimes against Saddam or Iraq, "crimes" they had not committed. There was also a room where women were taken to be raped.
In other rooms, detainees often had their feet tied to poles and then were beaten within inches of their lives. We entered one such room and I came face to face with a very realistic display.
Sure, these are only mannequins, but it made for very uncomfortable viewing. I asked my guide if I could have five minutes alone. I then sat down on the floor of the room with the feet-beating scene and just stared at what was in front of me. It was deftly quiet, yet I tried to imagine the screaming. I could, I could imagine the screams of terror.
I then tried to imagine the pain, the sense of helplessness, the total fear. I couldn't thankfully, and hopefully never will be able to.
What of the prison guards who once dished out this treatment? "They all fled, they are all safely living in Baghdad," was what my guide told me.
We walked on and entered another cell where a mannequin was tied up to a thick pipe on the roof. Look at the stress position of his arms. Many arms literally popped out of sockets I was told. I then spotted a very thin wire around his neck. I asked my guide what it was, he explained.
"Look, see, it goes to here." He pointed to a black object on a nearby desk, not unlike a large old radio. "It is for electrocution. The wire is attached to this machine and then the other side is clipped on to the detainee. The guard would then slowly build up the volts pushing the detainee as far as he could, pushing and pushing him more and more. They would pass out eventually, almost fried in their own skin. Many died in this room due to this form of torture."
He then went on to tell me that the electrical wires would be attached to all manner of places on the body. The worst for pain being the toes, ears, lips, eyelids, teeth and genitals. I simply cannot find the words to tell you how that makes me feel.
Those who died in here were then given the final insult. Proper burial is important to many faiths, none more so than the Kurdish people. But the detainees here were not granted funerals. Their bodies were left to rot, and then thrown to wild dogs.
As I walked away from the prison and back in the general direction of my hotel, I didn't feel shocked, not even numb at what I'd just seen. Deep sadness but no shock. After visiting former KGB prisons and especially the Stasi's Hohenschonhausen prison, sadly, it's all becoming too familiar.
I personally don't believe in creation or "God" if you like. I believe in evolution. That said, in the year 2018, in much of the world, we are not yet fully civilised as a species. The way we treat entire groups of other humans who are supposedly "different" to us, proves to me anyway that we really are still in the infancy of our evolution.
It was time to head even further south, as far as I could go legally. The border of Iraqi Kurdistan is one I am not entitled to cross. Beyond that lies the Iraqi capital Baghdad, with near weekly suicide bombings, and just a few miles to the east of my destination, lies Iran. I had no permission to go to either of these places, and no desire either.
I was headed to the city of Halabja. Does that name ring a bell? It probably does, for it was once at the forefront of all international news. It was here in Halabja, that Saddam Hussein committed one of his most vicious crimes.
In 1988, Saddam Hussein dropped poisonous gas on the Kurdish people of Halabja. Thousands of innocent men, women and children died absolutely horrific deaths.
Thousands more survivors still feel the pain of their injuries today.
l To contact George directly about any of his columns, email nadm grm@gmail.com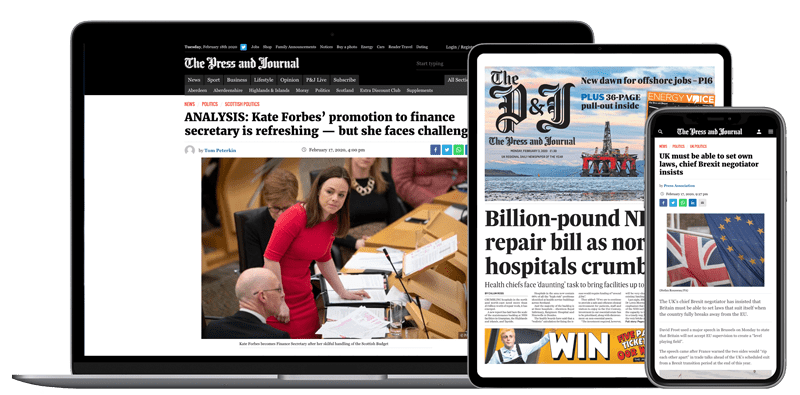 Help support quality local journalism … become a digital subscriber to The Press and Journal
For as little as £5.99 a month you can access all of our content, including Premium articles.
Subscribe