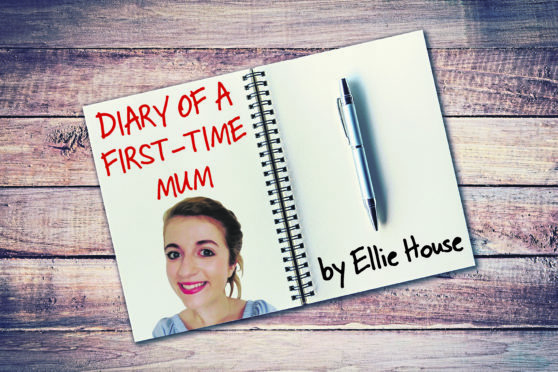 My son is now five months old and I feel about 500.
Everything goes in his mouth and he is determined to reach anything remotely dangerous by squirming on his belly. It's quite impressive to watch if you're not the one responsible for him.
I know his favourite toys and can make him laugh so hard he snorts. There are still days where I feel like I am barely treading water. Today is one of those days.
My morning starts when my child nosedives off the bed. He cries for about 10 seconds, although it feels like a lifetime. There isn't a mark on him but I feel physically sick with guilt. I apologise to him repeatedly. He simply smiles then burps as I Google symptoms for concussion.
We make it to a mum and baby exercise class where the buggy is used as a prop. You can run with the pram as your baby sits contentedly, that's the idea anyway. My 17lb child decides he'd be much happier in my arms and falls asleep as the class finishes. I feel guilty for even going – because surely my figure should be the least of my concerns?
Next up is lunch where he consumes a banana wafer in less than a minute. I watch his face light up whilst silently judging myself. I should be giving him homemade snacks but learned my lesson after he threw parsnip puree on the floor. Even the dog refused to eat it.
I yank my swimming costume on, not because I have gone completely mad, but because his second swimming class is in half an hour and I'd rather not hop around half-naked as my son attempts to make a dash for freedom. We arrive late and the pool is strangely quiet.
A horrible thought lurks in my mind as I check my emails, only to realise today is in fact a holiday so there will be no class. Suddenly the decision to wear my costume underneath my clothes on a hot day doesn't seem so smart. I look at my son's innocent face as we trudge out the leisure centre and yet more guilt settles on my shoulders. I should be more organised.
By the time we arrive home, he is understandably hot and bothered and I yearn for bed time. Then I chastise myself. I should be loving every second, as it's not long before I return to work and my precious baby will be in childcare; yet another thing to feel guilty about. It's not every day that I wonder if it's possible to cut off your circulation via a Lycra swimming costume, but there is one constant as I attempt to raise a little human. Good old mum guilt, a daily dose and sometimes a double whammy caused by my son's tendency for heart-stopping gymnastics.
It's a common term now thrown about and I often wonder where dad guilt is at. Surely dads must feel equally guilty and analyse their every choice when it comes to offspring? Not so much, because society is conditioned to judge mums. The age you have a baby, breast or bottle, stay at home or return to work. Regardless of your choices, I've discovered you will be judged. Has it always been this way? I feel the pressure placed on women today coupled with the rise of social media has a lot to answer for.
When I fell pregnant my mum gave me her own pregnancy bible so to speak, a simple mum and baby guide. Fast forward 25 years and a quick look online shows thousands of books aimed at mums to be, informing us how to have the perfect pregnancy. Having spent four months with my head down the toilet, I know there's no such thing. Pregnancy is a booming and lucrative industry: Pregnancy exercise classes, baby bump photo shoots. There's even a trend for a "babymoon", the idea being that you enjoy time with your partner before baby arrives. I'm not alone in the fact that during pregnancy, just my partner's breathing irritated me.
I didn't fulfil the image of a glowing pregnant woman and so the guilt kicked in before I even made it to the labour ward.
When I was born, my own mum couldn't check Google and find 50 conflicting answers. She couldn't be criticised on online forums and there was no pressure to upload blissful pictures to social media. The online world can be both a blessing and a curse because there is so much conflicting information. I've connected with mums online and felt judged by others.
It's a similar story when out and about. There was the time a checkout assistant asked me if my child could breathe in his baby carrier, because suffocating him was clearly my aim. There was also the mum who chatted to me about her own little boy and helped me pack my shopping. The more honest we are about motherhood, the less mum guilt might be quite so soul destroying. Every mum out there is doing her best, so why our decisions come under such scrutiny is ridiculous.
My son beams at me each morning and in that moment, I know we're doing OK. Now I'm off to wrestle out of a swimming costume. I may be forced to wear it for life.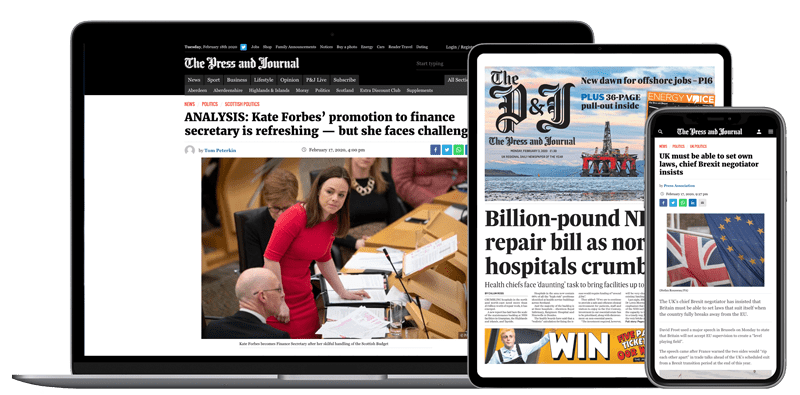 Help support quality local journalism … become a digital subscriber to The Press and Journal
For as little as £5.99 a month you can access all of our content, including Premium articles.
Subscribe