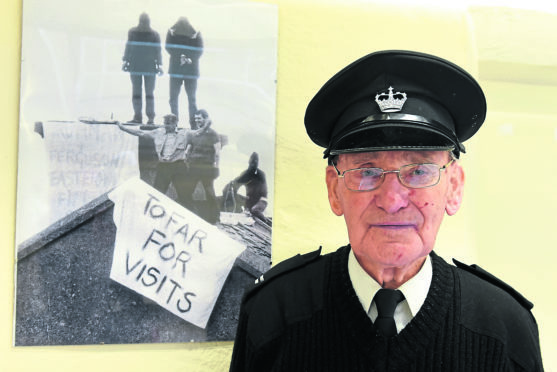 Built in 1888, Peterhead Prison housed some of Scotland's hardest and most violent men for the next 125 years. It didn't close its doors until 2013.
There has been much violence over the years in this building, however there's one incident that will forever make Peterhead Prison infamous.
In 1987, a massive riot broke out and while on duty, prison warder Jackie Stuart was taken hostage. For five days he was held by violent men and paraded in front of the authorities and TV cameras, a terrifying 75 feet up on the rooftops.
Thirty-one years later, Jackie Stuart is now pushing 90, yet thankfully alive and well, and he's back inside! Well, not like that, but Jackie is a volunteer at the very same prison which is now a museum.
I chatted with Jackie at the end of my tour, bought the book he has recently written and read it that very night. Would he do a full interview with me I wondered? Next day I called the prison and asked the lady on reception. There was a pause as she asked Jackie.
"Yes, he can meet you on Tuesday at 10am."
"Hm, is Monday possible?" I asked. Another pause as she spoke again with Jackie, before coming back and telling me: "No, it's his day off and he says he does his washing on a Monday."
He's quite a character is Jackie, and although we discussed life and death issues, he had me laughing on more than one occasion during our interview.
"How long did you work in Peterhead Prison for Jackie?" I began.
"Twenty-five years."
"I am right in saying that you didn't use a baton when on duty?"
"Initially I did, but then I didn't see the point. I mean prisoners often had knives, screwdrivers, metal bars, so if I was to use my stick on someone in self-defence, next day I might be in the workshop with 50 prisoners and they'd just take it out on you, so I didn't carry one anymore.
Remember we had very dangerous men in here, armed robbers, rapists, murders and I dealt with the category A prisoners."
If that wasn't enough, at the height of the Troubles in the 1970s, Jackie also did two stints in Northern Ireland's infamous Maze Prison.
"Was it easy to get drugs into prison?" I asked.
"Oh yes, it's impossible to stop. In swallowed condoms, hollowed out books, anything really passed on by family or friends."
"What kind of drugs?"
"Oh everything; cannabis, white powder, pills. Prisoners made booze on the inside as well. You always had to be wary on duty, it was like a game, you had to outwit them and you couldn't show fear to a prisoner.
Knives they can make from things in the workshop. You had to be always on alert for being stabbed. One officer here got stabbed with a pair of shears. He almost died."
But it wasn't all violence and Jackie went on to tell me about the love letters.
"I sometimes wrote letters for prisoners. See, they hadn't had much schooling, some could read a bit, but not good at writing, so when they got a letter from their wife or girlfriend, they trusted me so asked if I'd read it properly and then write a reply.
It was a bit strange sitting with a hard man and reading out 'hello darling', and then writing back 'hello sweetheart, dearest, etc,' not words I would have thought these men capable of using. But I did it and they were grateful. But I was always on guard, I mean you always sprung the lock on the cell door before going in so they couldn't lock you in once you were inside."
I continued: "Prior to the riot and you being taken hostage, did it all just kick off for no reason, or was there a sense that something was brewing?"
"No, it was a normal day. Prisoner Leggat was placed on a minor report in the morning, but then in the evening, for revenge, he stabbed the officer who put him on report. I went to the officer's aid, I got the knife off him, but then the whole hall joined in and started to riot, all hell broke loose."
Jackie and another officer, Bill Florence, were stabbed, punched, kicked and violently beaten with table legs. Bill was in a bad way and Jackie somehow managed to persuade the prisoners to let Bill go. Jackie, now on his own, was dragged up on to the roof and held hostage for five days.
During this time, he was beaten constantly and paraded around on the roof with a chain round his neck. It was, however, when they put tins of lighter fluid in his trouser pockets and threatened to set him alight that he felt most threatened. I've seen news video footage of Jackie being held on the roof. How he survived, mentally, is nothing short of astonishing.
"Leggat was the ringleader, the hard one, the other two, not so bad," said Jackie.
"Did you think that Leggat had planned this right through, I mean did he think as far ahead as kidnapping you, taking you to the roof? What was his end game, what was he going to achieve?"
"Just to cause trouble. He was already in for life, so it didn't matter to him what punishment he got."
I asked: "When you were being held on the roof, there were police marksmen with rifles trained on the men holding you. But nothing was ever done to help you?"
"I'll never understand when they threatened to set me on fire that something wasn't done. It was said that a police rescue would have taken 12 minutes to come and get me out, which was too long, too dangerous, so no attempt was made to rescue me. I was later told that although the police could shoot to kill, because the men holding me didn't have guns, they weren't allowed to."
"I've read criticism about Margaret Thatcher's decision to send in the SAS. Some say it was over the top and or political. What do you think?" I wanted to know.
"It was very controversial at the time. But there was no rescue attempt made by the authorities to get me out, it was stalemate. If she hadn't intervened, I might still be up there," Jackie said with a laugh.
How can he be so calm, I thought to myself?
"How long would it have gone on for if the SAS hadn't come in? Would it have gotten worse for you?"
"Impossible to say for sure… but look, what happens with guys like Leggat, they are hard men, but once they have smashed up stuff and made their point, they get fed up doing what they are doing. I also heard them saying that they had beaten the record for taking a hostage. If the SAS hadn't come in they may well have just given up. But we'll never know."
"Was Leggat getting angry or stressed?" I wondered.
"He was very erratic, if he didn't get what he wanted or wasn't happy, I got another punching."
"Did you have any idea you were about to be rescued by one of the world's elite?"
"No indication whatsoever. It was 5am and still dark, we were inside the roof attic trying to keep warm, we heard a sound outside on the roof, Leggat suspected something so he shouted, 'Get off the roof or we'll stab him!'
Suddenly, the SAS threw stun grenades and gas into the roof attic. I couldn't really see, but they moved very quick, they knew exactly where the hostage takers were, I've been told they used probes through the walls before to spot where everyone was. In they came wearing gas masks and it was over in no time, they grabbed me and ran me along a roof ledge and down a ladder to safety. They did what the authorities hadn't been able to do in five days."
"How long did the rescue take?" I asked.
"I'm told it took the SAS three and a half minutes. But they weren't happy with themselves as they felt it should have been done in three minutes. And they went as fast as they came. I was told they were back at their base in Hereford in time for breakfast."
"Thirty plus years on, how do you feel today towards those men that held you and beat you? How do you feel about Leggat?" I inquired.
"He doesn't bother me, it's all in the past. After that incident, I went home to my family, he didn't, he went back to a cell."
Jackie took time off to recuperate after his ordeal, but after a holiday with his wife in Spain, he returned to duty before finally retiring in 1990.
"Reliving it, talking with people, coming back here, do you have any negative feelings? I asked Jackie.
"No."
"Ever look up at the rooftops and shudder?"
"No. I'm thran you see. I don't like to get beat. They might have beaten me up, but in the long run they didn't beat me, they didn't win."
A remarkable story by a remarkable man. Not just the way Jackie coped up on that roof but more importantly I think how he dealt with it afterwards. Lesser mortals would have gone to pieces. As for not holding grudges and being able to not just move on but to come back to the very place where it all happened, Jackie Stuart is a life lesson for us all I think.
I recommend you visit Peterhead Prison Museum and definitely buy Jackie's book, it's a fascinating read. You might even be lucky enough to meet the man himself. If you do, say hi from me.
To contact George directly about any of his columns, email nadmgrm@gmail.com.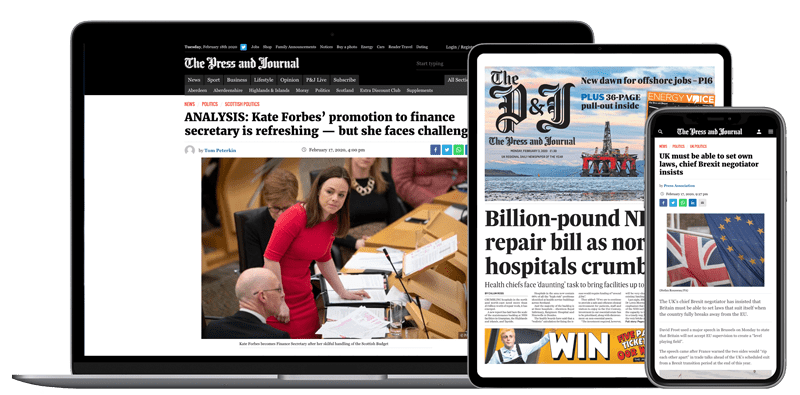 Help support quality local journalism … become a digital subscriber to The Press and Journal
For as little as £5.99 a month you can access all of our content, including Premium articles.
Subscribe