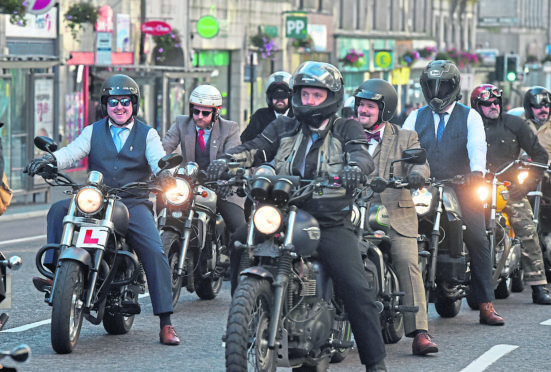 Hats off to those stylish bikers who rode through Aberdeen the other day dressed in sharp suits rather than leathers to raise awareness of prostate cancer.
I was paying more than a passing interest as my own prostate was playing up and had to be evicted forcibly from its cosy warm home a few weeks ago.
An anti-social tenant had taken up residence and was in danger of going out and bothering the neighbours, which would have been very bad news for them and me.
Have you noticed how awkward it is to actually say the word "cancer" when it is so close to home?
I keep saying the word in almost a whisper as though I am old comedy star Les Dawson. If you are old enough, you might remember Les and sidekick Roy Barraclough impersonating two gossipy women of a certain age, and how they would mouth taboo words in an exaggerated whisper rather than say them out loud.
I had prostate cancer. There you go, I have said it.
"Why, oh why," I moaned to my bemused surgeon, "can't the prostate be on the end of my elbow?". It would have made things a lot easier when the time came to bid farewell.
The ultimate irony is that a prostate not only gives life, it can take it away if you're not careful.
While oiling the wheels in the reproductive cycle, it hides away in a deep awkward place. With prostate cancer now said to claim more men's lives each year (11,500) than breast cancer kills women, it is finally dawning on mature men that they cannot keep their heads buried in the sand any longer over precautionary testing. Early detection often means full recovery.
The only thing to fear is fear itself, as Franklin D Roosevelt said in his famous 1933 US presidential inauguration address.
I found out by chance as there were no symptoms whatsoever. A call from Melbourne – my younger brother had been poleaxed by it. Suddenly my risk factor went through the roof.
I was diagnosed with low-level cancer and I started studying something called the Gleason Score (a tumour scale) ). It sounded almost quaint like the "Duckworth-Lewis Method" for weather-affected cricket, and just as unfathomable.
---
>> Keep up to date with the latest news with The P&J newsletter
---
Spin forward 18 months and "low level" was now something more urgent. I am first on that day's Aberdeen Royal Infirmary urology surgery list and they are trying to get me into theatre pronto, but I have dashed back up the corridor in my gown to where my wife was left behind to give her another hug. Everything will be fine. Escorted by two nurses (in case I do a runner, I joked) we descended into a hidden subterranean world. A surreal moment as I clambered on to the operating table and the theatre team introduced me to a towering robot staring back from just beyond my toes.
A revolution has been taking place over the past decade in robotic-assisted surgery. The "Da Vinci" robotic machine at ARI – which was the first in Scotland – is proof. Without public support to pay for it, I would not have had access to robotic keyhole surgery so close to home. Its precision is ideal for tricky operations like mine, with less post-operative pain (just a few paracetamol) and you can usually go home the next day. It made me think hard about how we finance the NHS. Public finances are crumbling under the strain and clearly cannot cope. Do we as ordinary citizens have to contribute more? We are already taxed in Scotland more than anywhere else in the UK,but how far could it go before creeping privatisation destabilises the NHS's founding principles?
As the anaesthetic kicked in, I had this delicious sensation of almost levitating off the table, but the last thing I remembered before passing out was reassuring advice in a patient handbook. "The robot does not, of course, do the operation on its own." Comforting words, indeed. I didn't want to come out with no prostate and three ears. Just for the record, my brilliant surgeon Justine Royle led the operation with her wonderful theatre team.
Through a post-anaesthetic haze and dim light of the ward that night (and after the best two-hour "nap" of my life ), I could hear a nurse gently encouraging an elderly patient to try to recite the months of the year backwards. He struggled for a long time. Another kept trying to wander off or do the opposite to what the nurses were asking. Deteriorating brain function is a huge challenge. But these brief snapshots showed what the NHS has warned us about – with an ageing population, many older patients are not only presenting with one main surgical problem, but also have other complicating medical issues.
It is another financial and social challenge that did not exist when the NHS was born. Ministers who indulge in those excruciating PR shots on the wards never see this world.
In an NHS said to be ripping itself apart on one level with alleged bullying and chronic lack of resources, medical staff at the sharp end are incredible. I lost count of the number of times I set an alarm off accidentally during that night from one of the tubes inserted in my body. Nurses were by my side in seconds every time.
Six weeks later. A specialist nurse from ARI's marvellous Ucan urology support team phoned to say three magic words: "No cancer detected". It was the post-op all clear after Ms Royle's clean sweep. Now I'll be monitored.
I asked a GP about prostate cancer testing a decade ago (not one of my current GPs, I hasten to add), and he said not to bother "unless you have symptoms". If I'd done that I might have ended up dead a lot sooner than anticipated.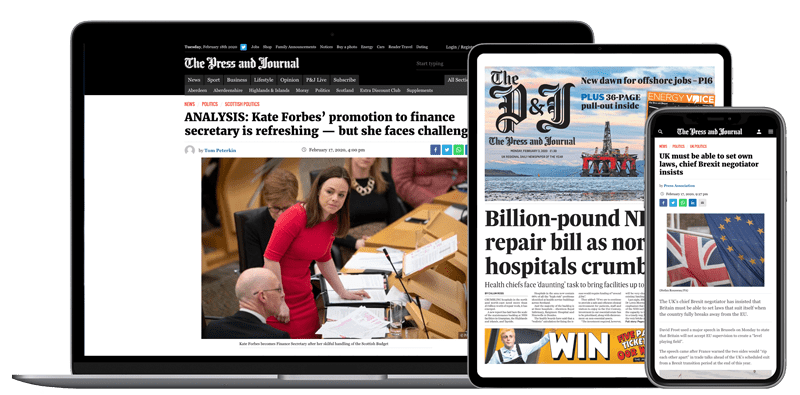 Help support quality local journalism … become a digital subscriber to The Press and Journal
For as little as £5.99 a month you can access all of our content, including Premium articles.
Subscribe