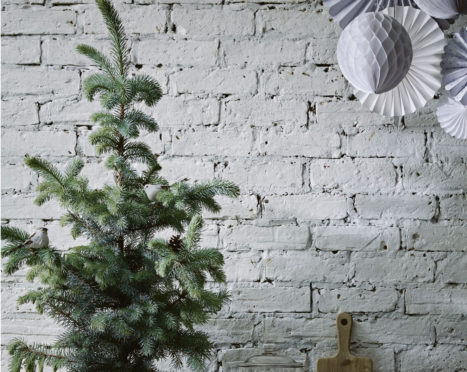 We have recently celebrated Halloween followed by Remembrance Day, soon it will be St Andrew's Day and then Christmas, but of course, the last-named has been hyped up for weeks now.
Next on the agenda we will be tripping over piles of Christmas trees but, unless they are of the plastic variety, I would suggest that you delay purchase for another week or two.
It is time, however, for me to explain a wee problem on the horizon, ahead of the game, as it were.
I am fully aware of regular reports on climate change and the associated dangers of new pests and diseases creeping north.
Indeed, I have raised the subject myself from time to time and make no apology because come what may – come it will for aw that!
Recent reports from the experts reckon that up to 15 different kinds of pests could enter this country on imported Christmas trees.
Of course, we are not going to get all 15 on every blinking tree, indeed some may well have been detected before but not considered to be a major problem.
However, because of the changing climatic conditions, some may now decide that it will be OK to stay because the living conditions here in Scotland are "a bit of alright".
More than £3 million- worth of Christmas trees are imported every year.
The official document states that they come from Europe and Scandinavia (having passed my lower Geography albeit 70 years ago, I thought Scandinavia was part of Europe?).
Maybe they mean the EU and Scandinavia.
So – buying trees with UK-grown tabs on will be the easiest way of thwarting the problem, won't it?
Unfortunately we know that isn't how these things work – for a start, a lot of people don't read the labels.
The fact is, Christmas trees, obviously in full leaf and netted for transport, provide ideal conditions for the beasties to hitch a ride.
The problem becomes slightly more complicated because it is actually the trees coming from parts of Europe other than Scandinavia that present the most acute danger.
Two given particular mention are the Siberian Fir Woolly Aphid and the Pine Processional Moth.
Sadly, the biggest threat comes from the import of large more mature specimens brought in (often as gifts) for civic displays.
The department responsible for this information is using a bit of a further scare tactic by suggesting that if you include trees more than three metres tall, another 12 pests could be added to the list taking the total to 27.
More importantly, 14 kinds of these beasties are completely absent from the UK at this time.
Instead of putting out scary warnings to the general public, in my view, they need to up their own performance in checking imports.
I've said it before, in relation to the Ash Dieback problems we have – in that situation, we were still importing Ash saplings from the continent 12 years after the disease had been detected there. Why?
Come what may, we will soon be faced with a wide range of Christmas trees to choose from, some in pots and more commonly, without roots.
At my last count, there were six different kinds on offer, the commonest by far being the Norway Spruce, which does have a tendency to drop its needles after a while indoors.
Next in popularity would be the Nordmann or Noble Fir, my favourite I have to say.
It does not suffer from needle drop but you have to be a wee bit choosy in picking an individual specimen because the top branches can be a bit sparse in some.
It might be a bit dearer than the Spruce.
Less common but equally as good as the Nordmann is the Fraser Fir.
It does not tend to drop needles and is certainly the bushier of the two. Could also be a wee bit expensive.
The Lodgepole Pine has become popular in recent times, but I must admit, it isn't a "Christmas tree" as I remember them from childhood, illogical though that may sound.
The same applies to trees from the Picea family – the Serbian Spruce and the Blue Spruce. No needle drop, quite dense, usually available as smaller pot-grown trees.
They may be expensive too but, as with any of the foregoing, you have the option to plant them in the garden to be enjoyed in future years.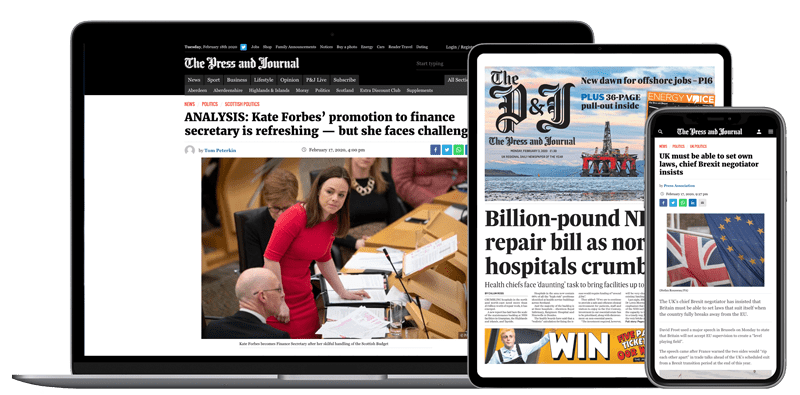 Help support quality local journalism … become a digital subscriber to The Press and Journal
For as little as £5.99 a month you can access all of our content, including Premium articles.
Subscribe