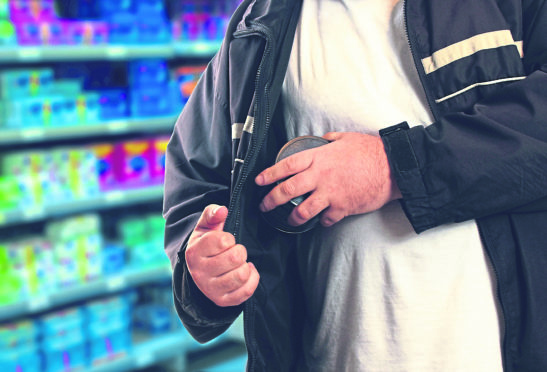 My column last week was about "preppers"; ie, those who prepare for a natural or man-made catastrophe.
Many may laugh at them but they're doing no harm and, at the end of the day, what if they are on to something?
Better to be prepared with tinned food and sources of heat, fresh water and medical supplies than creating chaos and running around looting in order to survive.
Stealing – now that got me thinking, and compelled me to write this column.
Is it ever right to steal? I most certainly don't mean: "Oh, I'd really like that new pair of trainers but I'm a bit skint this month. Anyway, never mind, Nike can afford it."
Or something so tiny, it shouldn't even matter, say, a Kit Kat from Tesco? It won't make a blind bit of difference to their massive profit margins, so what's the problem?
Irrespective of how rich Nike or Tesco are, it's stealing and undoubtedly wrong.
Every time someone downloads a song from the internet without paying, that's also stealing. Streaming a movie illegally online? Stealing.
I had this conversation with a friend some years ago but he simply didn't get it. He streamed numerous movies online without paying, millions do it.
He saw nothing wrong with it, as all he could think of was billion- dollar corporations and that they could afford it.
He also downloaded individual songs without paying. Now that really got to me.
"Mate, this is definitely stealing."
He looked at me like I was an idiot.
"Forget the massive record company, what about the songwriter? Do you have any idea how much work goes into such things? It can take months of work. If you want to listen to their song, you should pay them for it. Would you do your job for nothing?" I asked.
"No," he replied.
"You'd expect to be paid, right?" I continued.
"Yeah," he said.
"Then you should pay the artist for their song…"
Most creative people, especially the non-famous ones, be they singers/songwriters, choreographers, writers, etc, make precious little as it is.
It really annoys me when people think they can just "take" their work for nothing. Unless the artist gives it away for free, it's stealing, in my view.
Is there such a thing as a victimless crime? I don't know. I mean, I don't think so.
Forget about the taking of physical things, how about if someone exaggerates on, say, a home insurance claim? Is that stealing? Even if it is, it's victimless, right?
No, because the insurance company will surely pass their loss on to other innocent customers by increased premiums the following year. There's always a victim, it seems.
We all dislike thieves, yes? Really? In real life maybe but not on screen.
We seem to have a soft spot for those in film or TV who do terrible things. If it were real life, we'd despise them. Why? I don't know. Interesting psychology, I think.
Let's take Oliver Twist. My favourite character is Fagin. While Alec Guinness played him on screen in 1948, it was, however, the great Ron Moody who made him his own in the London production of the musical Oliver!, and then immortalised in the 1968 Oscar-winning movie.
I accept that Ron Moody's Fagin is far "nicer" than the original, which was very dark indeed; that said, he's still a thief, actually, worse than that, he got kids to do his stealing.
Today, in real life, he would go down for a very long time – coercion of children to steal and keeping them in squalid conditions, unbelievable, really. But we think of him as a lovable rogue.
I don't think I've ever heard anyone say that they hate the character of Fagin. Bill Sykes, yes, but not Fagin. For sure, I accept he's merely fictional but we all love this thief.
Another example, the BBC comedy Still Game is a programme I really belly laugh at.
Two old guys, Jack and Victor, a right pair of characters. In one episode they get involved in rigging the electricity meter so that they get free leccy. It's very funny, and never once do I find myself annoyed that they are stealing.
Yet in real life, if I heard my neighbours were doing that, I'd be livid.
I use airport exec lounges a lot. Little havens from the hustle and bustle of the terminal. A great place to relax, eat, shower and even get some shut-eye between long layovers before your next flight.
On leaving the lounge, I used to always grab a bottle of water, a snack or two to keep me going. I also took a newspaper. I saw no harm in it; after all, I'd either paid my membership of the lounge or earned entry though my flight status.
Then they started to put signs up saying it was forbidden to remove any item from the lounge. Ridiculous, I thought, but then it dawned on me, technically this is stealing. I don't do it any more.
But what if you are poor? Or find yourself in terrible situations? Is it OK to steal then?
When having this stealing discussion with friends I asked the question: what if you're a refugee? Is it OK to steal then? It was very interesting to hear the reactions.
"Oh, yeah. Sure. Oh, that's acceptable, definitely, I mean these people have escaped a war environment, life is terrible, probably lost members of their family, I would have no problem if they stole food…"
I jumped in: "Really? Well tell that to small shop owners in Iraq."
"Ah, but…"
I continued, mentioning that I've been in refugee camps in Iraq, where people are well catered for.
It's hard to say this but, in fact, they are the "lucky" ones. On my personal tour of a UN camp in Iraqi Kurdistan, signs strategically placed all over the camp were specifically pointed out to me.
There was even a complaints box where people could anonymously inform on those who did such things as steal.
The UN official said to me: "No one is starving in here. There is no need to beg outside on the streets, and we do not tolerate any stealing or corruption in the camp."
So, still think it's acceptable for all poor unfortunates to steal, I asked? That made my friends think.
Even if I became homeless and ended up on the scary, night-time streets of London, I would like to think I would not steal food in the UK, for as destitute as I may be, there are always food shelters and handouts from various charities.
But, and maybe you'll shoot me down for this, if I and/or my child found ourselves in a situation where we had suffered a natural disaster or war and I had nothing to eat and no help was on offer, then, yes, I would steal food from a shop in order to live.
That said, I'd like to think, even in such circumstances, I would not steal or take food from another poor human.
But I honestly don't know. Thankfully, I hope I will never find myself in such a situation.
If anyone, from the safety of their armchair in the UK, can instantly say they would never steal food from someone else in order to live, I'd like to point out that many ordinary Russians, while under the brutal siege of Leningrad, after eating their pets, resulted to cannibalism in order to survive.
Survival is, I believe, the ultimate human instinct.
Is stealing simply a black and white issue? Is it wrong on all counts? Or are there indeed occasions when it's acceptable?
I guess there is no one-size-fits-all answer, I suppose it's up to each of us to square that circle in our own heads.
As it stands, stealing is – and so it should be – a crime in the UK and, I think, in every other country.
At least here, the worst thing that can happen is you go to jail. In some countries, they chop your hands off.
Severe punishment indeed.
Now that got me thinking about severe punishments in general…
To contact George directly about any of his columns, email nadm@protonmail.com