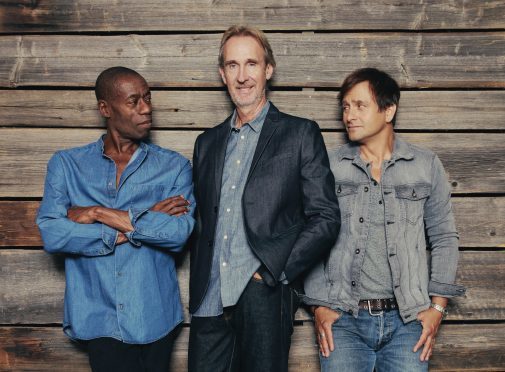 You are in a band that you formed at school. You have sold 150 million records. What do you do next?
Form another one as a side project, which is what Genesis founder Mike Rutherford did in 1985.
Whilst Genesis hasn't performed together for a decade, Mike + The Mechanics are back on the road to support a new album, Let Me Fly, their first for seven years.
The band is at the tail end of a lengthy UK jaunt that saw them arrive at HMT on Saturday night, before they play the Royal Albert Hall next week. Oddly the album isn't released until April but the quality of the new material aired hints at strong sales.
An urban set, full of flight cases and old stage lamps suggested either lazy roadies or design genius. Combined with the classy light show it was the latter; the staging feeling inclusive and providing a great setting for the musicians.
Mike Rutherford's last show with Genesis was in front of half a million people in Rome. There were a few less in HMT on Saturday night, but it was a full house and those present witnessed a master class in melodic pop rock. Unfashionable to some, the band delivered hook-laden AOR, with some tremendously soulful vocals, particularly from the excellent Andrew Roachford.
Rutherford is a gentleman from music's top table. Alternating between his Stratocaster and providing classy bass lines, he played a friendly headmaster role on Saturday night, allowing the band to shine. Harry Potter lookalike Tim Howar did a great job as the cheerleading front man. Howar has some voice, and his energy and infectious style helped to wake up an initially shy Aberdeen audience.
All seated we may have been, but the funk rock riff of Roachford's 80's solo hit, Cuddly Toy almost got everyone out of their seats, as did the brilliant grind of Genesis' I Can't Dance. Howar delivering the Phil Collins lines, with Rutherford providing primal guitar chords.
It is notoriously difficult for mature artists to deliver new material to audiences that have (rightly) bought tickets to hear the hits. Mike + The Mechanics clearly have confidence in the new record, a quarter of the set being taken from Let Me Fly. Opening with the Journey flavoured Are You Ready, other highlights were the gorgeous Save The World, Silent Running and Over My Shoulder.
Earlier on singer songwriter Ben McKelvey opened the show. On a big stage on your own, you had better have a great voice, or special songs – preferably both. Warm personality and gusto aside, Mckelsey has neither. Clearly a hard working musician, this tour will do him the power of good, but in this space competition is fierce.
Mike +The Mechanics' 90 minute set climaxed with the evocative Living Years, before Howar and the band roared through Word of Mouth. We may not see Genesis again, but there is clearly still tread on Mike Rutherford's tyres. Excellent.