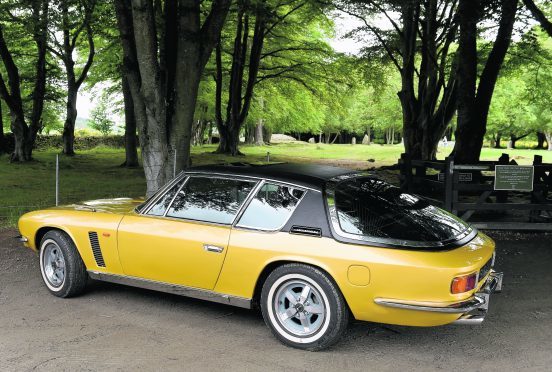 Richard Gibson is the first to admit that his pride and joy incites a Marmite reaction from people.
The 1971 Jensen Interceptor Mk2 may be a classic, but her metallic gold colour is far from traditional.
The unusual sheen always attracts attention both good and bad, much to Richard's amusement, and he's been passionate about classic cars for decades.
He's no stranger to interesting purchases, thanks to his 1947 Armstrong Siddeley Hurricane, but his wife may have an objection if he adds to the collection in Culloden, Inverness.
Indeed Richard, 63, may never have taken the plunge were it not for what he believes is the steeply falling value of modern-day cars.
"It all started when I was still doing a lot of contracting work and I found my car was sat in the driveway most of the time," he said.
"I had a Honda Civic Executive and I put it on the market, but all I could get was £6,000.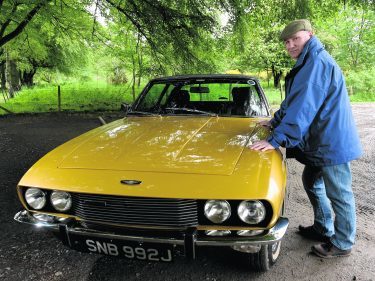 "It lost about two-thirds of the value when I had been told it would retain value, the exact opposite happened and it was pretty galling. In that moment I thought that's it, I'm never going to buy another normal car again."
The Jensen certainly can't be described as normal, with her statement gold coat and leather seats.
For Richard it's the engineering that cinched it but he had strict criteria in place.
"I already learned the hard way first time round, I wanted a classic car which wouldn't lose me any more money if I ever came to sell it," he said.
"Once the Jensen ticked that box, she was mine from a dealer in England.
"What I really love about this car is the engineering and the fact it's so easy to repair itself because you can find your own parts without too much trouble.
"I've restored classic cars completely in the past but I'm getting too old to be lying about on concrete."
The Jensen doesn't cope too well on short runs, however, and Richard admits she guzzles fuel.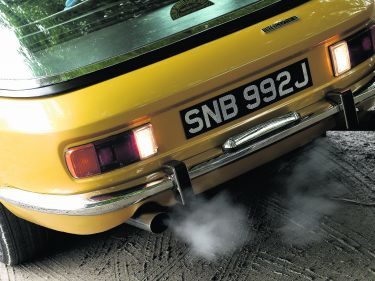 He keeps what he would call a "normal" car for everyday errands with his wife, Maria, but she's still a proud passenger when the Jensen gets to stretch her legs.
"It's the epitome of a grand tourer and although she hasn't gone on a long trip yet, I'm looking forward to taking her to England," he said.
"She sounds fantastic which is thanks to her big American engine."
If you look under the bonnet, you'll find a 6.3-litre V8 Chevy engine which is linked to a three-speed automatic gearbox driving the rear wheels.
It's this beast which gives Jensen her rather distinctive purr.
"I love the engine but it does make her a very thirsty car, that's why she's not suited to towns," said Richard.
"She purrs like a train and loves a good belt down the A9 which helps the engine run better."
But when it comes to the colour, Richard inherited the tastes of a former owner.
"The colour always amuses me, I think it's a Marmite colour," he said.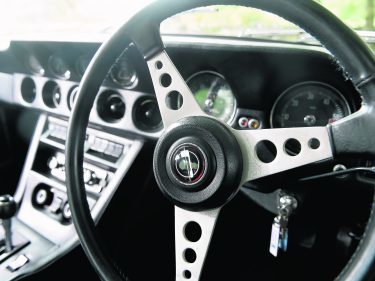 "She's actually been sprayed that colour by a previous owner and they've clearly done a proper job on it.
"It really catches the eye and ladies seem to love it, she's just a lovely-looking car."
Richard has carried out minor work to prevent overheating and also made some cosmetic changes.
The Jensen has just made an appearance at the Motor Mania event in Grantown, and Richard's love of classic cars has even helped him forge a friendship with his son-in-law.
"My son-in-law is also a classic car nut, we're never short on something to talk about," said Richard.
"I've always got my eye on other classic cars, hopefully so I can trade my way up.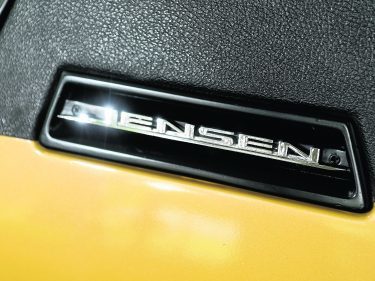 "I don't have the room to keep storing them so I suppose I'll have to sell if I want another one.
"I'm pretty content with what I've got at the moment though, the Jensen does nought to 60 in seven seconds and her top speed is 145mph.
"Not that I've tried that of course. She's the best of Italian design, British chassis, and powered by American muscle."
Richard Gibson with his 1971 Jensen Interceptor Mk2. SANDY McCOOK