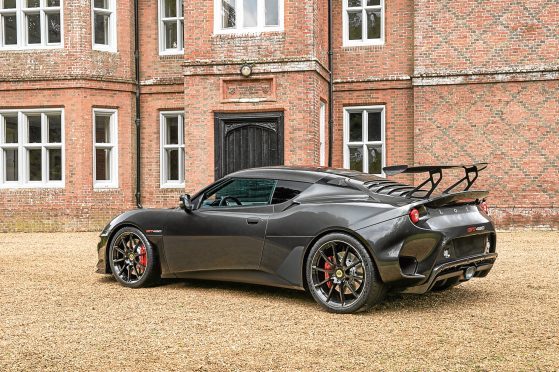 Lotus has unveiled the Evora GT430 – its most powerful road car ever.
Powered by an updated version of the Toyota 3.5-litre supercharged V6, the GT430 produces 430bhp and 324lb/ft of torque, meaning 0-60mph comes in 3.7 seconds with a top speed of 190mph.
Not only is it Lotus's most powerful car, the GT430 is also the lightest Evora to date. Despite added performance, it is 23kg lighter than the Evora Sport 410 – weighing in at 1,258kg. This weight loss comes courtesy of carbon-fibre front and rear bumpers.
As for those new performance elements, there's a huge rear wing mounted to the Evora GT430 and a new front splitter, as well as wider tyres and larger wheels. As a result, the car develops 250kg of downforce at its 190mph top speed. To stop the car, ventilated brake discs feature on all four corners.
Inside, carbon-fibre seats, door sills and instrument cluster are all present. Buyers looking for a more race-focused cabin can order Sparco seats, a titanium rear frame and four-point harnesses for both occupants. The interior is trimmed partly with Alcantara and leather as standard, although a full finish in either is an option.
An infotainment system is also available for an extra fee, featuring Bluetooth connectivity, satnav and a reversing camera.
Prices for the Lotus Evora GT430 start at £112,500 – however, only 60 will be made.