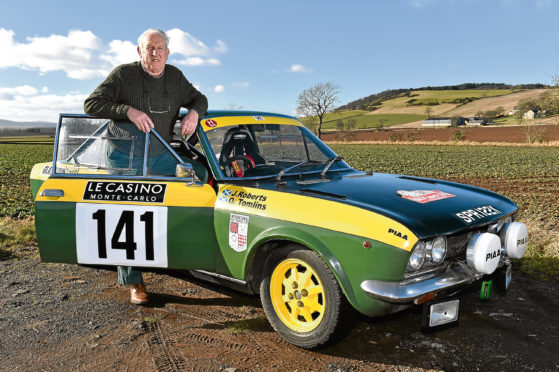 It's been more than 50 years since John Roberts first laid eyes on a Fiat.
He'd like to say that it was love at first sight, but in reality it was just a job which paid the bills.
Employed at the Fiat England factory just outside London in 1963, 16-year-old John completed an apprenticeship covering everything from bodywork to engine building.
Eight years at the workshop cemented John with a sound knowledge of the classic Fiat design, but little did he know he'd still be surrounded by the iconic Italian brand decades later. His current ride is a 1972 Fiat 124 Coupe, and it is one of several Fiats he has owned over the years.
"You get to know certain things inside out," said John.
"I'd always had an interest in cars, but after working with them for so many years Fiats just became my thing.
"I bought this one in 2013 and it's great fun to drive."
John moved up north from London in 1980 after getting a job in the oil industry, settling in Aberdeen.
He was soon a regular on the local rally circuit, and although his first race was in a Ford, he always kept an eye out for any Fiats on the market.
Now aged 71, John has found himself in an age bracket usually associated with sensible cars and living life in the slow lane.
But for John, the rallying days are by no means behind him.
"Before I bought the 124 coupe I have now, I had a 128 coupe," he said.
"I took it on races across France and Spain over the years I had it.
"Sadly I put it on its roof a couple of years ago, which I suppose is a very technical term for the fact that I crashed it!
"It was a really icy hairpin bend in the middle of the Monte Carlo Historique rally in France.
"We just went straight up the bank and over on to the roof."
Yet despite the memory of the crash fresh in his mind, John was already on the market for a new Fiat.
And since purchasing the 124 coupe model just a few months later, he has had his foot to the pedal on numerous other rallies around Europe.
"It was more or less just a standard car when I bought it," John said.
"But I've added a roll cage, rally seats, four-point harnesses and some protection underneath on the front guard."
In fact John is just back from his most recent rallying escapade.
"This year was my seventh time competing in the Monte Carlo Historique event," he said.
"It's one of the most prestigious occasions in my calendar.
"We drove all the way from Scotland to Monaco at the end of January, and it was pretty slippery conditions all the way.
"It's a totally different experience to other rallies that I've done in places like the Costa Brava."
But despite flipping his last car, John prides himself on generally being careful behind the wheel.
"For a time I was working as part of the traffic department in the police," he said.
"I completed all the tests and was a certified grade one driver.
"Grade one is the top of the top, so I was qualified in advanced driving as well as trained in tactical pursuit in high-power vehicles."
Although he is now retired, it seems that John has no desire to slow things down.
"There is an event in Belgium later this year that I'm keen to go to," he said.
"And this car I've got now is very reliable.
"We've only failed to finish once, which is pretty good for an old car."
And it's not just life on the road that John enjoys, as he is a member of various classic car clubs across Scotland.
"Having a classic car gives you a great social life and I'm still a regular at meetings," he said.
"Mostly it's full of old men talking about old cars," he laughed.
"But I really enjoy the scene and have no plans to stop driving any time soon."