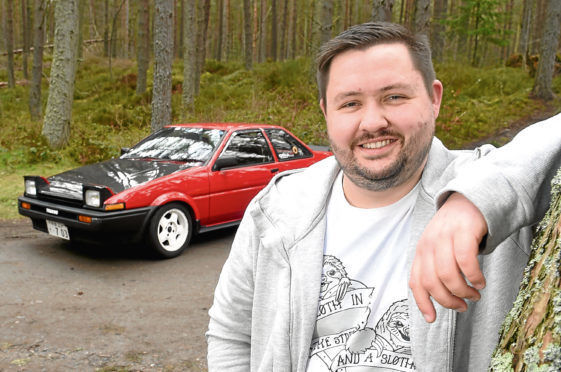 With its pop-up headlights and iconic 1980s design, you don't often see a classic Toyota Sprinter Trueno touring the streets of Inverness.
But when you do, chances are it's 26-year-old Callum Macadam in his 1985 coupe.
Purchased in 2015 from an auction house in Japan, the motor is Callum's pride and joy and, despite his tender years, is in fact his 17th Toyota.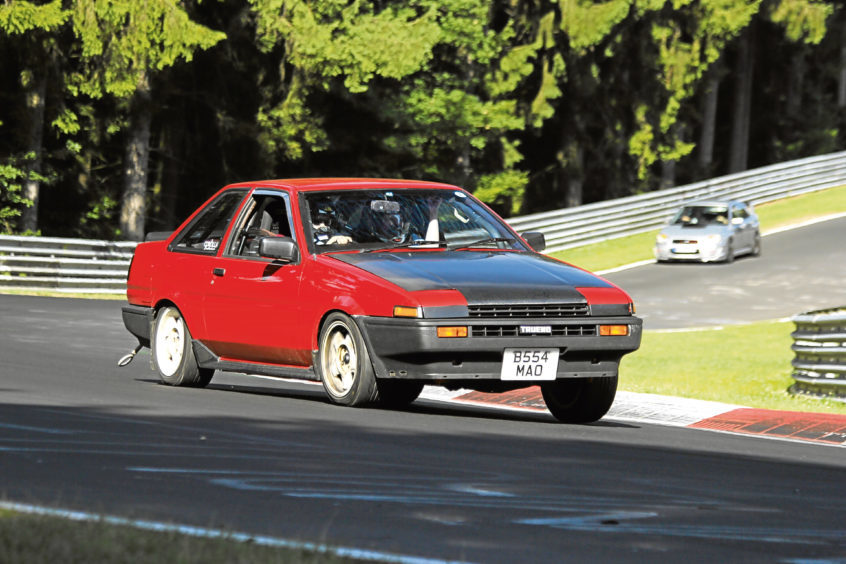 Having bought and sold all of the previous models, Callum, who lives in Conon Bridge, was in the process of saving up to buy a house.
"It didn't exactly go to plan as I ended up spending my deposit on the Trueno," he laughed.
"I spotted it on a Japanese auction site in November three years ago.
"Most used cars in Japan go through auction houses, and thousands are sold every day.
"This one was an ex rally car and was in really good condition.
"It was for sale in the same auction house that Top Gear featured in their Japanese special recently.
"In the end I put in my maximum bid and by the middle of the night it was mine."
However, buying the car was just the first step.
Next, Callum had to patiently wait as it was shipped over from Tokyo in a process which took the best part of four months.
"It was an extra-long wait because the Christmas holidays disrupted everything," said Callum, who is a support worker.
"But eventually the car arrived in Southampton and my dad and I went to collect it.
"We took it up to Scotland in a trailer then had to get it registered with the DVLA.
"All in all, it was May before I actually got to drive it."
Nevertheless, the long wait was worth it, as Callum describes the Sprinter Trueno as his "dream car".
"A lot of people don't understand why I love Toyotas," he said.
"And I've liked them for so long I've almost forgotten why too.
"But mostly it's the back to basics thing I like.
"It's the manual steering, wind-down windows and lack of unnecessary screens.
"There is no modern distractions, which takes it back to what driving used to be – just you and the car.
"I also like the heritage of the Sprinter Trueno and its traditional use in racing, rallying and drifting.
"Buying a car from another country had its appeal too, as it had its own history there.
"It's a totally different experience from going down to your local dealership."
As Callum's extensive car history might suggest, he is pretty handy under the bonnet, having originally trained as a motor vehicle mechanic.
"When I was an apprentice I worked for Saab," he said.
"After a while they closed down the depot I worked in and it was a confusing time for me because I was young and trying to decide what I actually wanted to do.
"In the end I preferred to keep cars as a hobby instead of a job."
But the mechanic's experience has come in handy, as just a few months into owning his current Sprinter Trueno, Callum blew out the clutch and gearbox.
They have since been fixed and the car has undergone a full body restoration.
"It started out a burgundy colour when I bought it," said Callum.
"But the paintwork wasn't perfect and it always annoyed me, so I've restored it to factory colours now."
Upgrades complete, Callum is now a member of the Highland Classic Motor Club and a regular attendee of Cars & Coffee at the V8 Cafe in Inverness.
But he doesn't limit himself to local events, and last summer Callum drove the car all the way to Germany on the trip of a lifetime with his partner.
Alongside two fellow petrol-head friends and their respective partners, the three cars made the nearly 1,000-mile journey to the famous Nürburgring in the west of Germany.
"It's one of the longest race courses in the world," said Callum.
"It's nearly 13 miles altogether and I'd wanted to drive it for years.
"The track was a real bucket list moment for me."
The next country on Callum's wish list is a little further afield, but he has big plans for the coming months.
Keen to see the homeland of Toyota for himself, Japan is next on the cards.
The trip is set to be Callum and his fiancee's honeymoon, and it's good to see that secretly spending a good chunk of their house deposit on a car hasn't hurt his chances at a happy ever after."