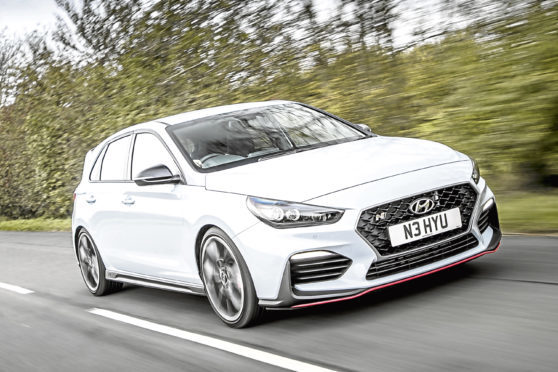 Hyundai's i30 N is Korea's very first really credible performance hot hatch.
Every car in this segment claims to be engineered to get your heart pumping and your pulse racing but this one really can. Track-tamed and road ready, it'll surprise you enormously. And the version you'll want is this upgraded Performance model.
Just about everything that could be changed in creating this high performance derivative absolutely has been.
Aluminium has been added to the electronically controlled suspension to reduce weight and increase stiffness, plus there's a bespoke-fit set of adaptive dampers.
The single gearbox option, a six-speed manual, has been specially developed for this car and its clutch is uprated.
There's also a selectable rev-matching system to make you sound like Fernando Alonso when you're downshifting through the gears.
In addition, the brakes are beefier, camber stiffness is up and the Pirelli P Zero tyres are of a unique compound.
Yes, the 2.0-litre GDI engine is derived from a unit that Hyundai's had on its books for some time, but it's been embellished with a new turbo and a new intake manifold.
There are two variants on offer, a standard model offering 246bhp and this top 271bhp Performance version which gets two extra key engineering features.
One is an emotive-sounding Active variable exhaust; the other is a proper mechanical electronic limited-slip differential for extra cornering traction.
Both are features you'll want, plus this Performance derivative is of course also slightly quicker off the mark than its standard stablemate.
Make full use of the standard launch control feature and you'll reach 62mph in just 6.1 seconds en route to an artificially limited top speed of 155mph.
Various driving settings are available to you as an i30 N driver. The one you'll want to try is the most ballistic N-mode, which dials steering, throttle and suspension settings right up to the max.
There's also a configurable N-Custom programme that allows you to choose different settings for different dynamic elements and set this Hyundai up just as a professional driver would set up his race car. Brilliant.
As for boot space, well the 381-litre cargo capacity is class-competitive.
The standard 246bhp i30 N costs around £25,000 and is targeted at conventional family hatch shopping rockets like Volkswagen's Golf GTI and Ford's Focus ST.
Before perusing this i30 N model's fuel and CO2 stats, we'd expected it to lag behind rivals a little in this regard. After all, the 2.0-litre GDI petrol unit this model's turbo powerplant is based around doesn't have a reputation for being particularly frugal, plus there's the fact that with a kerb weight of around 1.5 tonnes, this car is one of the heavier hot hatches in this segment.
As it is though, this Hyundai gets pretty close to the required class standard. The ordinary version manages 40.4mpg on the combined cycle and 159g/km of CO2, figures that fall only slightly to 39.8mpg and 163g/km if you go for this upgraded Performance model. That translates into a Benefit-in-Kind tax liability of either 30 or 31%.
Of course, as usual with a hot hatch, if you get anywhere near the quoted figures in real world use, then you probably shouldn't have bothered buying the car in the first place.
Still, if you are in a frugal state of mind, it's useful to be able to slot into the Eco driving mode and focus all of the car's systems on efficiency.
Is this the fastest, most involving hot hatch for sale at this price point? Having put this i30 N to a thorough test, we'd say so. Which is an astonishing achievement from a manufacturer with virtually no previous GTi experience whatsoever. Perhaps it helped Hyundai's engineers that there was no particular industry expectation that they would succeed here – no sporting brand values to uphold, no illustrious predecessor to match.
Of course, there are faster, grippier and more extreme hot hatches than this, but they're all much more expensive. And, in most cases, no more fun.
Perhaps Hyundai's past World Rally Championship exploits have played a part in making all this possible.
Or maybe it's just the single-minded determination of the development team to make this i30 into a memorable driving machine, whatever it took.
Either way, what's served up here is N-couraging, N-ergised and N-gaging. But will it be N-nough to deliver instant credibility for Hyundai in this segment? It'll be interesting to see.
The Facts
Model: Hyundai i30 N Performance
Price: From £25,000
Engine: 2.0-litre turbocharged petrol engine producing 271bhp
Transmission: Six-speed manual
Performance: 0-62mph in 6.1 seconds, top speed 155mph
Economy: 39.8mpg
CO2 emissons: 163g/km