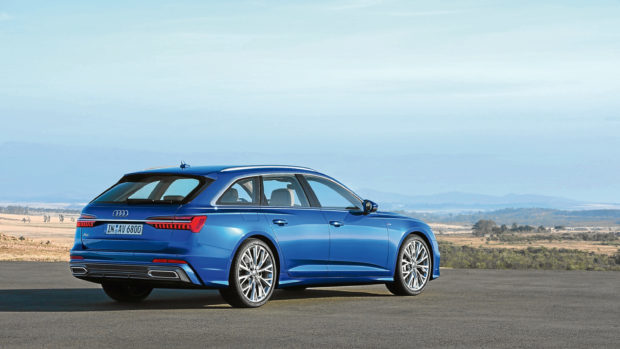 Audi has revealed the estate version of its A6 saloon, which gets a sporty, sloping roofline and plenty of cabin space.
The German car manufacturer's estate models are called Avant, and here it is keen to promote the sporting credentials of its premium load-lugger. Outside of its performance models, the company isn't known for making particularly fun-to-drive cars, but thanks to an optional rear-wheel steering system the new A6 Avant should be impressively agile, as the set-up is used to great success in the Audi A7 Sportback.
Each engine has a mild hybrid system as standard, which uses a small electric motor to take the load off the engine when possible. It allows the engine to be switched off when coasting between 34 and 99mph, and for the start/stop to engage at speeds below 14mph, to improve fuel economy.
The cabin is impressively roomy, offering more space than the outgoing model. It has, Audi claims, class-leading elbow room for all passengers and the best knee room for rear passengers too.
A couple of safety packages are available, which use up to five radar sensors, five cameras, 12 ultrasonic sensors and a laser scanner to 'see' the world around the car. Emergency brake assist is fitted as standard, but other features of the packages include an adaptive cruise control system that can slow the car to a stop in traffic, or adjust speed by reading signs or anticipating curves and junctions ahead using sat nav data, and a warning for the driver if hazards pass in front of or behind the car.
Prices for the new A6 models are yet to be announced, but expect the Avant to command a slight premium over the outgoing model's £35,305 starting point.