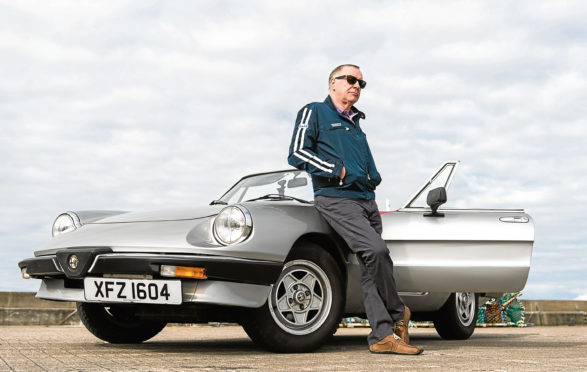 He might not be mechanically gifted, but Brian Watt certainly knows his way around an Alfa Romeo, albeit with a sponge and bucket of soapy water rather than the latest specialised tools.
His current machine is a 1986 Alfa Romeo Spider convertible, which Brian purchased three years ago.
Despite buying it unseen from a dealer in London, Brian struck gold and the car was in absolutely mint condition when it arrived on his doorstep in Elgin some days later.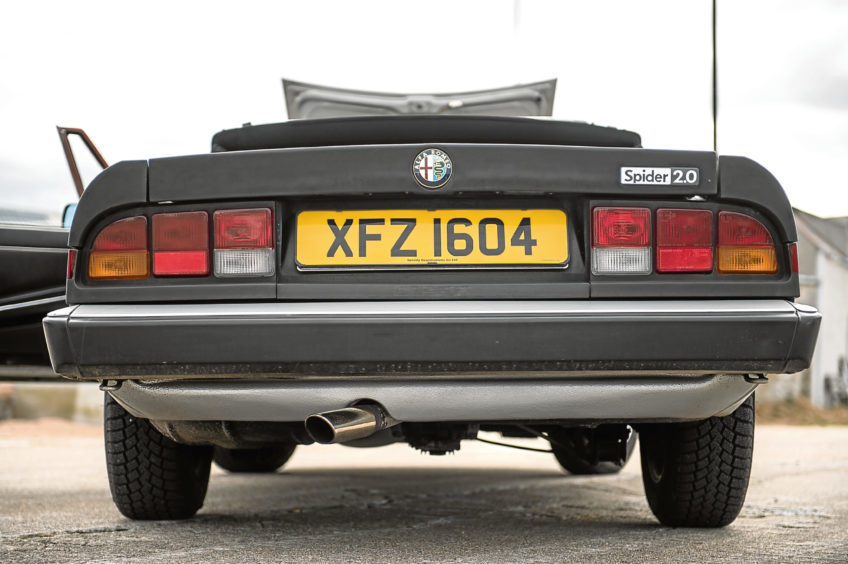 "At the time I had just sold a previous classic car," said Brian, 62.
"But I got a recommendation through the Alfa Romeo Owners Club about this guy in London who happened to be selling a Spider convertible.
"I bought it unseen, but I believe there is something of a gentlemen's honour in the classic car world.
"You just need to ask the right questions and see plenty of photographs.
"Of course I had a wee bit of experience already, but you do get a gut instinct, and I made a good choice in the end."
The car was put on a trailer to be taken up north, and to Brian's delight, it made the journey without a hitch and arrived in excellent condition.
"It's a left-hand drive and had just been taken over from Milan," he said.
"That's partly why it was in such good condition as the dry, warm climate in Italy is much better suited to preserving cars.
"In the likes of Scotland where it is usually cold and damp, cars need more maintenance over the years.
"I admire those who have the mechanical skills required to do up cars but it's just not for me.
"I prefer the detailing elements, like cleaning and polishing all the chrome.
"I like to keep it immaculate."
It was about 15 years ago when Brian's lack of ability under the bonnet became apparent, just after he bought his first classic car, a 1962 TVR Grantura.
The vehicle wasn't in good shape, and was a considerable project to take on.
By his own admission, Brian had neither the mechanical skills nor the patience to return the motor to a roadworthy state and sold it on as a project soon after.
From there the TVR theme continued, through Brian was much more careful to find models in semi-decent condition.
It wasn't long before he had bought and sold a 1978 TVR 3000M and a TVR S Series roadster.
"I tend to keep cars for two or three years," he said.
"The TVR was my first love really, and to be honest if the right one came on to the market now I would certainly have to consider it.
"I do enjoy the Alfa Romeo though, it really drives beautifully.
"It's a left-hand drive too, which my wife has told me makes for a more exciting experience as a passenger!
"It's a convertible, so it's best with the top down of course.
"The interior is done in a classic style with the red leather seats and wooden steering wheel."
Recently retired, Brian is keen to make the most of his free time this summer and is planning various trips around Scotland in his classic Italian motor.
The newly opened North East 250 route is without doubt on his hit list, as is the Moray Miglia rally which takes place at the end of April.
"The Moray Miglia is about 150 miles all together so will be a good practice run for completing the North East 250 later in the year," said Brian.
"I'm also a new member of Historic Wheels Car Club which organises runs every month where a few of us go out in a convoy."
But Brian might not have quite as much free time as he expected this summer, and has newly accepted a position which will certainly keep him from getting bored in his retirement.
"I'm going to be working part-time at the Moray Motor Museum," he said.
"I've been a regular visitor for nearly 20 years and it's my dream job to be working there too.
"I'll also get to see my dream car every day, a Jensen 541, which has been an exhibit at the museum for many years now.
"I'm not the type of person to retire and do nothing – cars really are a passion of mine.
"And to be honest it's a job I'd do for free – but don't tell the owner that!"