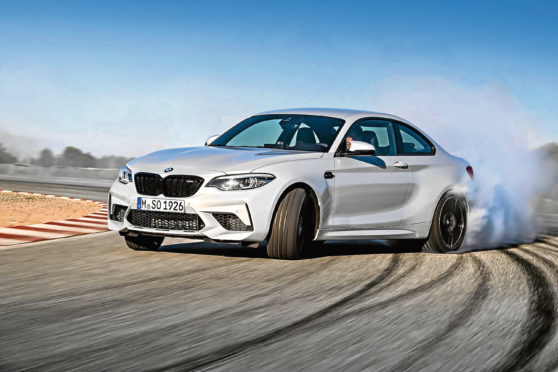 Competition packs for BMW M cars are no new thing – with the M3 and M4 offered with the performance upgrade – but the latest is unlike any other.
Introducing the BMW M2 Competition – which swaps out the base car's 3.0-litre turbocharged inline six-cylinder engine for a, er, 3.0-litre turbocharged inline six-cylinder.
Fear not, as the new motor is sourced from the bigger and more powerful (and aforementioned) M3 and M4.
It's not as punchy here as it is on those cars – with 404bhp down from 425bhp – but the result is 39bhp more than the standard M2.
Better still, the six-speed manual gearbox lives on – although a seven-speed dual-clutch automatic transmission is on offer.
This means 0-60mph comes in four seconds, with an electronically limited top speed of 155mph – which can be increased to 170mph.
It's not just more power here, there's handling-focused tweaks too.
The steering has been adjusted to be more responsive than before, while the suspension has also been revised to better contain the increase in performance. Larger brakes will be on the options list.
Afraid your M2 Competition may not stand out enough from the plebeian car?
Don't worry, there's visual changes to distinguish it.
These include larger air intakes and a gloss black 'kidney grille' at the front, along with new wing mirrors and black inserts on the side of the car. Fresh 19-inch alloy wheels complete the package.
The exhaust system has been fettled to provide a distinctive engine sound too, just so passers-by will know exactly what you're driving by hearing alone.
Two new colours are available here as well – Sunset Orange metallic and Hockenheim Silver metallic. Inside, the Competition receives a new steering wheel, carbon fibre interior and a fresh instrument cluster design. Order books for the BMW M2 Competition will open in mid-May – when it will become the sole M2 option on offer, replacing the original car.
Prices start from £49,285.