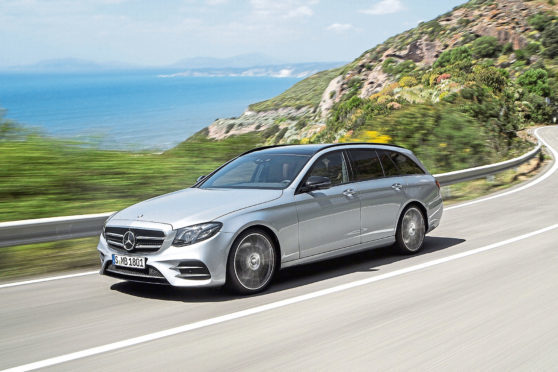 The Mercedes E-Class Estate has always been a very classy way to carry rather a lot. Now it's better-looking, cleverer and more efficient than ever.
A focus on downsized engines will be a big draw and the development of a fire-breathing E43 AMG model adds some excitement, but the whole range just feels slicker and more desirable than ever.
It's all very impressive, particularly as you can carry up to 1,820-litres. It used to be that if you wanted a large, plush practical estate, you bought a big Volvo.
For some years now though, that role has been only fully filled by the Mercedes E-Class Estate.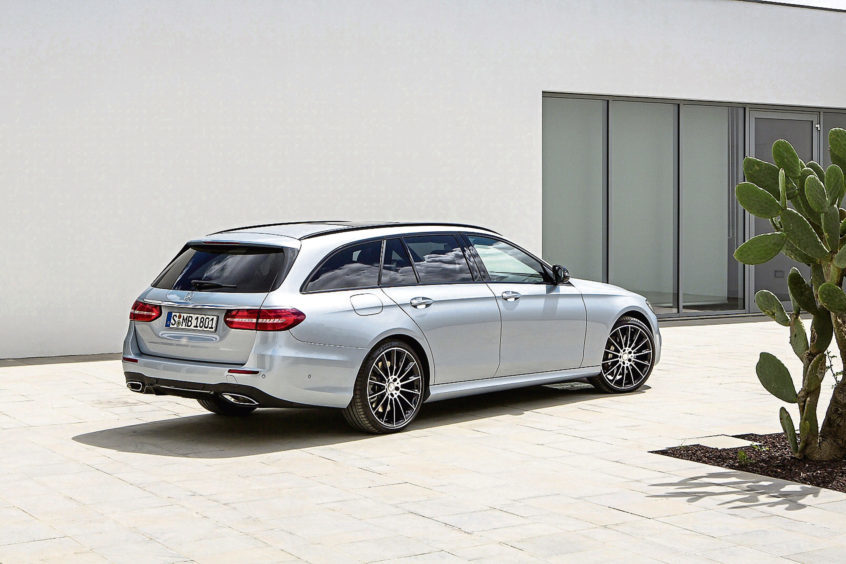 Rivals trade space for a bit of style, but this car continues to prioritise practicality, with 670-litres of room on offer even before you start folding seats.
This 10th generation E-Class Estate of course enjoys all the advantages developed for its saloon counterpart, a car offering efficient engines, astonishing technology and luxurious comfort. There are also cutting-edge driver assistance features allowing owners to take a step closer to fully autonomous driving.
On the move, you quickly find that Mercedes has achieved an excellent balance between comfort, refinement and agility with this E-Class Estate.
It's as happy easing through town as it is covering great highway distances – but then you'd expect that.
More surprising is how at home it feels on twistier roads, particularly if you've got a model fitted with the impressive 'AIR BODY CONTROL' pneumatic suspension that can be fine-tuned with the 'DYNAMIC SELECT' driving modes controller.
More technology is provided by the optional 'DRIVE PILOT' system that when activated, allows the car to pretty much drive itself, working with the adaptive cruise control and active steering systems to keep the E-Class rolling in its chosen lane at any chosen speed up to 130mph.
On to engines – and the key ones will be the two diesels that almost all buyers will want.
There's a 258bhp 3.0-litre six cylinder diesel unit fitted to the E350d, the variant that's also available in 'All-Terrain' form with a slightly raised ride height and off road styling cues.
Most E-Class Estate customers will prefer the 194bhp four cylinder powerplant installed in the volume E220d variant and available with either two or four-wheel drive.
This all-new 2.0-litre engine is right up there with the best in class for refinement and is also offered in 150bhp E200d guise. Even when pressed hard, it refuses to be noisy or harsh, which all adds to the luxury feel.
There's also the option of a Mercedes-AMG E43 4MATIC petrol version with 401bhp, a car capable of rest to 62mph in just 4.7s.
Despite this model's sleeker looks, with a capacity of 670 to 1820-litres, the E-Class Estate's load compartment is one of the biggest in the segment.
As standard, the rear bench seat has new cargo-related functionality: it is possible to position the backrest at an approximately 10-degree steeper angle.
This creates an extra 30 litres of cargo volume while continuing to allow full use to be made of five seats.
In addition, the rear seat backrest folds down in a 40:20:40 split as standard, opening up plenty of potential configurations between transport capacity and seats. To release the backrests, there are electric switches located in the load compartment and to the right and left next to the backrests.
Expect to allow a premium of just under £2,000 over the saloon model, which means pricing starting from around £38,000 for E-Class Estate ownership.
Overall, that's pretty competitive against rivals like the Audi A6 Avant and the BMW 5 Series Touring. There's a choice of either standard 'SE' trim or, for around £2,500 more, a sportier 'AMG Line' package.
There's not much of a running cost penalty for choosing an E-Class Estate over the saloon version.
And it helps that the focus on economical four-cylinder models has meant that the average cost of running an E-Class has tumbled.
Mercedes even trumpets the V6 E43 AMG model as the most efficient powerplant of its type.
That new 2.0-litre biturbo diesel engine in the volume E220d model makes all the difference. Expect 67.3mpg on the combined cycle and 109g/km. Quite an improvement.
If you go for the six cylinder E350d diesel, it's a similar story.
This variant manages 52.3mpg and 140g/km.
For completion, we'll also give you the figures for the E43 4MATIC AMG variant.
Here, the combined fuel figure is 33.6mpg and the CO2 return 192g/km.
And otherwise? Well this model series is designed for the long haul.
This car will easily out-last you, one reason why all-important residual values have traditionally been strong with diesel and lower-order petrol engines.
Unless you do something silly like specify an overly bright colour scheme, you can expect to get over 60% of your initial purchase price back after three years.
Before this 10th generation E-Class Estate appeared, the Mercedes of executive station wagons was perceived as a practical but slightly over-sensible choice in this sector.
These days though, it feels like a car that's pricey but which offers a compelling value proposition. It drives with genuine polish, yet is capable of stepping from cruiser to carouser without breaking a sweat.
Operating the car is relatively easy and you rarely feel as if this Mercedes is imposing its will on you, unlike certain other rivals.
The abiding impression is that this is a very carefully considered vehicle, developed by a company steeped in a proud engineering tradition.
If you want to carry properly hefty loads in a car of this kind yet want to do so with more than a modicum of style, this is one to place right up there with its premium rivals. Better by design.