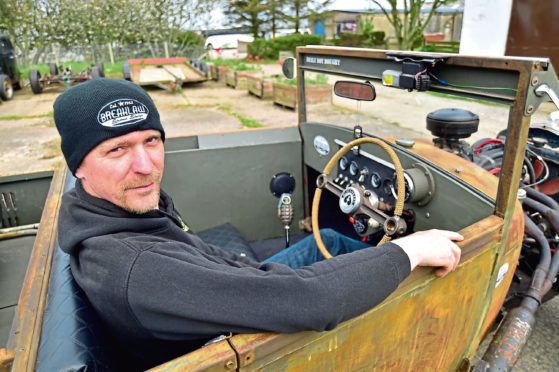 If gleaming motors fresh off the factory floor are more your thing, then look away now.
Gareth Davies' Ford Model A rat rod is anything but conventional – and that's just the way he likes it.
More commonly seen in shiny shades of magenta or bottle green, Ford Model As were in production from 1927 to 1931, with almost five million examples sold worldwide.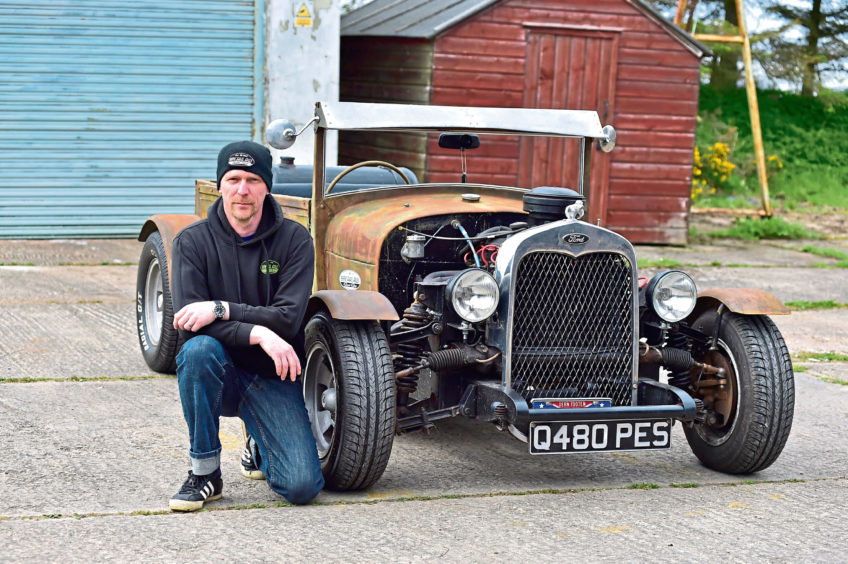 Now they are a rare sight on British roads, and before Gareth, 43, bought his rust-coloured motor, it almost didn't live to see the light of day again.
"When I bought it eight years ago it was just a box of parts," said Gareth, who lives in Peterhead.
"It was a friend of a friend who wanted to get rid of it and if I hadn't taken it off his hands it was destined for the scrapyard.
"It was a big job and needed absolutely everything, if not two of everything," he laughed.
"I built the whole body from scratch myself and loosely based it on a 1928-29 Ford frame.
"But I wasn't too particular about it and ended up making things up as I went along."
A college lecturer in mechanical engineering, Gareth is rather handy under the bonnet and has always had an interest in the way things work.
In fact his passion for cars started before he could even talk.
"According to my parents my first word was 'car'," he laughed.
"They tell me I've always loved cars of any kind.
"I remember when I was younger I saw an old picture my dad had taken of my mum sitting on a classic Ford Prefect and I absolutely loved the look.
"When I was a bit older I bought a Ford Popular which was a similar style car to the Prefect and spent all my time customising it.
"At the time, all my friends had Escorts and sports cars, but I've always preferred a more classic style."
From there, Gareth was hooked, and has spent the last 20 years building up cars of various makes and models.
He was even lucky enough to find a partner who shares his petrol-head nature. "At the moment my partner Leanne and I have seven cars in various states of repair," said Gareth.
"We have totally different tastes though, as she is into motorsports and rallying whereas I prefer vintage-style vehicles and bringing old cars back from the dead, so to speak.
"Out of all the motors we have I'm really attached to the Model A hot rod, it's actually the longest I've ever owned a single car.
"It's made entirely from custom parts, so the gearbox is from a Ford Capri and the suspension is Triumph based.
"It drives reasonably like a modern car which you might not expect and can do a few hundred miles in a day.
"Although they were good to look at, original Model As were desperately terrible to drive, but because mine is much newer under the bonnet it's far more comfortable."
The traditional era of hot rods followed the end of the Second World War, when a fashion of buying old cars and replacing the engine began.
In the last 10 years or so this has evolved into the rat rod movement, which sees old vehicles or custom cars redesigned to imitate or exaggerate early hot rods of the 1940s and 1950s.
"My car isn't a traditional hot rod but it is a nod to it," said Gareth.
"For a start it's much lower to the ground and makes far more noise.
"There are also lots of little details which I have added over the years.
"For example it has a hand grenade for a gear shifter and the steering wheel I fashioned out of old World War II Land Rover parts.
"The soft top is made out of a genuine World War II army tent I found on eBay."
Not everyone is happy with how Gareth has interpreted the hot rod movement, however.
"Sometimes owners of original Ford Model As are upset because it's not strictly traditional," he said.
"But then there are others who love it because it's so unique.
"You get to be creative with a car like this and it's forever a work-in progress.
"There is always something to do."
When he's not in the garage Gareth enjoys hitting the road, and is keen to take his motor on the drive of a lifetime.
"I really want to go to the European Street Rod Internationals," he said.
"It's a rally for hot rods and custom cars which takes place in different locations around Europe each year.
"It's one heck of a drive, but for me, part of the adventure will just be getting there."