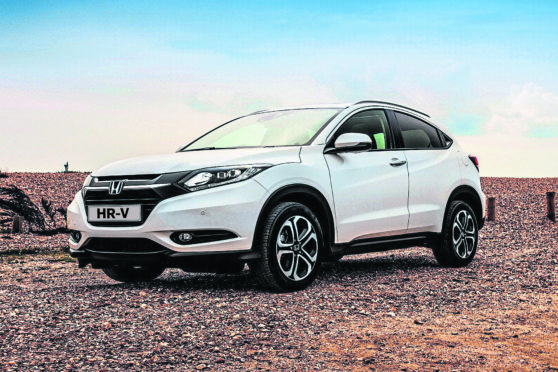 Okay, stop us if you've heard this one before.
A car with about as much interior space as you'd get in a Ford Fiesta, with raised ride height and funky styling.
Solidly built by a respected Japanese manufacturer and offered with the option of front or all-wheel drive. It's the massive-selling Nissan Juke, right? No. It's the Honda HR-V.
This time Honda has ditched any pretence that this HR-V is a go-anywhere vehicle, offering it solely in front-wheel drive guise.
There's a choice of either petrol or diesel power, the former being a 130PS 1.5-litre i-VTEC petrol, with the black pump-fuelled variant getting a 120PS 1.6 i-DTEC unit. Each drives through a six-speed manual transmission, though the petrol powerplant can be optioned with a CVT automatic, with a paddle-shift on some trims.
As for performance, the 1.5-litre petrol model makes 62mph from rest in 10.3s (or 10.9s in CVT auto form). Go for the 1.6 i-DTEC diesel and the 62mph sprint occupies 10.1s.
The HR-V features a low centre of gravity, with the driver's hip point more akin to a conventional hatch than an SUV.
The body is extremely rigid due to a high percentage of high-tensile steel, and this in turn helps isolate the suspension so do it does its job properly. Honda has concentrated on refinement, optimising aerodynamics to reduce wind noise at speed.
The HR-V also employs a highly efficient acoustic insulation package. Sound absorption measures in the inner wheel arches, floor carpet and underfloor cover combine to reduce cabin noise levels.
Honda reckons the MK2 model HR-V combines the "personality of a coupe with the solid stance of an SUV" and they're not too far wrong.
The design is neat and interesting, with hidden rear door handles, deeply sculpted lower body panels and a CR-V-style front grille, headlamps and pointed taper at the rear side window line. The cabin features decent-quality materials, with a soft-touch dash top accented with brushed chrome and piano black inlays.
Unlike its predecessor, this HR-V's quite spacious inside, while the boot holds 453 litres with the rear seats in use, and 1,026 litres to the window line with the rear seats folded away.
Pricing-wise, this HR-V is pitched at the higher end of the small crossover sector.
Prices start at around £18,000 for the entry-level S-spec variant, rising to around £25,000 for the flagship EX diesel model.
There's a £1,800 premium to pay if you choose the 1.6 i-DTEC diesel rather than the 1.5 i-VTEC petrol unit.
Buyers opting for the S variant are well catered for, with convenience features such as climate control, cruise control and dusk-sensing automatic headlamps fitted as standard.
The mid-grade SE level adds rain-sensing wipers, front and rear parking sensors and a six-speaker audio upgrade.
A Smart Touch interior includes touch-panel controls for the upgraded dual-zone climate control.
Customers choosing the top-grade EX model get a full leather interior, smart entry and start, plus a rear-view camera.
There's also a unique-in-class, tilt-and-slide opening panoramic glass sunroof and 17-inch alloy wheels.
Customers opting for the SE or EX models will also benefit from the Honda Connect in-car infotainment system as standard. This Android-based system features an app-based 'pinch, swipe and tap' interface accessed on a seven-inch touchscreen in the centre of the dash.
Petrol buyers selecting the 130PS 1.5-litre i-VTEC engine can expect combined fuel economy of 54.2mpg and CO2 emissions from 120g/km when they opt for the CVT automatic transmission.
When married with the standard six-speed manual, the petrol-powered HR-V delivers fuel economy of 50mpg and CO2 emissions at a highly competitive 130g/km.
As for the 1.6-litre i-DTEC diesel variant, well, on 16-inch wheels, the combined cycle figure is 71mpg, with CO2 returns of 104mpg.
Opt for larger 17-inch wheels and those figures fall to 69mpg and 108g/km.
The Honda HR-V looks an interesting addition to a line-up that's been thin on the right sort of niche models. Much of the hard work in this sector has been done by cars like the Juke – and Honda's looking to capitalise with the HR-V.
Its styling is neat and despite the sloping roofline, practicality looks well up to par. It's certainly a good deal more affordable and edgier than a CR-V. Of course, Honda has been here before with the HR-V but has learned lessons from that first-generation model. The brand has appreciated the need for real substance behind the style.
With this in place, the HR-V will continue to appeal even if something fresher and more fashionable comes along. Job done.