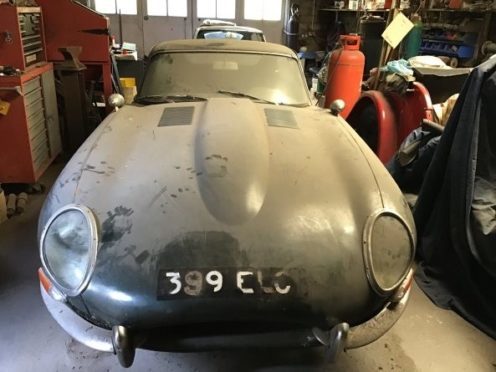 An elusive Jaguar which has been in hibernation for decades has suddenly roared out of the darkness from a barn in Moray.
And after awaking from its 35-year dusty slumber, the 1962 E-Type is looking for a new owner when it takes the spotlight and goes under the hammer later this month.
It dates back to a time when classic cars were becoming increasingly streamlined and possessed a genuine pizzazz.
The 3.8-litre straight-six coupe turned heads across the world when it was first unveiled at the Geneva Motor Show in 1961, and is one of just 1,179 right-hand drive versions of the model which were ever manufactured.
The stylish sportscar can sprint from 0-60 in just 6.9 seconds and has a top speed of 150mph.
In the 21 years before it moved into its current residence the vehicle, with the registration number 399 ELC, racked up just 66,551 miles on the clock.
The car will be auctioned off in Buxton, Derbyshire on July 18 and, while it has not been listed with a reserve, is expected to fetch up to £40,000.
Roger Nowell, from auctioneer H&H Classics, said: "The joy of this job is that, now and then, you stumble across a car that you just know is going to excite other car lovers as much as it excites you.
"This E-Type is such an iconic symbol of its time and our motoring history.
"It was utterly revolutionary in its day and had a massive influence on the automotive industry."
Even now, more than half a century later, it still has the ability to turn heads.