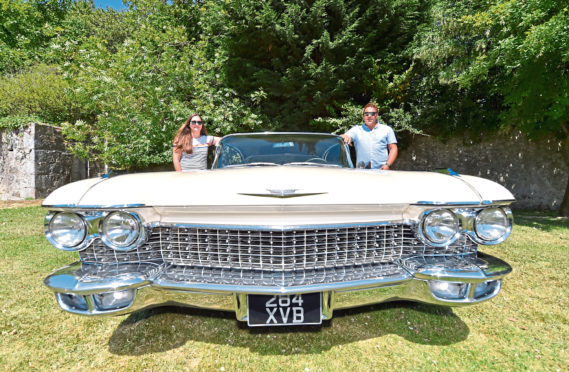 With stylised tail fins, chrome bumpers and ridiculous dimensions, when you imagine a Cadillac – this is it.
Measuring in at 20 feet long and almost seven feet wide, the 1960 Cadillac Series 62 might just be one of the most iconic motors ever made.
Designed to navigate enormous American highways in the most luxurious of styles, this car might soon be cruising on a street near you.
With Keith Stewart and his wife Gina at the wheel, look out for this glossy machine around Aberdeen, fresh from downtown Detroit.
"I've always had an interest in American cars," said Keith, 45.
"I think The Dukes of Hazzard made a big impression on me when I was a kid.
"I always loved Matchbox cars too and used to have loads of them in all different varieties.
"But I'm a chip off the old block because my dad loved cars too.
"He wasn't so specific about what he liked though, so I'm not exactly sure where this passion for American cars in particular came from.
"The first classic I ever owned was a 1979 Chevrolet Camaro when I was 24.
"It was a dream come true to finally own something I'd been lusting after for so long."
Since then there have been a long list of motors which have graced Keith's driveway, including his current 1965 Ford Mustang.
"I've had this one for about five years now," he said.
"If I'm honest I had one before and sold it which has been one of the biggest regrets of my life, so I just had to get another one when the opportunity came up.
"I bought it down in London and it was in pretty good condition, only needing a bit of light restoration."
But a snazzy car like this doesn't go unnoticed in a place like Aberdeen, and soon Keith found himself in a very fortunate position.
"Basically Keith kept getting asked if he would hire the Mustang out for weddings," said Gina, 41.
"It happened so many times that eventually we thought 'hey, this could be a genuine business idea'.
"So that's what we did and we've been hiring it out ever since."
However the couple have their sights set even higher, and Gina had her eye on something in particular.
"I've always wanted a Cadillac," she said.
"I've loved Elvis my whole life and a Cadillac was just my dream car.
"We saw one advertised in Detroit so Keith went over to see it.
"Online they said it was in good condition but you never know and we wanted to make sure everything was legitimate before we bought it as you hear horror stories of cars arriving completely differently to how they are described."
Luckily for the pair it was pretty much perfect, and their Cadillac was shipped over to Scotland in spring of this year.
After waiting for weeks this moment, it was an exciting day to take it out on the road for first time.
"Its inaugural journey was just down the road to the MoT centre in Bridge of Don," laughed Keith.
"It was really nerve-wracking to drive – it's enormous! After it passed and we had all the legal documents together we took it for a spin down Union Street where it turned heads all the way.
"It's such a comfortable car too as American motors of that era were very luxurious, with comfy seats, air-conditioning and power steering."
The Cadillac has an extra special place in Keith and Gina's hearts too, as its very first wedding appearance was in fact earlier this year at their own nuptials.
"We were so worried that it wouldn't arrive in time," said Gina.
"Then it did and we moved onto panicking that the registration plate wouldn't come through in time!
"Luckily it did, however, and it made the reception just that extra bit more special, pulling up in our very own Cadillac."
For more information about hiring Keith and Gina's American Motors, visit www. americanclassicwedding cars.co.uk