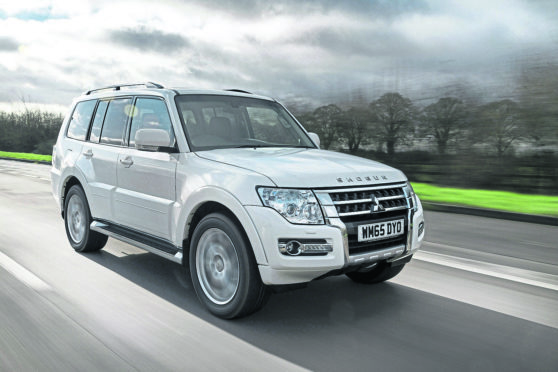 Mitsubishi likes to see its Shogun as the original large 4×4, an SUV tough enough to venture where others feared to tread, yet offering the interior luxury of a high-end saloon.
Back in 1982 when it was first launched, it was the only real option for those unwilling to stretch up to a Range Rover and sold in prodigious numbers until the 1990s arrived along with a host of new rivals, nearly all prioritising a smoother road-going experience.
And it's true, if you're after the last word in off-road ability, the Mitsubishi Shogun, despite the 11 Paris-Dakar wins that it can boast, is not it.
What the Shogun does offer is a very usable compromise between on-road refinement and off-road ability that will be more than adequate for most.
If you want something that's a little more adept in the deep stuff, you'll be looking at something like a Land Rover Discovery.
Mitsubishi's engineers will argue with this, of course, and to be fair, this car is very competent indeed in the rough stuff.
On road, owners will appreciate the added urge of the 3,200cc common-rail diesel that's now good for 197bhp, paired to the auto gearbox you now have to have.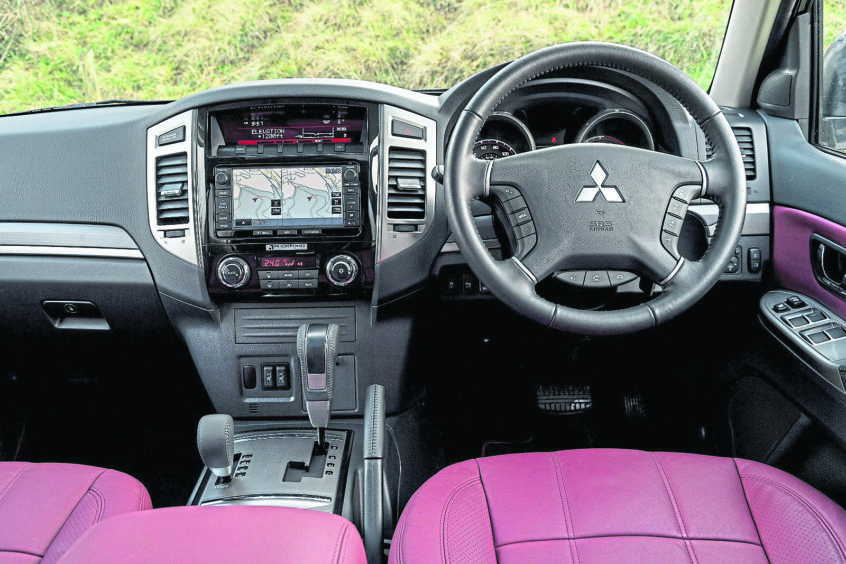 This makes the Shogun rather punchy off the line, getting to 60mph in just 10.5 seconds in auto five-door guise.
The ride quality is far better than in old-school body-on-frame SUVs and the extra length of the five-door car further irons out poor surfaces.
Noise levels at motorway cruising speeds are a little higher than more urbane rivals, but as a vehicle that works well both on and off road, the Mitsubishi is packed with very sensible compromises.
Three-door short or five-door long wheelbase models are offered.
It's properly big too, at least in long-wheel base guise.
This is 4.9m long, 1.9m wide and 1.9m high so you'll need a garage with a fair amount of headroom, especially if you fit a roof box for ski trips.
Mitsubishi's innovative Hide&Seat system quickly converts the long wheelbase car from a five to a seven-seater with two seats that fold from a flat boot floor to create a third row complete with integrated head rests.
The three-door car is a little more pinched in the back, as you'd expect for a vehicle that sacrifices fully 235mm in wheelbase to its big sibling.
Mitsubishi's price cuts in recent years mean that you can now own a family-sized seven-seater Shogun for the price of a much smaller CR-V or RAV4-style compact SUV.
Which is worth thinking about.
The Shogun is fairly unique these days in SUV-land in offering a range of short wheelbase 3-door options, now priced in the £29,500-£35,000 bracket.
Long wheelbase 7-seat variants start at around the £32,000 mark and range up to around £40,000.
The most obvious rugged rivals are Toyota's Land Cruiser 2.8 D-4D and possibly Land Rover's Discovery both of which cost significantly more.
And it gets better from Mitsubishi's point of view.
Plusher versions of both the Toyota and the Land Rover sit well into the £45,000-£50,000 bracket, making this Shogun look very good value indeed.
Whether you choose a SWB 5-seat or LWB 7-seat Shogun, there's just a single 197bhp 3.2-litre DI-DC diesel engine on offer and it now comes only mated to automatic transmission. Ultimately, emissions regulations will kill off this generation Shogun model; they've already made sure that we can't buy the manual gearbox version in this country because it can't meet the Euro6 standard.
But then this is a very big and heavy vehicle, so you wouldn't expect it to sip fuel, especially if you're running loaded or towing.
The plus side is that whole life running costs are on the reasonable side, depreciation offset to a certain extent by the low up front asking price and by a steady demand for this sort of car.
Insurance is on the reasonable side thanks to the Shogun generally being purchased by more mature customers who don't park them outside nightclubs.
Fuel economy is rated at 34.9mpg (combined) for an automatic long wheelbase variant, with 213g/km of CO2. The Mitsubishi Shogun occupies a small but important niche in an ever-evolving 4×4 market.
As sales of the more ostentatious cars wane in favour of more environmentally responsible transport, there will remain a core requirement for an all-weather, all-terrain vehicle that can tow, fulfil the family responsibilities and not be too precious about things in the process.
The Shogun does all this with a minimum amount of fuss.