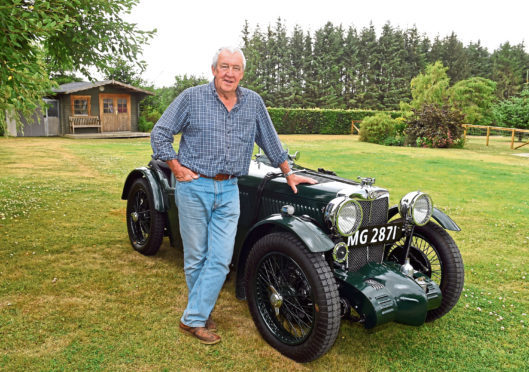 There was something about MGs that captured Mike Robinson's imagination as a teenager. He told Philippa Gerrard how he finally came to own the car he had dreamed of for 50 years.
The route may have been longer than usual, but four years ago Mike Robinson finally landed himself a classic MG.
The Crathes resident had been on the lookout for an MG motor for a while, but as the months passed, none quite captured his imagination in the way he remembered.
For Mike had owned an MG once before as a young man and he wanted to feel the same excitement he once felt behind its wheel.
"My first MG experience was when I was a student," said the now 68-year-old. "It was an MG P-Type that I bought when I was 16.
"I couldn't even drive the thing, but I remember paying a whole £10 for it.
"It was a bit of a wreck and mostly in bits, but I managed to put the whole thing back together and got it up and running.
"I mean I wouldn't say it was perfect, as it was still pretty rough around the edges, but I so enjoyed driving it.
"However, after a year of utterly unreliable motoring, I ended up selling it for what I thought was the brilliant sum of £50.
"Nowadays it would cost somewhere in the region of £50,000.
"But at the time I needed the money so that was it."
A career in oil and gas saw Mike travel extensively, leaving little time for projects requiring countless evenings under the bonnet.
However, now semi-retired, Mike finally had time to indulge his passion.
"I was looking for an MG on and off for quite a while before spotting this one," he said.
"It's a 1933 MG J2 and was just a box of bits when I bought it.
"It was for sale down in the Midlands, so I hired a Transit van and drove all the parts up here to my garage.
"The previous owner had been assembling all the parts with the view of building it himself, but for one reason or another he couldn't do it, so that's where I came in.
"I'm an engineer by trade so I pretty much know what I'm doing when it comes to cars, but the particular thing about motors that are 80 years old like this one is that they are not really that complicated.
"The parts only fit one way so it is something of a large jigsaw."
It took two years of patience from Mike to painstakingly restore the J2 to its former glory and he has now had it on the road for a further two years.
In that time, however, he has not forgotten the feeling of nervousness when he took the car out on the road for the first time.
"The problem is you can't take it 'sort of' out on the road for a trial," Mike said.
"It's either on the road or it's not and I vividly remember the clouds of black smoke which belched out the first time I started the motor.
"I remember during its first trip I got from my house to North Deeside Road before discovering the brakes weren't working."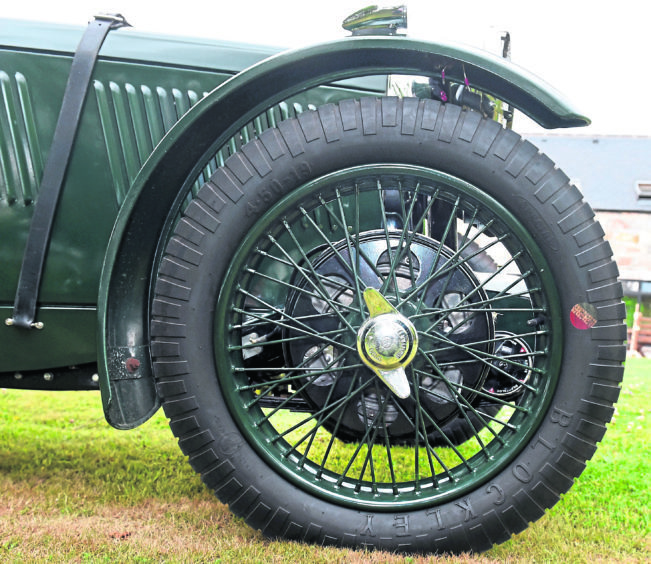 Ever up for a challenge, Mike has spent the last year or so attempting to get the unreliability "built out of it".
"It's never failed to get me home, I must say," he said.
"Over the last two years I've done about 2,500 miles and quite regularly attend events across Scotland.
"I wouldn't want to go much further than a couple of hundred miles at a time though, because even though it's open top, it's very hot to drive.
"The gearbox is right next to your feet which heats up quickly and hot air from the radiator comes straight up over the top of the car and blasts you in the face.
"So the car itself is fine with long journeys, but it's the passengers that can't handle it," he laughed.
Mike should not have too much bother getting to his next event however, which is a mere 10-minute drive from his front door,
The annual Aberdeen MG Owners' Club gathering is taking place this weekend, August 5, at Drum Castle, and approximately 70 classic cars are expected to be in attendance – including Mike's J2.
"I'm very much looking forward to our annual event," he said.
"It's always a great day out and I'll be there come rain or shine.
"This year we are also having a race car on display from Aberdeen University's TAU Racing Team.
"They have been building a race car to compete against other universities and I must say it is pretty advanced stuff.
"Our MG club has been supporting them and it's really quite fascinating, so I can't wait to see the car in real life."
The annual Aberdeen MG Owners Club gathering will take place from midday.