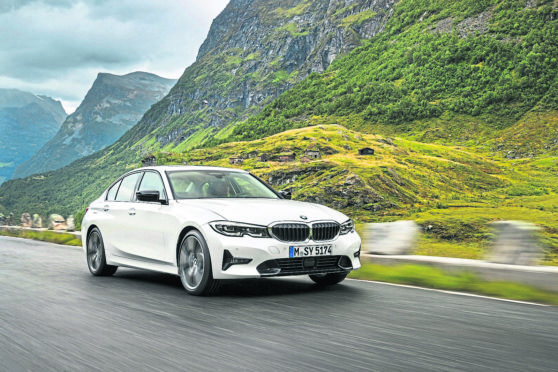 The BMW 3 Series has ruled the compact part of the
mid-sized executive segment for more than 40 years and the company's hopes are high for this seventh-generation version. It's smarter, slightly larger, more efficient and considerably high-tech.
The BMW 3 Series Saloon has had an unparalleled reputation both for its quality and supreme handling in the premium mid-size segment for more than 40 years and this, the seventh generation, raises the bar even higher.
When the first BMW 3 Series was launched in 1975, it revolutionised the segment and became the Munich maker's most successful car.
Since then, more than 15 million 3 Series models have been sold globally and this contender is regarded as the heartbeat of the brand.
With revised styling, improved driving dynamics, better efficiency and innovative features, this seventh-generation model aims to continue that success story.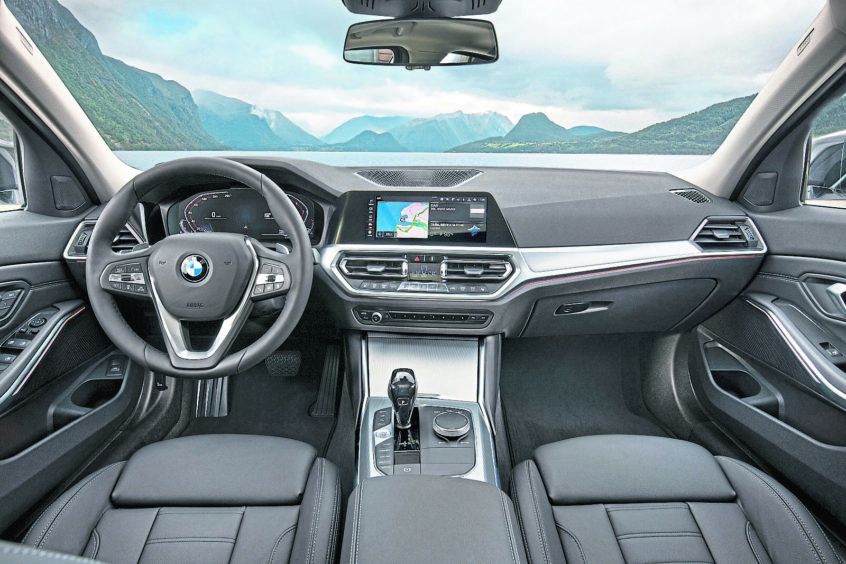 A stiffer, more sophisticated platform with revised suspension, plus stronger safety standards, a more upmarket cabin and wider-reaching media connectivity will all help in that regard.
It's still rear-wheel drive of course – though xDrive 4WD is, as before, an option.
Upgraded four-cylinder engines from BMW's Efficient Dynamics family are used in the 320d diesel (190hp) and 330i petrol (258hp) models that kick off sales of this seventh generation design in the UK.
You can also ask about a six-cylinder 330d diesel variant and a 330e iPerformance petrol/electric Plug-in hybrid.
A new-generation six-speed manual gearbox is standard across the range, or there's the option of eight-speed Steptronic auto transmission.
Systematic upgrades have been made to the TwinPower Turbo technology used in the 2.0-litre four-cylinder diesel engine featuring in the 320d which puts out 190hp and generates 400Nm of torque.
This enables a 0-62mph sprint time of 7.1s (or just 6.8s for the auto).
The handling promises to be even sharper thanks to a wider track, and a chassis that's up to 50% stiffer in some areas and which features special lift-related dampers.
A 55kg weight reduction this time round also helps. Adaptive M suspension can be specified on "M Sport" models. And 330i and 330d buyers will be offered an M Sport differential for the rear axle which helps to enhance traction, agility and cornering.
This seventh-generation 3 Series model has had its proportions radically revised.
The MK7 design is 85mm longer than its predecessor and 16mm wider, but just 1mm taller.
Added to that, its wheelbase has been extended by 41mm and its track widths are wider too.
As usual, there'll be saloon and Touring estate body styles.
At the front, the large BMW kidney grille elements are framed by a single surround and split up by wide bars and link to the headlight units.
The Munich brand's customary twin headlights feature the familiar two-way split that is further emphasised by an eye-catching notch in the front apron that rises into the headlight contour.
The bonnet has four contour lines leading to the BMW kidney grille.
A pair of character lines rise to the rear of the car at door-handle level and a contour line near the side skirts guides the eye to the sculpted rear wheel arches.
Inside, the instrument panel has a modern, light look with horizontal lines, high-quality electroplated trim strips and contours that extend into the doors.
Your dealer will also be keen to tell you about this MK7 model's clever "Intelligent Personal Assistant", a voice-activated infotainment system that responds to the prompt "Hey BMW".
When you pause to consider that one product line – the 3 Series saloon – accounts for fully a quarter of BMW's global sales, you begin to appreciate quite how much there is riding on this car.
Pricing starts at around £34,000 for the 320d diesel – with a premium of around £2,800 more for the xDrive system.
You'll need a budget of around £38,000 for the 330i petrol model.
There's a slightly more dynamic-looking mid-range Sport model but if budget permits, you'll probably want to stretch up to top M Sport trim.
The 320d variant's improved 2.0-litre powerplant now includes multi-stage turbocharging, which brings increased efficiency across all engine speeds.
Average fuel consumption is rated at 64.2mpg for the 2WD 320d (the automatic version registers 67.3mpg) – or 62.8mpg for the 320d xDrive. The 320d's CO2 emissions are 115g/km (or 110g/km for the automatic), while the 320d xDrive's CO2 emissions are 118g/km.