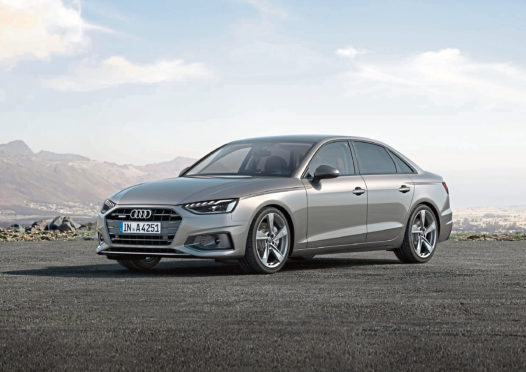 Audi has updated its popular A4, giving it a fresh new look and a revised range of engines.
Up front, the car receives newly designed air intakes and a grille that is wider than before.
Different trim levels get different looks, too; SE and Sport models get horizontal grille slats, while the Quattro receives vertical chrome slats.
Meanwhile performance S line and S4 models get a honeycomb grille instead.
The air intake above the main grille also takes inspiration from the one found on the range-topping R8 supercar, as well as the A1 city car.
LED headlights are now fitted as standard to all A4 models, though these can be upgraded to matrix versions.
The interior of the car remains largely unchanged over the car it replaces, though the main infotainment screen has been increased in size, and is now touch-operated – so the dial in the centre of the car that used to control the system has been removed.
In terms of engine choices, everything but the 187bhp 2.0-litre and 228bhp 3.0-litre diesel powertrains now feature mild hybridisation.
There are two new 2.0-litre diesels with 135bhp and 161bhp, as well as three additional 2.0-litre petrols with either 148bhp, 187bhp or 242bhp. All get mild-hybrid technology.
The new A4 range will go on sale in September, and full prices are expected to be released closer to that date.