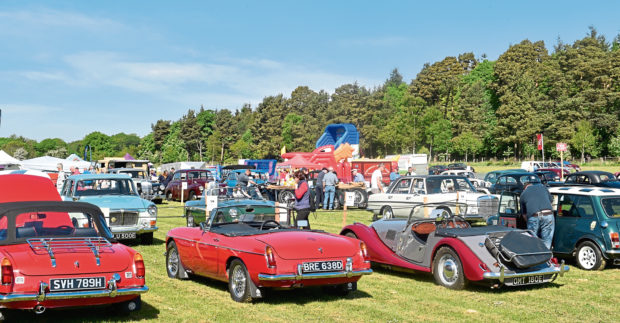 Each summer I have a little list of things I'd love to do, and this year it's to take the sleeper from England to Scotland, stay in a castle and visit a car show.
I reckon I can do all three at once if I go to one of the many four-wheeled events taking place over the next few months; and on paper, the Vintage Vehicle Father's Day on June 16 in West Lothian is looking the most likely.
One of the first car shows I ever went to was the Mk1 Ford Cortina Owners' Club's annual shindig in Peterborough, back 1991.
I was working as a journalist on Practical Classics magazine and had a Mk1 Cortina GT as a staff car (slow, but rear-wheel drive so a giggle). I'd been kindly asked to attend and hand out the prizes to the various category winners at the end of the day. (NB: Even though I am not smiling in the photos, I really did have a top day!)
In very large contrast, the most recent car show I went to was the Goodwood Revival, in September, where multi-million-pound Ferraris and the like raced (and crashed) around the circuit, and we spectators dressed up in vintage fashions.
Despite the massive differences between these two shows, one huge thing unites them: passion, and I am so in awe of it.
It takes a huge amount of passion, usually from just a few people, to put on these shows – from the initial meeting where the dates and venue are decided, to the big day itself where people put up banners, set out stalls and eventually hand out trophies.
And then there is the dedication from the car owners who take the time to show or race them, and the effort it has taken to get the cars there.
And of course, no show would be a show without an audience – and again this is fuelled by passion from people like you and me who spend the time and money to attend.
Last summer I was a guest of honour at the Ford RS National Day at Donington Park in Derbyshire, just over three hours (by car, naturally) from the Scottish border.
It's an awesome show where almost every RS model ever made is shown, alongside concours competitions, an array of stands and plenty of track action and family fun.
But one thing the organising team could not arrange was the weather and, unlike my first Ford show back in the early 1990s, it poured. All day.
And despite a river running through the main marquee by the end, we all continued to have a super day because of that magical ingredient called passion.
So go and plan your summer's show right now!