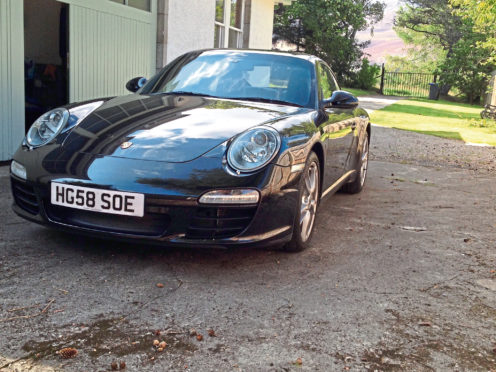 I'm not qualified to give financial advice.
In fact, I've lost money investing in shares. Consider my Sunday Times-inspired buy – Aviva. The shares were each worth more than £10 in 2000 before the company's profits and share price collapsed in 2002 after the dotcom bust. The shares once again reached £8 in 2007 before the banking crisis in 2008 sent them tumbling below £4. That's when I had to sell out.
So, houses then? Nope, they're stagnating or depreciating. That leaves art then.
Art is central to the experience at The Fife Arms Hotel at Braemar. As co-founders of the acclaimed global gallery Hauser & Wirth, Iwan and Manuela Wirth have been passionately dedicated to modern and contemporary art. More than 14,000 pieces, including antiques and specially commissioned artworks, have been thoughtfully integrated into the hotel building. By curating art in the hotel, these beautiful pieces are being seen, appreciated and appreciating.
This got me thinking. That's what I'd like us to be doing with our automotive art purchases. All I have to do is guide you on what four-wheel art you should buy now, and you can curate it in your garage and driveway.
We'll all appreciate it – you, the owner, like Iwan and Manuela, will get a buzz out of admiring your art, telling people about your purchase, and better than any static exhibit, enjoy driving it.
Here's four automotive art picks to invest in now. All of which are great to look at.
For any collection, you need to consider one of Ferdinand Porsche's creations. But which one? A model that the enthusiasts are snapping up is the 911 Gen 2 car from 2009-2012. Find either a 3.6 or a 3.8 and you've got one of the last hydraulic steering 911s. They look classic, are the right size and are lovely to drive. In 2016, these were circa £30k for low-mileage private sales, but now you'll need £2-3k more to get the V5. Here's a tip, these cars are like "The A-Team", they're difficult to find – so remember, when a model stops coming on to the market… they're going up in value.
Now, other motoring financial advisers are tipping the 944 as a buy just now. Not me. The other Porsche I'd steer you towards is the 968.
Perfect balance thanks to the gearbox located behind the seats, lovely three-litre engine, a six-speed manual transmission replacing the 944's old five-speed, and pop-up headlights that will cheer you up every time you turn them on. The peppermint cream is thought to be the Club Sport (CS), but for me the blend of luxury and set-up is best in the standard car, and it's cheaper. The white one pictured was my car back in the day. But 968s aren't cheap, no fine art is, so budget £20k for a well-kept car with under 100k miles. More like £35k for a CS from a garage.
Staying with German artists, I must talk BMWs. You know I love the 2002. Unfortunately, so does everyone else. They've become very expensive, or just expensive and in need of repair. Fear not, I've a more modern pick that offers better value than the 2002 – the E30 3 Series. Don't bother with any other engine apart from the fuel injected 2.5-litre in-line six-cylinder.
My chum bought a 325i new in 1989 for an eye-watering £24k. He kept it for 18 years and, when sold, it was still polluting through the original exhaust. Unbelievable build quality, and the right size of car to admire and enjoy. I give you the beauty of 325i Touring (estate) with "basket weaves" alloys, or a 325 convertible. Find a cherished 325 with a big specification and you'll have a depreciation-proof icon that is sure to rise in value. For a Touring expect to pay £5,000-£9,500.
Ready for a left-field pick? A Volvo 240. Ideally an estate. You'll never get the likes of these again – ungainly and pretty. Ask any primary school child to draw a car and it will be a Volvo 240. These cars are cool, comfy and durable. No wonder they have a following. I could have bought a 1989 low-mileage, well-looked-after example last year for £3,500. But I didn't, and have been kicking myself ever since. I was put off as it only had four speeds. But the seats were mint, the heater sliders were so period, and the space in the back so large there's an echo back there.
Remember these are narrow cars that steer well, so easy to thread through towns and cities. Buy one now for about £2,700-£5,000 and you'll be handing it over to your children to use in about 10 years. They'll sell it, of course, but for much more than you paid for it.
Buy a nice original example of any of these four and you will enjoy curating your art – and it'll appreciate.
Just don't buy a Viva.