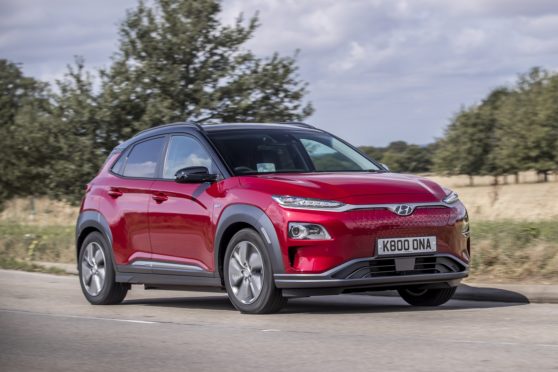 Prior to this Hyundai's arrival, the full-electric car market was pretty much divided into a couple of contenders.
There were relatively affordable ones, like the Nissan LEAF, developed steadily to the point where their lithium-ion batteries can offer up to around 180 miles on a good day.
Or for around twice the money, buyers can graduate to the more sophisticated battery technology that luxury models use – cars like the Jaguar I-PACE, the Audi e-tron, the Mercedes EQC and various Teslas.
With these, a driving range of around 300 miles or more is the norm. This Kona's chief selling point is that it offers the kind of range you'd get in a luxury EV for the kind of price you'd pay for a more affordable one.
As selling points go, that's a pretty strong one, though unfortunately for Hyundai, it isn't an exclusive attribute.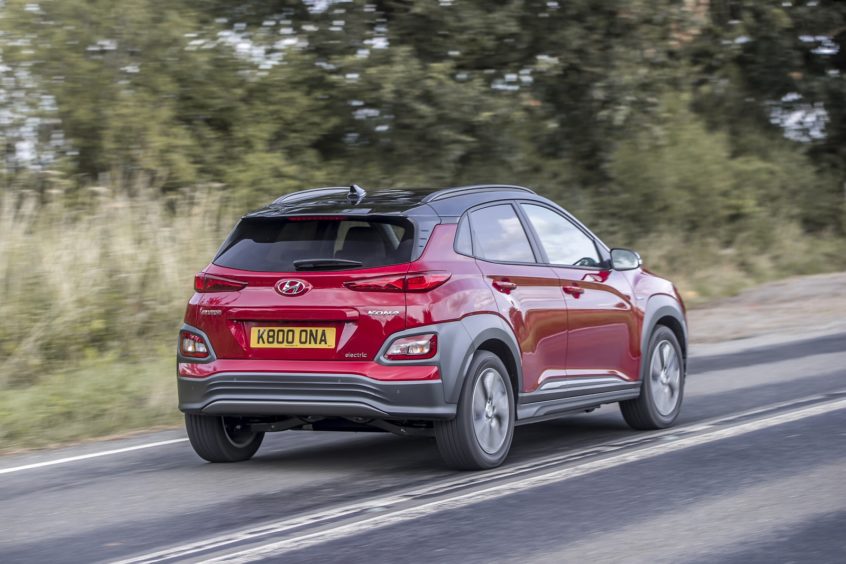 All the same engineering that features in this car can also be found for a similar price in its cousin, the Kia e-Niro. That car's also a compact SUV but is much less overtly-styled as one. Let's put this car to the test.
The way this car hurls itself away from rest is pretty surprising the first time you experience it.
Once you understand the drive dynamics here though, the rush of blood to the head that this Hyundai gets every time you press the loud pedal with any real vigour is only to be expected.
There's a lot more pulling power than would be generated by an equivalent combustion engine – 395Nm of torque – and all of it's delivered to you right from the get-go, rather than building, as it would do with a fossil-fuelled powerplant. 62mph from rest takes 9.7s in the entry-level 39kWh version, which has a reasonable WLTP-rated 180 mile driving range between charges.
But most Kona Electric customers are going to want the 64kWh variant we're trying here, which manages a WLTP-rated range of 279 miles that sets a new standard amongst affordable EVs.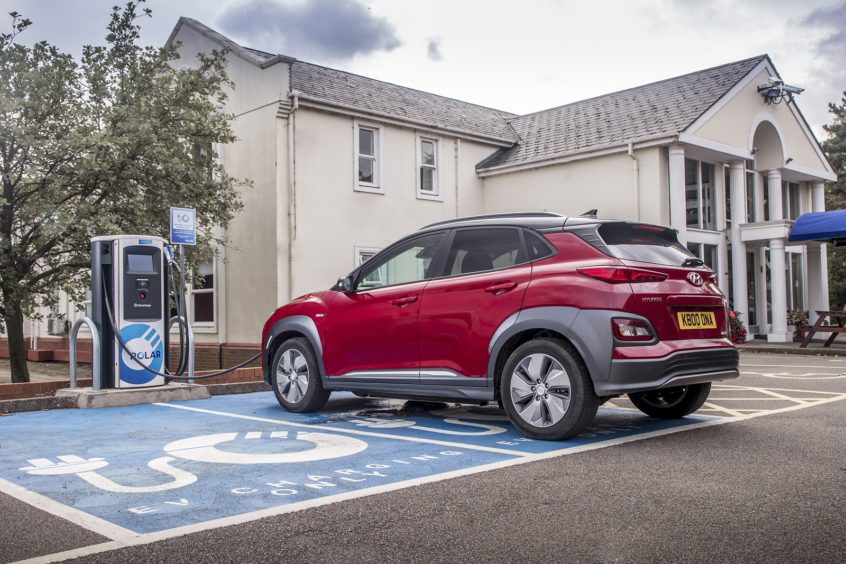 At the wheel, key change lies with the installation of this wider aircraft-style silver-trimmed centre console, which incorporates the "shift-by-wire" push-button controls for the single-speed auto gearbox.
Also quite different is the single-dial instrument binnacle, flanked on the right by an information screen and on both sides by EV read-outs.
Everything else you'll need to know will be on this centre-dash screen, eight inches in size on most variants, with mapping functionality that integrates into range read-outs and helps you to locate nearby charging stations.
And in the rear? Well it's in this part of the car that you're likely to be reminded that you've bought an SUV based on a supermini-sized platform, rather than that of a family hatchback. The same applies to the capacity of the 332-litre boot.
What Hyundai's EV competitors were expecting here was a fairly straightforward proposition – an on-the-road price in the £27,000-£29,000 bracket, battery capacity around 40kWh and 180 miles of WLTP-rated driving range.
And indeed, that's almost precisely what's delivered by the base 39kWh version of this Kona Electric, which is offered in two guises, SE and plusher premium, with an extra cost of just under £1,500 to go from one to the other.
What the market wasn't expecting was the version of this Kona Electric that we're trying here, the 64kWh variant that almost all customers of this battery-powered model will want. With this top derivative, there's 279 miles of WLTP-rated range for around £33,000.
All the prices we've just quoted you include subtraction of the £3,500 government grant provided towards purchase of full-EV vehicles.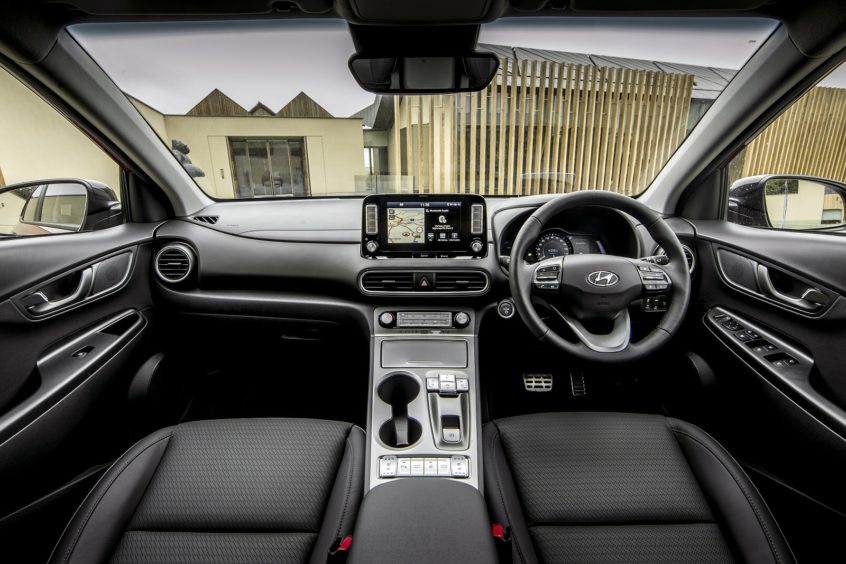 As usual with an EV, you get plenty of cabin screen options to allow you to plan your route around your remaining available charge.
When it's depleted, you'll be able to recharge your Kona Electric to 80% of capacity in just 75 minutes if you can find a 50kW DC CCS charging point. Most of the time though, you'll be charging this Hyundai overnight using a 7kW wallbox that you'll have to pay a little extra to get installed in your garage.
You can revive the cells from empty in this way in around 9.5 hours (which would use around £9 of electricity at current rates).
It would take just over six hours if you were to go for the 39kWh model.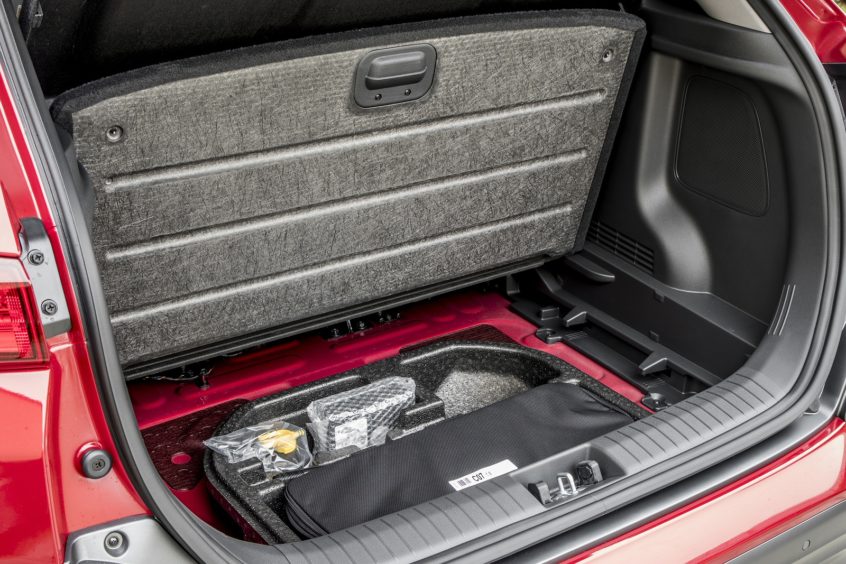 For the first time, a relatively affordable EV has delivered the kind of driving range that would make it almost usable as an only car.
In a Volkswagen e-Golf, you'd get a classier interior. In a Nissan LEAF, you'd get more rear seat passenger space.
But both those cars are completely trounced by the driving range this Kona Electric can offer in its higher output form.
Which is something that only this car's Kia cousin can match for the price. This Kona though, has wider appeal. Enough to take it mainstream? Probably not.